Spanakopita & elephant rice ball bento lunches
A little food presentation game that I play sometimes is to buy a fruit or vegetable in an unusual color, and pack it next to a contrasting item in a bento lunch. I've done this with orange cauliflower and broccoli, gold kiwi and blueberries, purple potatoes and peas, and today with golden and red raspberries. My three-year-old son and I spotted the golden raspberries in the market the other week, and couldn't resist picking some up to taste side-by-side with regular red raspberries. Bug and I tried out both kinds together, and found the golden raspberries to be slightly more tart than the red, but not unpleasantly so. It was a nice, subtle flavor contrast with the same texture as the red version. Explore your markets with an eye open for unusual colors; they can add natural fun to a lunch!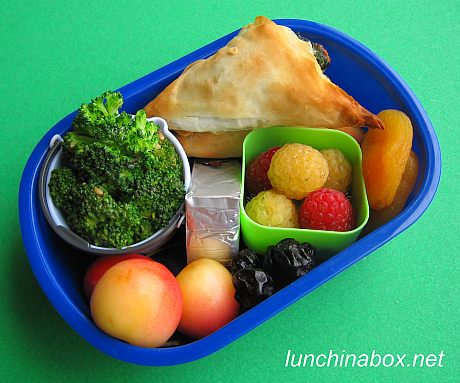 I find that Bug enjoys these little food experiments that we do together — it's okay if he doesn't like something, but I want him to think about why he doesn't like it and try to explain it to me. He's now able to explain if it's the taste, texture or smell of something that bothers him, which in turn helps me formulate new approaches to incorporating a variety of foods into his diet. He's not a picky eater, though, so the battle is half won already. (Knock on wood!)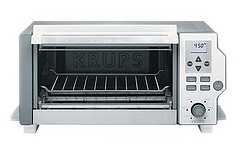 Contents of preschooler bento lunch: Steamed broccoli with Goddess dressing, spinach and cheese spanakopita triangles (frozen from Costco, reviewed earlier), dried apricots, red and golden raspberries (Driscoll's brand, but the exact variety wasn't indicated), cheese triangle, dried blueberries and Rainier cherries.
Morning prep time: 17 minutes, mostly inactive prep time waiting for the frozen spanakopita to cook in the convection toaster oven and cool down on a little cooling rack afterwards so it didn't turn soggy in the box. I turned on the toaster oven's convection function to further speed up the bake time as convection is more even and slightly faster than conventional baking, and the toaster oven is more energy-efficient than our wall ovens. (Read on for packing details and an elephant rice ball lunch.)

Packing: Because raspberries are so delicate, they need to be packed in a hard plastic sub-container of some sort to ensure that they don't turn to mush in transit. I used reusable food cups from Daiso to both protect the raspberries and contain the dressing on the broccoli. I like the little mini buckets that hold the broccoli; they're a little larger and heavier duty than my old "food buckets". The lunch is packed in a 360ml Disney Cars bento box with both subcontainers removed to accommodate the long spanakopita, and the dried fruit acts as gap fillers to stabilize the lunch during transport. (Click on any photo for a larger view.)
Verdict: Big thumbs up; Bug ate everything at preschool without leftovers.
* * * * *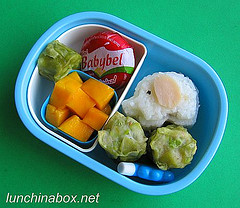 Here's a lunch from a sleep-deprived cook without much in the refrigerator to choose from. Use an onigiri mold or a cookie cutter lined with plastic wrap to quickly turn out shaped rice balls cute enough to draw the eye away from the plainness of the lunch (fingers crossed!). I'm usually not one for making Decorative Food, but somehow a plain rice elephant without ears or eyes seemed awfully lonely…
Contents of preschooler bento lunch: Edamame shumai dumplings with dipping sauce, diced mango, wrapped cheese, and elephant-shaped rice ball filled with nori tsukudani seaweed paste (Gohan Desu Yo!). The eye is a black sesame seed, and the ear is a bit of sliced ham.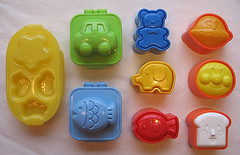 Morning prep time: 10 minutes, using frozen rice and shumai dumplings. In the morning I first warmed a small portion of frozen rice in the microwave, and then steamed the shumai in my microwave mini steamer while I made the elephant rice ball with a mold. I had a slice of mango in the refrigerator already, so cubing it went quickly.

Packing: I already had some pre-filled sauce containers on hand with dipping sauce for the shumai, so that sped up the packing process. Like the raspberries, the mango cubes were delicate and benefited from being packed in a hard subcontainer from Daiso. Packed in a 350ml Geki Rangers bento box with one sub-container removed to accommodate the elephant onigiri.
Verdict: A qualified thumbs up for this simple lunch. Bug ate it all at preschool, but was really hungry after school. Upon reflection, I didn't pack this lunch as tightly as usual, so it was probably on the small side for his growing appetite. I've been seeing fewer and fewer lunch leftovers lately; it may be time to bump up the size of his lunches when preschool restarts in September. Yup, he's on summer break right now! Looks like the bento box size guidelines recommend a 400ml box for a four-year-old…
FURTHER READING: