How to make Spam Musubi
No, no — don't go away! I know Spam sushi sounds awful, but hear me out. I first heard of the Hawaiian classic Spam musubi when I was in college a long time ago, and I have to admit I was pretty skeptical. Come on, Spam spiced ham loaf? In sushi? You've got to be kidding me.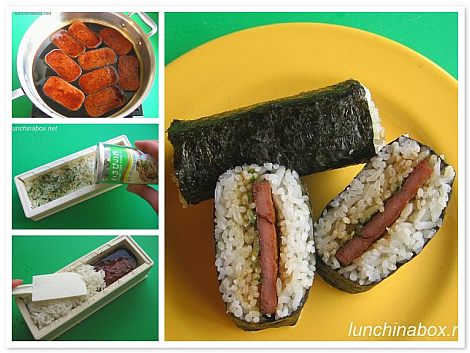 About eight years ago, some of my Hawaiian friends decided to hold a luau here in California, complete with a whole pig cooked in an underground pit dug in their back yard. So as a novelty, I volunteered to make a party-sized batch of Spam musubi (shown at right). Funny thing, though. Once I started cooking (frying the Spam, flavoring it with homemade teriyaki sauce, putting wasabi furikake on the rice for a little kick), it started to smell really appetizing and I tried some. Wow! I've been a convert ever since and try all the different variations I run across, although I only make it a couple of times a year as it can be labor-intensive.
There are a number of variations on Spam musubi, including Spam makizushi (rolled in a long, skinny sushi roll), sandwich-style Spam musubi (shown above), traditional-style Spam musubi with a narrow strip of nori (shown below), Spam musubi with a layer of egg inside, etc. I've even had tasty versions that replace the Spam with teriyaki chicken, barbecued chicken, chicken katsu, or Portuguese sausage. As with rice balls, feel free to experiment with alternate fillings, especially those that are strongly flavored. I suspect that Korean barbecue like bulgogi or kalbi would also be tasty prepared this way, especially when fully wrapped in rice and seaweed as shown above. What variations have you seen? (Click for the full recipe and step-by-step tutorial.)
This can be a pretty labor-intensive recipe (no speed bentos today, sorry!), but there are some shortcuts you can take to speed things up. The slowest version I've made uses seasoned sushi rice (flavored with rice vinegar, sugar and salt), furikake, homemade teriyaki sauce, and yields small bite-size pieces. The speedier version uses plain rice, with furikake and teriyaki sauce optional, and yields full-size pieces with an entire slice of Spam. Cooking the Spam slices beforehand to render the fat isn't optional, though, as this step transforms revolting raw Spam into savory, fragrant yumminess. You can also microwave the Spam slices on paper towels, or bake it in the oven instead of pan-frying, but I like the browned flavor of fried Spam the best. You can make a big batch of the fried, seasoned Spam slices and freeze the excess for speedy Spam musubi when you feel like it, or even make the Spam and rice sandwich filling in advance and refrigerate or freeze it. Warm in the microwave to soften the rice, and wrap with fresh nori once you take it out of the microwave.
My personal preference is to use both furikake and teriyaki sauce, which provide enough flavor that I can skip the seasoned sushi rice in favor of plain. I still make the bite-sized mini pieces for large parties when there will be a lot of people who might be apprehensive about Spam musubi (hey, don't waste a whole piece after taking a nibble!), but I make full-size pieces for the family or for other Spam-friendly audiences.
I'm also a convert to the sandwich-style Spam musubi shown above, which I prefer over the traditional type fastened with a narrow strip of nori. I find that the extra nori seaweed holds everything together much more securely, so there are fewer problems with the rice portion breaking apart mid-bite. I wouldn't turn down either style, though!
Ingredients:
1 can Spam (use low-sodium Spam if you'll be using teriyaki sauce, regular Spam if omitting the glaze)
5-6 cups warm, cooked rice (sushi-type rice, short- or medium-grain like Botan or Calrose)
1/2 cup teriyaki sauce (either bottled or make your own, as below)

2 Tb soy sauce
2 Tb sugar or less
2 Tb mirin sweet cooking sake (if you don't have mirin handy, use regular sake and boost the amount of sugar)

your favorite furikake rice flavoring sprinkles (optional). I like store-bought wasabi furikake with this, but anything is fine.
3-5 sheets of sushi-type nori (roasted seaweed, either unflavored or flavored)
Equipment:
frying pan, tongs and paper towels (for frying the Spam)
Equipment note: if you make this a lot, you might want to get a spam musubi mold (at right) or an "oshizushiki" — a gadget that I use below for making oshizushi pressed sushi. If you don't think you'd use it often enough, try using a Spam can with both ends cut open (the top opens nicely with the ring, but you'll need to use a can opener to open the bottom. It will be sharp, so be careful not to cut yourself! This YouTube video shows the Spam can method.)
a small dish of water (to moisten the nori wrappers to seal)
a large tub of water (to moisten the nori wrappers to seal, to moisten or rinse the musubi mold and rice paddle between batches to keep the rice from sticking)
a small spatula or rice paddle for spreading/pressing the rice into the musubi maker
a sharp thin knife
a damp towel (for your hands and the knife)
a big tray (to hold the finished musubi)
plastic wrap to put over the finished musubi as you make them
Rice:
Put 3 "rice cooker cups" (1 rice cooker "cup" = 180ml instead of the 240ml American cup) of raw short- or medium-grain rice (Botan, Calrose brands are commonly available) in your rice cooker (will make about 6 cups of cooked rice). Wash the rice with hot water as usual until the water runs clear (be gentle with the washing so the individual grains don't break, if you care about that sort of thing). Add cold water to the 3-cup mark.
Let the rice soak in the water (off heat) for an hour if possible (if not, at least 20 minutes). Cook rice. When the rice cooker "finishes" cooking, immediately open it up and gently stir/fluff the rice with a paddle to allow excess moisture to escape, producing fluffier rice. Close up the rice cooker and let it sit for at least 5 minutes before assembling the spam musubi.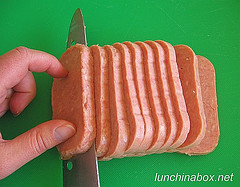 Open up one can of low-sodium spam (you can use regular spam, but it'll be pretty salty with all of the soy sauce in the teriyaki glaze). Slice about 1/4″ thick so that you get 9-10 long slices per can.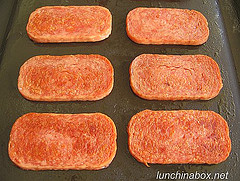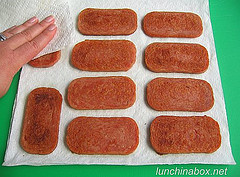 Heat a large griddle or frying pans on medium heat, and fry the spam like bacon until it's golden brown and crispy on both sides. I like to fry it low and slow to render as much of the fat as I can and give it a chance to crisp up. Remove to paper towels, and blot.
If you're using bottled teriyaki sauce, proceed to the next step. If you're making your own, combine equal parts of soy sauce, sugar, and mirin (2 Tb each) in a large pan and adjust to taste (you may want to halve the sugar and add a bit of grated ginger). Heat to a boil and let simmer very briefly, but do not let it reduce much otherwise it'll get too salty. (If you don't have mirin handy, use sake and boost the amount of sugar.)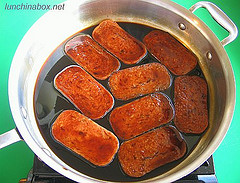 Add the fried spam slices to the teriyaki sauce and stir to coat. Let cook over medium or low heat another minute or two (don't overcook it or the glaze'll be too salty and gooey).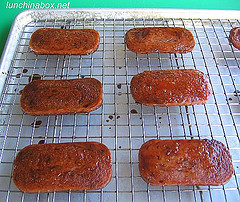 An optional step that I do when making quadruple batches for big parties is to remove the sauced Spam slices to a cooling rack set over parchment paper or baking pans. I put it in my assembly area and let it cool while I get everything else together. If you're just making a few, you can just keep the sauced spam in the frying pan to reduce the number of dishes to clean afterwards.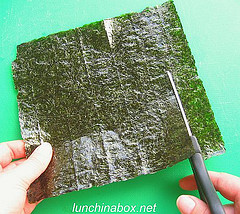 Depending upon the style and size of spam musubi you're making, you may want to cut the big sheets of sushi nori (either regular roasted seaweed or flavored Korean seaweed for a change of pace). If you're making the sandwich-style fully wrapped version and you have a long sushi press like I use below, you don't need to cut the nori, just assemble a super-long version right on top of the large sheet of nori, wrap, and cut at the end.
If you're making the second version below with the Spam on top tied with a narrow strip of nori, go ahead and cut the seaweed into long strips approx. 1 inch wide for the bite-sized mini-musubi, 2 inches wide for the full-size musubi.
Version I: Sandwich-style Spam Musubi 
The pictures below show how to assemble the spam musubi mostly in the musubi maker, but there's a cool shortcut that I didn't photograph! Simply remove the bottom of the oshizushiki, and place the empty mold on top of a sheet of nori. Make the filling as below directly on top of the nori, and remove the mold when done. You're then in a perfect position to just seal the nori wrapper without moving the rice and spam filling around anywhere, providing better stability. This is why the spam musubi maker shown above doesn't have a bottom…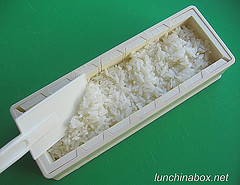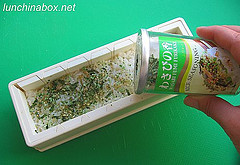 Dip the spatula and entire musubi maker in water to keep the rice from sticking to everything. Use the spatula or rice paddle to even spread the rice over the bottom until it's a little under a half full. Lightly tamp down the rice with the musubi maker "lid", then sprinkle the rice with furikake. Put the lid and spatula back in the bowl of water so they'll be ready.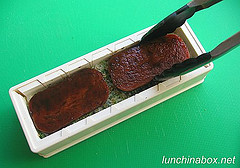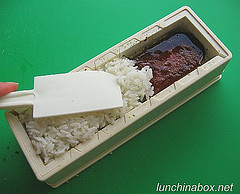 Place a couple of pieces of Spam on top, then top with an additional layer of warm rice.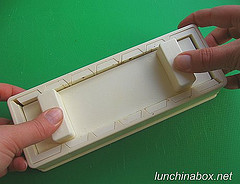 Tamp down on the rice layer with the damp lid. Remove the outer portion of the oshizushiki (if using) and slice in half between the two Spam slices if you like. Push down on the rice with the lid and remove the sides of the musubi maker. Put the musubi maker in the big bowl of water so the next batch won't stick.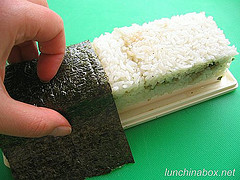 Lay a half sheet of nori over the Spam, and wrap it around the rice. Moisten the end of the nori strip so it'll seal, and put it in your "done" platter. Cover the tray with plastic wrap so things don't dry out while you work on the rest. (Shortcut reminder: If you're going to make this style, make your life easier by just putting the mold directly on the full sheet of nori without using the bottom of the mold.)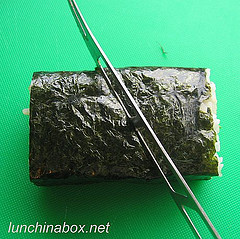 For a neat presentation, wet a sharp knife and slice the Spam musubi sandwich diagonally (or horizontally).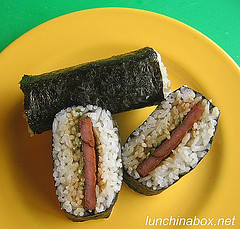 Stand the slices straight up on a plate, or pack inside of a bento lunch. You can also wrap these in plastic wrap and throw into a lunchbox for a durable snack.
Version II: Traditional-style Spam Musubi
Fill the mold 2/3 full of rice, tamp down lightly with the lid to even, and sprinkle with furikake. Place the spam on top, then tamp the whole thing down with the lid.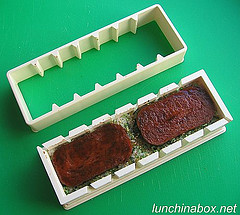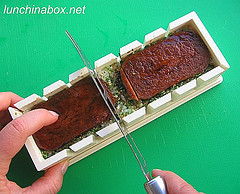 Remove the outer portion of the oshizushiki (if using) and slice into smaller portions if you like (along each slicing guide for the bite-size mini musubi, or every third one for the full-size musubi). Replace the lid, push down lightly, and lift offf the outer mold. Put the musubi maker in the big bowl of water so the next batch won't stick.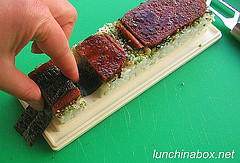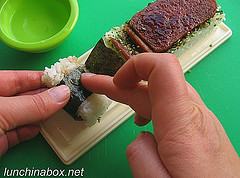 Lay a nori strip over the spam, and wrap it around the rice so that the ends meet at the bottom of the musubi. Moisten the end of the nori strip with water so it'll seal, and put it in your "done" platter. Cover with plastic wrap while you work on the rest.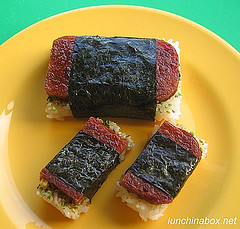 Serve as is or pack in a bento lunch. You can also wrap these in plastic wrap and throw into a lunchbox for a durable snack.
FURTHER READING:


Subscribe to Lunch in a Box by e-mail updates or via RSS feed