Appetizers for lunch
Welcome to those of you who found your way here from recent write-ups in Boing Boing, Neatorama, Slashfood and Serious Eats! Please feel free to ask questions or comment even on old entries, and accept my apologies for some lingering issues from the site's being hacked last week (some character encoding is wonky, and Google-powered internal search is down until the site is reindexed by Google).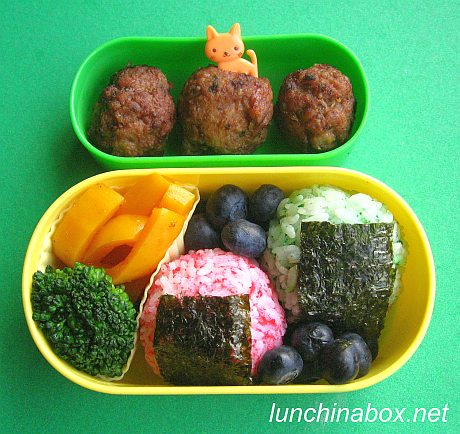 Contents of preschooler bento lunch: Teriyaki pineapple chicken meatballs, broccoli with vinaigrette, steamed red bell pepper with Korean barbecue sauce, blueberries, and onigiri rice balls filled with Gohan Desu Yo! seaweed paste and wrapped in packaged, pre-cut seasoned nori seaweed snack strips.
To give the rice the red and green color, I mixed the rice with red and green hana-ebi powdered dried shrimp. A variation on sakura denbu (a sweet powder of ground codfish that's often used in chirashizushi), hana ebi is a savory shrimp powder from Hawaii. You can see the results of all three types in an early snack bento for my son. (see my page on Decorative Food for other ideas)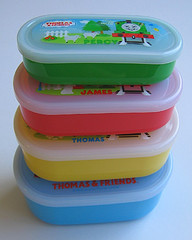 Morning prep time: 12 minutes, using frozen rice and pre-made meatballs from Costco (Aidells brand, my favorite). In the morning I warmed the frozen rice in the microwave, and started working on the rice balls while the broccoli, bell pepper and meatballs multi-cooked in my microwave mini steamer at the same time. (Read on for details and an additional preschooler lunch.)
Packing: Packed in two tiers (280ml & 100ml) of a 4-tier nesting/stacking Thomas the Tank Engine bento box set from Moritaya, and fastened with a colorful elastic bento band from Daiso.
Verdict: Thumbs up over time. Bug ate all of the meatballs and rice balls at preschool, and ate the rest afterwards as a snack.
* * * * *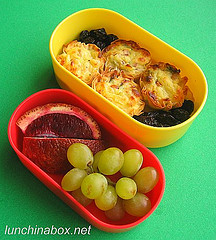 Contents of preschooler bento lunch: Mini quiche Lorraine, dried blueberries, Moro blood orange wedges, and green grapes.
Morning prep time: 15 minutes of mostly inactive prep, waiting for the frozen mini quiches to cook in my convection toaster oven, then cool down before closing the lid (to retain crispiness).
Product: I tried the Nancy's Petite Quiches from Costco's frozen appetizer section, and found them to be quite nice for a convenience food (also available at BJ's and Sam's Club). My preschooler loves them as they're child-sized finger food for him (with cheese — he loves cheese). They come in both Lorraine (swiss cheese and bacon) and Florentine versions (swiss cheese and spinach). It was quick and easy to pop a few into my convection toaster oven while I got the rest of the lunch ready, just be sure to cool them thoroughly before packing them in a closed lunch container. If you pack them when they're still hot, you'll get condensation inside the box that'll make the quiches soggy and unappetizing. There's an interesting thread on Chowhound with additional reviews of Costco foods, not just the appetizers. (Disclaimer: I have no commercial affiliation with Nancy's or Costco.)
Packing: After letting the mini quiches cool down to avoid getting soggy in the closed container, I plugged the gaps with some dried blueberries to stabilize the lunch for transport and provide color contrast. The lunch is packed in two tiers (280ml and 180ml) of a 4-tier nesting/stacking Thomas the Tank Engine bento box set from Moritaya (store details in my SF Bay Area shopping guide for bento gear). Because the larger yellow container is only packed halfway-up with food, I'd estimate there to be a total of 420ml worth of food in this lunch (still a bit on the large size for a 3.5-year-old according to the bento box size guidelines, so good as lunch and a snack).
Verdict: Good over time. Bug ate all of the quiches and blueberries at preschool, and finished the oranges and grapes at the playground after school.
RELATED POSTS: