Salmon cake lunches & mini mandoline
Bento lunches are the perfect small stage for miniature foods: baby vegetables, mini burgers, cocktail sandwiches, mini frittatas, tiny shepherd's pies, you name it. Not only are they cute, kids love them and can be tempted to try new things they might not otherwise find interesting. My son 'Bug' and I made speedy cornbread mini muffins with an instant mix from Costco (Marie Callender's brand) that I tried for the first time — just add water and bake for 10 minutes. Granted, the muffins weren't the same quality as savory Southern-style cornbread we usually make with stone-ground cornmeal and a cast iron skillet for dinners, but overall I found the quality quite acceptable for a super-instant product (very slightly sweet, but not overwhelmingly so). This now puts freshly baked cornbread in my reach in the mornings when I'm packing lunch — a good product for when my new toaster oven arrives! I made a batch of 15 little muffins and froze the remainder for future lunches.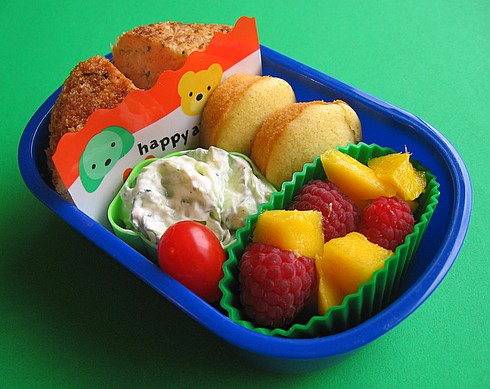 Contents of preschooler lunch: Pan-fried salmon cake, cornbread mini muffins, super-fast cucumber and cream cheese salad (recipe with tutorial here), grape tomatoes, mango and raspberries. Instead of making my usual slow-cooked salmon, I diced a side of salmon and made it into salmon cakes using a recipe (for paid CI subscribers) from Cook's Illustrated's The New Best Recipe cookbook.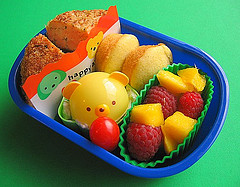 Morning prep time: 7 minutes, using leftover salmon cakes and cornbread muffins.
Packing: I cut a single salmon cake into quarters and stacked them two high so Bug could eat them easily with his fingers. The speedy cucumber and cream cheese salad went into a reusable plastic food cup shaped like a dog's head, and was covered with a "surprise animal cap" to keep it from spilling out during transport. Grape tomatoes act as a gap filler to stabilize the lunch and keep the plastic food cup from sliding around during transport. Fruit went into a reusable silicone baking cup to keep the moist mango away from the dry cornbread muffins. I'm liking the regular round silicone baking cups for their ability to squish into different shapes to match the available space (and be reused, of course). A disposable plastic food divider ("baran") from Daiso separates the salmon cakes from the corn muffins; it's disposable but I tend to wash and reuse them (yes, I'm cheap). Lunch packed in a 360ml Disney Cars-themed bento box with both sub-containers removed.
Verdict: Mixed. Bug ate everything except the cucumber salad and mangoes at preschool. The mango was a little stringier than the champagne mangoes I usually buy, and something about the texture didn't work for Bug. He inhaled the salmon cakes and mini muffins, though, and requested them again for the next day's lunch (which I won't show, too repetitive).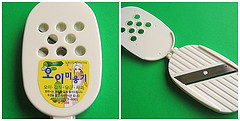 Gear: I found this funny little Korean mini mandoline slicer and grater at Kamei in San Francisco for about US$2, and used it to slice cucumber for the cucumber salad shown above. Folded, it's the size of the palm of my hand, and it looks like it's meant to be used for beauty: to slice cucumbers to put on your eyelids. So funny, I couldn't resist, even though I've already got a larger slicing multi-tool that does the same thing.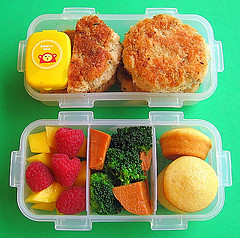 Contents of my lunch: Salmon cakes with lime chipotle cream sauce for dipping (recipe here), mini cornbread muffins, broccoli and sweet potatoes in mirin/soy simmering sauce, raspberries and mango.
Morning prep time: 4 minutes, using leftover salmon cakes, cornbread muffins, broccoli and sweet potatoes. I filled the sauce container when cleaning up from dinner a couple nights prior, so in the morning all I had to do was cut the mango and pack up the leftovers.
Packing: I left out half of a salmon cake to make room for the little Clickety Click sauce container. Packed in two 350ml tiers of a Lock & Lock lunch set with built-in dividers that kept the sauce on the vegetables totally away from the muffins and fruit.
READ MORE: