Korean mandu bento lunch
You don't have to have gourmet leftovers on hand for a quick but satisfying bento lunch. Here's a simple vegetarian lunch that I threw together from frozen foods and pantry staples.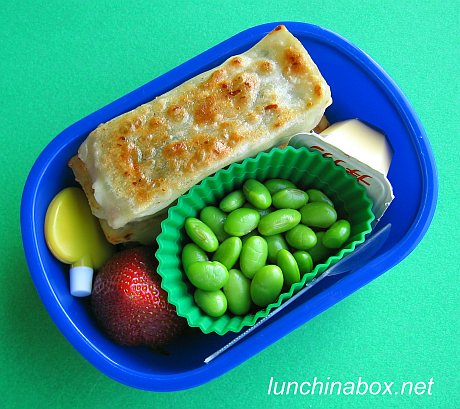 Contents of preschooler lunch: Rectangular Korean vegetarian dumplings (pan-fried mandu, like potstickers with a crispy bottom and soft steamed top) and dipping sauce, edamame, strawberry and a shelf-stable mini pudding cup (Kiku Petit Pudding, like a little flan or creme caramel, found here online and in Cost Plus World Market's retail stores in the U.S.). The pudding cups can be frozen and used as edible ice packs in bento lunches for maximum packed lunch food safety. I like the Assi brand "Cooked Vegetable Dumplings" (calorie info here) that I picked up at Kukje, a large local Korean market (store info at my list of favorite SF Bay Area ethnic markets). They cook and cool quickly because they're flat and thin, and you get maximum crispy surface area on the bottom. Perfect on mornings when I don't have nice leftovers ready to go in the fridge.

Morning prep time: 12 minutes, using frozen dumplings and edamame. In the morning I pan-fried & steamed the frozen, store-bought dumplings in a mini frying pan, and lightly simmered the edamame in the hot pan afterwards while the dumplings cooled on a mini cooling rack. I also use the mini cooling rack and pan in my convection toaster oven for fast meal prep; they were only US$1.50 per piece at Daiso (Japanese dollar store with branches internationally, additional store info at my San Francisco Bay Area shopping guide to bento gear). (Full details here with speed packing info.)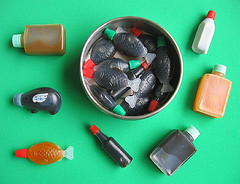 Packing: Letting the dumplings cool down on a little cooling rack before packing is the trick to retaining their crispy bottom; if I had packed these while still hot they would have quickly become soggy in the closed-up box. I used a pre-filled sauce container with the dipping sauce to save time; when you're making up dipping sauce for dumplings, make a slightly larger batch and fill a number of sauce containers with it and store (in the refrigerator or at room temperature, depending upon the perishability of the sauce). Take advantage of colorful sauce containers to add some fun and color balance to your meal. The lunch is packed in a 360ml Disney Cars bento box with both sub-containers removed to accommodate the long dumplings, and I threw in a little plastic spoon for the mini pudding cup. I put an oshibori damp hand towel in my three-year-old's Cars lunch bag because he eats everything except the pudding cup with his hands.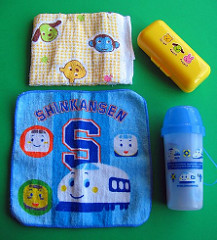 Verdict: Big thumbs up; Bug ate the entire lunch at preschool, even all of the edamame! He was proud of himself for being able to finish the whole bento — I'm happy that I'm getting better at gauging his appetite.
RELATED: