Gold kiwi lunches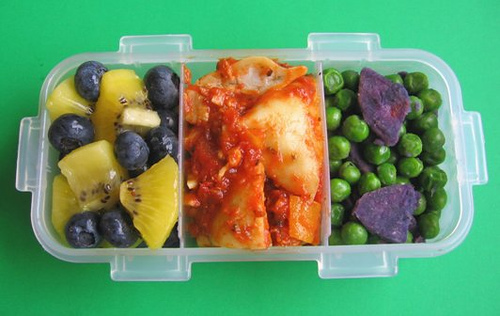 Contents of preschooler lunch: Gold kiwi, blueberries, spinach and cheese ravioli with tomato sauce (with sauteed pancetta and yellow bell peppers), buttered green peas and Okinawan purple sweet potatoes. Bug wasn't into the purple potatoes, but gave everything else the big two-and-a-half year old Thumbs Up.
Morning prep time: 10 minutes, using leftover sauced ravioli. The one thing I cooked this morning was the pea and potato dish: I peeled and thinly sliced a wedge of purple potato, microwaved it on high in a lot of water for the potato, drained and tossed with butter, salt and pepper.
Packing: I cut up the kiwi and ravioli for easier preschooler eating, and packed the ravioli on top of a thick layer of extra sauce (for mixing just before eating for improved texture). Dividers built into the box keep everything nice and separate, preventing flavors from mingling. Packed in one 350ml tier of a Lock & Lock bento set.
Ingredients: Gold kiwifruit is in the stores again! It's much like regular green kiwi, but with a faintly melon taste and no fuzz on the skin. If you like, you can eat the skin after washing it, like an apple. I also picked up some Okinawan purple sweet potatoes on a whim — I usually get small purple boiling potatoes, but these were much larger (and more expensive). I enjoyed the flavor and have a lot left; maybe I'll try the purple sweet potato pie recipe in the link.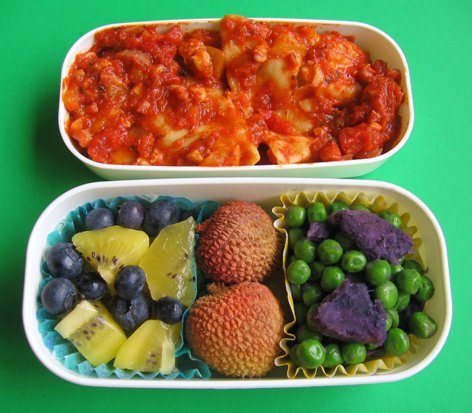 Contents: Same as Bug's lunch, with the addition of fresh lychees (a.k.a. litchis).
Morning prep time: 9 minutes (same as above, minus the cutting of the ravioli).
Packing: I packed the two raviolis on top of a thick layer of extra sauce so that I could re-sauce just prior to eating for best texture. Because this box does not have built-in dividers, I used two cupcake liners to contain the rolling peas and blueberries, keeping the lychees clean and dry. Silicone cupcake liners, reusable plastic food cups, or other food dividers (edible dividers like lettuce or flat veggies, or non-edible dividers like sushi grass or other plastic dividers) would work just as well.
Equipment: Packed in a two-tier Feel at Ease box that I got for US$1.50 at Ichiban Kan; unfortunately the design is coming off of the lid due to repeated trips through the dishwasher (guess I should have actually listened to the Japanese care instructions and hand-washed it after all — a warning to those of you with Feel at Ease boxes!). The two-tier 580ml Urara dragonfly box is of a similar design, size and price, and has worn much better through nine month's worth of trips through the dishwasher (boxes and top lid only, not the more delicate inner lids). If you have a choice between the two, definitely opt for the Urara if you plan to run it through the dishwasher.