Homemade gnocchi box lunches
Bug and I made homemade gnocchi for dinner last night, which he really enjoyed as it was like playing with play dough (modeling clay). Involving your kids in meal prep can be a fun way to get them interested in their food, as well as being rewarding family time if you don't stress about the meal being fast or perfect. Check out the James Beard Award-winning website Spatulatta.com for videos of kids teaching kids to cook; there's a lot of quality material there, including the Spatulatta Cookbook .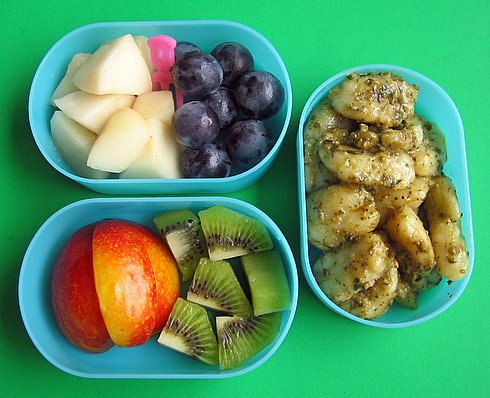 Contents of preschooler lunch: Homemade gnocchi with pesto sauce, Bartlett pears, Concord grapes, pluot (plum apricot hybrid), and kiwi. The grapes turned out to be unpopular with Bug because of their seeds and thicker skin. I love their complex, almost wine-like flavor, though, so Bug fed them to me.
Morning prep time: 7 minutes, using leftover sauced gnocchi. In the morning I just microwaved the sauced gnocchi to restore texture, and cut up fruit. (I boiled uncooked gnocchi for my meal to see how the two differed.)
Packing: Everything is cut into bite-sized pieces for easy child eating. I dipped the cut pears in lemon juice mixed with strawberry banana juice to prevent the fruit from browning without the sour taste of straight lemon. A little pink Shokupanman pick was supposed to help with the pears, but they were so soft that a fork was a better utensil (they fell apart with the little pick). Packed in a cheap three-tier 495ml box from Daiso, closed with the elastic bento band shown here.
Cooking: We made the gnocchi with potatoes and flour — that's it. Marcella Hazan, the Soup Nazi of Italian cookbook writers, gives good guidance on making gnocchi in her definitive cookbook Essentials of Classic Italian Cooking. Boil 1.5 lbs of boiling potatoes (I used Yukon Golds) with skins on, put them through a potato ricer or mouli while still warm, and work in about 1.5 cups of all-purpose flour until it gets to a soft Play Dough consistency. Flour the work surface and roll into long ropes of one inch in diameter, then cut ropes into 3/4-inch segments. Use the concave tines of a dinner fork to shape the gnocchi (or just poke them with your finger to make an indent that'll catch the sauce). Cook the gnocchi in small batches in salted boiling water — pull them out 10 seconds after they float to the surface. Gently sauce and eat. Check out the gnocchi recipes and tutorials by Simply Recipes and Cook (Almost) Anything Once.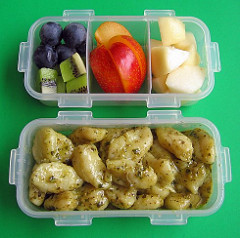 My lunch: I set aside some shaped but uncooked gnocchi last night to test the difference between leftover cooked/sauced gnocchi and freshly cooked gnocchi in our box lunches. Result: the gnocchi I boiled this morning had a nicer texture but lost a little of their defined shape through the overnight rest in the refrigerator (next time will try freezing them). The refrigerated cooked/sauced gnocchi was fine but not optimal, and needed to be tossed with a little fresh pesto sauce in the morning before packing.
Morning prep time: Because I boiled my gnocchi fresh this morning in a small pot, it took about 15 minutes to make this lunch.
Packing: Packed in two 350ml tiers of a Lock & Lock lunch set, with the drink container holding banana-strawberry juice cut with water.
(Edit: After making this, I discovered that Donna Hay's blog was having a gnocchi roundup, so I submitted it for  HHDD#14, hosted this time by Cafe Lynnylu. You can see the full gnocchi roundup here, posted Aug. 25, 2007.)
READ MORE: