Bento love for convection toaster ovens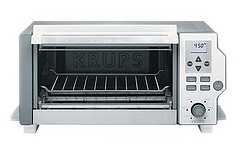 Please don't tell my husband that I've fallen in love — with our new convection toaster oven. Our seventies-era wall ovens are a serious energy suck, and the electricity bill reflects this whenever I do a lot of cooking or baking in them. We'll probably wind up replacing them eventually, but in the meantime we splashed out for a cool convection toaster oven from Krups that won Cook's Illustrated's top ranking in their product testing (the FBC512 in white, but black is cheaper even with the free shipping). Convection ovens have a fan that circulates the hot air evenly throughout the oven for faster and more even browning at lower temperatures than conventional ovens, and that extra speed was the deciding factor for me in shelling out for convection. The drawback to toaster ovens is that they take up more counter space than regular toasters, but I've made my peace with that tradeoff for the sake of versatility. Amazon carries a variety of convection toaster ovens
and regular toaster ovens
at all price points, but you can often save on shipping by going to your local superstore or kitchen store.
When I lived in Japan, it was unusual for a kitchen to have a proper oven, and most people had toaster ovens that they used for cooking, baking and making bento lunches. They're perfect when cooking lunches for one or two people, as I don't hesitate to reach for the toaster oven when I wouldn't fire up a full-size oven in the morning. I've been experimenting with cooking other dishes in it for our lunches, broiling small pieces of fish, vegetables, little gratins in the extra-thick aluminum baking cups, eggs, etc. Expect to see more food made in toaster ovens from me, often using the multi-broiling speed bento technique.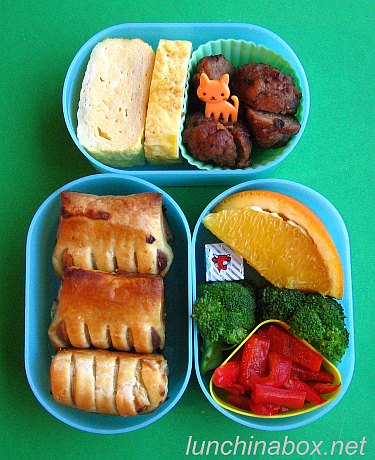 Today's lunches show the first of my toaster oven fun, using frozen puff pastry appetizers that I picked up from Costco. I've been having good luck exploring the different frozen appetizers at Costco, including the spanakopita, mini crab cakes, meatballs, etc. The San Jose Mercury News recently did a tasting round-up of Costco frozen appetizers that gives a thumbs up to the appetizers below, among others (free registration required to view the article. EDIT: use bugmenot.com to avoid registration if you like). Have a favorite toaster oven dish? Share it in comments.
Contents of preschooler lunch: Tamagoyaki rolled egg (my tutorials here for both traditional and shortcut versions), teriyaki pineapple chicken meatballs (Aidells brand, my favorite), orange wedge, cheese cube, steamed broccoli and red bell pepper, and puff pastry appetizers with sweet sauteed onion, sage and Gorgonzola cheese (review below).

Morning prep time: 20 minutes, using frozen appetizer pastries and ready-made meatballs. In the morning I popped the frozen pastries into the toaster oven while I made the tamagoyaki. Because the toaster oven is convection, I set it 25 deg. F cooler and 4 minutes shorter than instructed on the package to avoid burning. I used my microwave mini steamer to quickly make the broccoli, and the bell pepper was leftover from this lunch. (Click here to read the full post with product reviews and an additional lunch…)
Product review: When we entertain, we spend a lot of time cooking the actual meal, but burn out on making homemade appetizers. To keep my guests from chewing on the furniture before we serve dinner, I've started turning to frozen appetizers to supplement the regular cheese board. When I was at Costco I picked up a big box of assorted Puff Pastry Petites by Cuisine Adventures, which come in four flavors: sweet sauteed onion with sage and Gorgonzola, artichoke with herb and garlic cream cheese, four cheeses and roasted garlic, and Brie and caramelized onion. They're delicious, impressive, and dead simple to prepare: just throw on a baking sheet and bake for 15-20 minutes, depending on the type (convection ovens shave off a few minutes). They came packaged in little trays that were wrapped with regular plastic that can't be resealed once you open it, so if you only bake off a few at a time for lunch you'll need to either put the remainder in a freezer bag or rewrap the plastic tray with plastic wrap. When making these for a bento lunch, be sure to cool thoroughly before packing and pack them away from moist food to prevent them from turning soggy in the bento box.
Verdict: Thumbs up, albeit a little big for Bug to eat at once. He ate everything at preschool except the bell pepper and broccoli, but ate those after school as a snack. He left one stalk of broccoli, giving it to his little friend Sierra.
* * * * *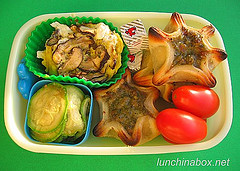 Contents of preschooler lunch: Egg and shiitake mushroom mini frittata (microwave version, recipe here), Lizano sauce for the frittata (sources here ), steamed zucchini with vinaigrette, cheese cubes, grape tomatoes, and puff pastry with Gorgonzola, bacon and spinach (Full Circle Torta Stella, review below).
Morning prep time: 20 minutes of mostly inactive toaster and cool time, using frozen appetizers. In the morning I popped the frozen pastries into the toaster oven first thing and let them cook while I worked on the rest of the lunch, quickly making the zucchini and the egg cup in the microwave.
Product review: My son's Japanese preschool teacher was so taken with the little tortas in Bug's bento that he asked me what they were and how to make them. He was surprised to hear that they were super-easy frozen appetizers from Costco — Full Circle Torta Stella. They came in a big package with three wrapped plastic trays of different flavors: 1) pesto, prosciutto and pearl mozzarella, 2) Gorgonzola, bacon and spinach, and 3) feta, olive and sun-dried tomato. Bug and I like the pesto & prosciutto kind the best, but I can't send them with Bug to his preschool because the pesto is a problem with their lunchroom allergy restrictions. The pastries got a little over-browned because I didn't properly adjust the temperature down 25 deg. F for the convection toaster oven; chalk that up to my learning curve with a new appliance. Directions called for 10-12 minutes of baking; the convection oven brought it down to 8-9.

Packing: In order to fit the large, irregularly shaped pastries, I chose a 470ml Afternoon Tea bento box that's a little large for my three-year-old according to the bento box size guidelines, and packed it somewhat loosely with only three pastries. The tomatoes and cheese cubes acted as gap fillers to stabilize the lunch during transport. I both cooked and packed the frittata in a silicone baking cup, and put the drained & cooled zucchini in a hard plastic food cup (care instructions for bento gear here). We wound up dropping this box on the way home, and a flap on the lid broke yet AGAIN, so I won't be replacing this somewhat cheap, too-delicate box because of the poorly constructed flaps.
Verdict: So-so. Bug ate the puff pastries, cheese and tomatoes at preschool, but left the frittata and zucchini. After school he did eat the remainder as a snack, but wanted me to cut up the frittata for him. Note to self: cut up mini frittatas when packing Bug's lunch to make it easier for him to eat quickly with a fork, without frustration.
(Disclosure: Links to Amazon are affiliate links that support Lunch in a Box at no additional cost to the buyer.)
* * * * *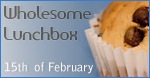 This is my entry for the Wholesome Lunchbox event hosted by the Coffee and Vanilla food blog, ending Feb. 15, 2008. Interesting event, although my lunches don't fit the guidelines precisely (no dessert, no drink, no snack). My son's preschool serves snacks and drinks, and I don't tend to pack desserts apart from fresh fruit. In hindsight, puff pastry probably isn't the most wholesome food, but there you have it!
FURTHER READING: