Speed Bento: leftover storage and portion guidelines
Another speed bento that took about 5 minutes to pack, using leftovers and a microwave mini steamer for the broccoli. There's also chicken salad from CostCo and seasoned beans that I got from a nearby Korean market's panchan bar.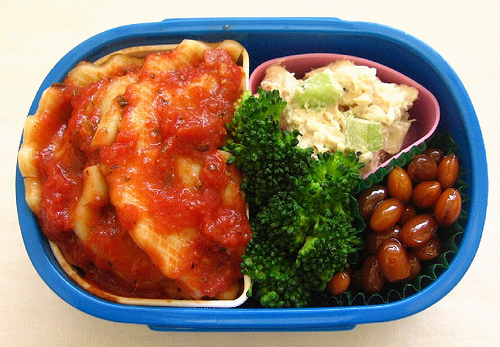 Using dinner leftovers is an obvious speed bento tip, but you can take it a step further by packing leftovers directly in little containers that will drop right into your bento box or Laptop Lunchbox. A couple of nights ago after dinner, I cut the leftover sauced ravioli into quarters (to make it easier for my son to eat on his own) and packed them neatly into one of the containers that drop into his little 270ml Thomas the Tank Engine bento box. I then covered it with plastic wrap and threw it into the fridge, where it waited to be packed into a lunch at some undetermined point in the future. This works for me as I've got spare sub-containers, but if you didn't you could always use cupcake liners or other food cups (stored in tupperware in the refrigerator).
BTW, I usually refer to the size of my bento boxes in milliliters (ml) because a rule of thumb in Japan is that when you pack a bento box normally (A: 3 parts starch, 2 parts veggies/fruits, 1 part protein; B: without candy or junk food; and C: without lots of empty space), calories correspond directly to capacity. So a 270ml bento box should hold approximately 270 calories worth of food. Capacity (容量) is usually written on the bento box package and also often on the bottom of the bento box in raised plastic. It's helpful for portion control.
READ MORE: