Avoid airline food, pack your own bento lunch
My husband, my three-year-old son and I went on a multi-city vacation in December, so of course I brought along gear to pack bento lunches for our flights and day trips. Nowadays airlines in the U.S. are offering less and less in the way of meals, instead selling nasty carb-loaded "snack box" meals full of pretzels, crackers and processed cheese. Those things are loaded with preservatives and aren't particularly delicious or satisfying — better to bring your own food and be in control of your own destiny. I get a kick out of pulling a proper meal out of my carry-on bag, quieting my son while making my seatmates and the flight attendants jealous. But there are some tricks to packing an appealing airplane lunch that'll pass through airport security and still taste good. (Click to read the full post…)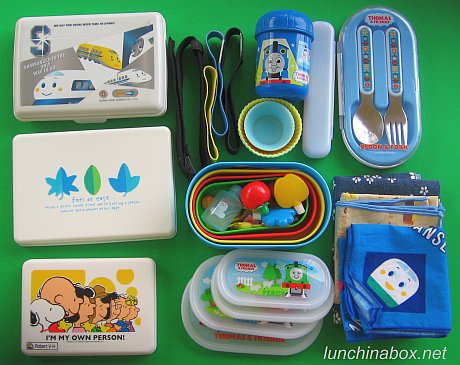 Save space with your containers. Choose a disposable container if you're packing a meal to send away with someone else, or if space is at a premium and you won't be packing any additional meals. Or choose a collapsible sandwich case or a multiple-tier bento box that nests (JList sells some here) into itself when empty so that you can save space in your luggage, and use them throughout your trip. For our family trip I brought along the gear in the photo above; it looks like a lot, but it didn't take up much room in my luggage because the boxes collapsed and nested. (Click any photo for details and a larger view.)
Although the Laptop Lunchbox was designed to fit perfectly on an airplane tray table, I find it a bit large and unwieldy when traveling (your mileage may vary). Give me a container that I can collapse after I eat, and I'm happy. Another upside of collapsible containers is that you can whip one out of your bag to pack up leftovers from a restaurant meal and store it in your hotel room refrigerator, saving you money on lunch the next day (even if you're not flying). I especially like the collapsible sandwich cases because sandwiches are widely available and easily packed on the road when I'm away from my kitchen.
Think about security restrictions when choosing your food. Cut food into bite-size pieces as necessary beforehand as your knives won't make it past airport security, and avoid large quantities of liquids or gels. To be safe, this means skipping the soup or curry, and packing small amounts of condiments (under 3 ounces) in a separate 1-quart plastic bag to speed your passage through security. Remember that you can always pick up little condiment packets from airport restaurants after you've gone through security! Leave the yogurt, applesauce, and juice boxes at home. I had juice boxes confiscated on this past trip as TSA determined that my three-year-old is no longer an infant. It's been fine at other times, so be prepared to lose questionable items (Bug was so sad watching his juice boxes being thrown away by security — learn from my experience!). The most current U.S. guidelines for carry-on items are here, but check your own country's air travel authority for local laws.
Don't forget the accessories. Bring along a few sauce containers, food dividers, reusable silicone baking cups, or travel utensils if you think you might pack meals on the road or for the flight home. If you're packing something messy and a regular napkin won't cut it, consider bringing along disposable wet wipes or even a damp oshibori hand towel. You can make your own on the cheap with common items like a wet paper towel in a plastic baggie, or a reusable baby washcloth inside a travel soap case (see my oshibori how-to).
Use multitaskers. Use a cloth napkin or dishcloth to wrap your bento box, keeping your lunch secure and giving you a nice placemat or napkin to use during your meal. I use the simple Otsukai Tsutsumi wrapping style shown on this illustrated how-to wrapping chart to wrap flimsy disposable containers so they can be thrown into carry-on luggage.
Contain the smell. You'll be eating in close proximity to others; be considerate and think about how your meal will smell when you open it on the plane. Read my tips for packing smelly foods if you're going to pack things like tuna fish or garlic.
Don't overpack food for international travel. When traveling internationally, it's safest to either finish your lunch on the plane or throw away any fresh leftovers before going through customs. Customs officials generally aren't amused if you forget to declare fresh fruits or meats in your luggage — once I absentmindedly lost an orange and a hard-boiled egg this way in Costa Rica. Familiarize yourself with the laws of the country you're going to beforehand so you don't get caught out.
Don't overpay for airport drinks! Bring along an empty water bottle and fill it from a water fountain after you've passed through security. This is when those individual packets of powdered drink add-ins come in handy — throw a few of these in your carry-on and you're independent!
Here are some sample bento lunches I've made for plane trips (click on any for details):
FURTHER READING:
Subscribe to Lunch in a Box by e-mail updates or via RSS feed