Lox and cheese mini bagel sandwiches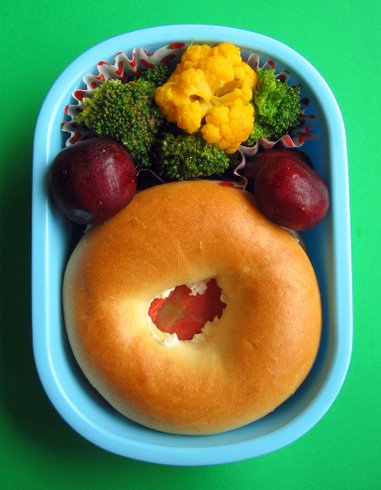 Contents of preschooler lunch: Mini bagel sandwich with cream cheese and smoked salmon, broccoli and orange cauliflower florets with red wine vinaigrette, and cherries. The orange cauliflower tasted just like regular white cauliflower to me; I bought it and a bag of mini bagels (perfect for little hands) at Safeway.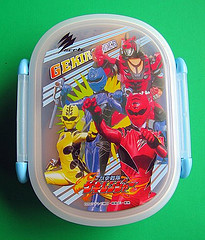 Morning prep time: 10 minutes to make the sandwich on an untoasted bagel, and quickly cook the broccoli and orange cauliflower in my microwave mini steamer (speeds cook time by 50%). I nuked the cream cheese briefly to make it easy to spread on the bagel.
Packing: I didn't want the vinaigrette on the broccoli and cauliflower to get onto the bagel and make it soggy, so after cooking and dressing the vegetables I tossed them into my mini strainer and bowl to drain and cool quickly. A short rest of a minute or so did the trick, then I took out extra insurance against leaking by packing them in a coated food cup. If I had the larger size silicone baking cups , those would have been a good waste-free alternative here. One of these days… The lunch is packed in a 350ml Power Rangers ("Geki Rangers") box that I actually found abandoned near my house!!! Manna from the skies — bizarre.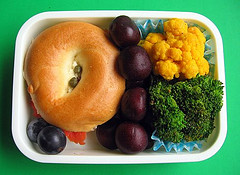 My lunch has the same food, but with the addition of capers in the bagel sandwich and a couple of Concord grapes that act as gap fillers to stabilize the lunch for transport.
READ MORE: