Spanakopita lunches
We had a homeowners' association meeting at our house last night, so today's lunches consist of leftovers from what I put out for that meeting. Today was also the day that I went on an outing with my son's preschool to a nearby pumpkin patch; there were quite a few parents accompanying the class, and we all brought bento lunches for ourselves as well as our children. It's always interesting to see what others bring for lunch, especially Japanese parents in the San Francisco Bay Area who have the same products available to them that I do.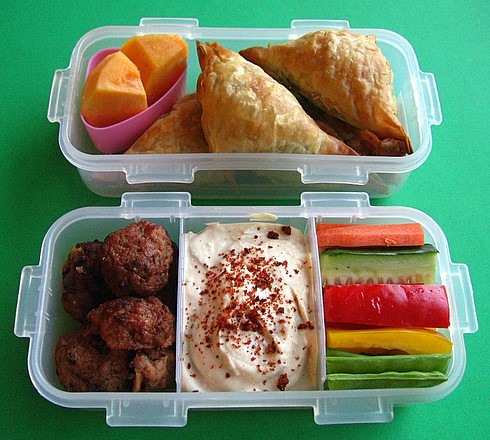 Contents of my lunch: Spanakopita (Greek spinach turnovers in phyllo), crisp Fuyu persimmons, teriyaki pineapple chicken meatballs (Aidells brand), hummus (Sabra brand) sprinkled with Aleppo pepper, and vegetable sticks of carrot, cucumber, red and yellow bell pepper, and snow peas to dip in the hummus.
Morning prep time: 4 minutes, using all leftovers except the persimmon.
Packing: I cut some of the meatballs in half to fit more into the section, and put the persimmon into a reusable plastic food cup to keep it away from the crispy spanakopita. Packed in two 350ml tiers of an insulated Lock & Lock lunch set, with water in the drink container and little ice packs (cut from a flexible ice blanket) tucked inside.
Product spotlight: I tried out some frozen spanakopita from my bulk shopping standby, Costco (they sent members a $3 off coupon for the spanakopita, good through Oct. 28). They were wonderful, light and tender after a 20-minute spin in the oven. If I were to make these fresh in the morning for a bento lunch, I'd want to make sure they cooled fully before packing in order to avoid condensation inside the box that would make the spanakopita soggy. Not impossible if I got an early start on making lunches (i.e. made lunch first and let it cool while I get Bug and myself ready for the day), but beyond me most mornings.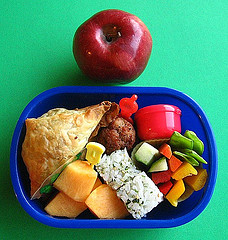 Contents of preschooler lunch: Same as mine, with the addition of onigiri cubes (rice mixed with nori furikake, shaped with a rice cuber — tutorial here). (Click any photo for a larger view.)
Morning prep time: 6 minutes, using leftovers. In the morning I cut up the persimmon, nuked some leftover refrigerated rice, mixed it with furikake and made the onigiri cubes.
Packing: Hummus went into a Clickety Clack mayonnaise cup from Ichiban Kan, little Anpanman picks helped little hands eat the meatballs and persimmon, a plastic food divider kept the moist persimmon from touching the crispy spanakopita, and the veggie sticks stood up neatly in a reusable silicone mini baking cup from Daiso. Lunch packed in a 360ml Disney Cars bento box with sub-containers removed.
Verdict: I ate together with Bug at the pumpkin patch today, so he was able to eat most of his bento and then beg one of my spanakopita triangles and my remaining hummus. I should have made the square onigiri a little smaller (or warned Bug of the obvious — they're too big for one bite); he stuffed an entire cube into his mouth and choked a little. The apple went uneaten, as did one of the onigiri cubes.
READ MORE: