Frozen rice bento lunch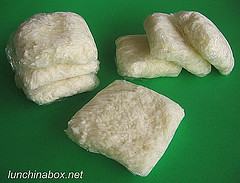 One of my main goals in starting this blog was to show other lunch packers ways to speed up their morning lunch prep, based on the popular speed bento movement in Japan. You know, to prove that you can still make an appealing bento lunch even if you don't spend hours making decorative food art. One important basic is having frozen stapes like rice on hand, no matter how you've frozen the fresh, moist rice: as shaped onigiri rice balls, shaped to fit your bento box perfectly, inarizushi stuffed sushi, in a freezer container, or even just wrapped in plastic wrap. This provides great flexibility in the morning when you remember that you're not tied to using the rice in the shape that you originally froze it. After you warm the rice in the microwave (turning it over halfway through for even defrosting), feel free to reshape it, plop it into your lunch container, make quick "mixed rice" dishes such as this or this or this, or mix it with other add-ins as I've done below.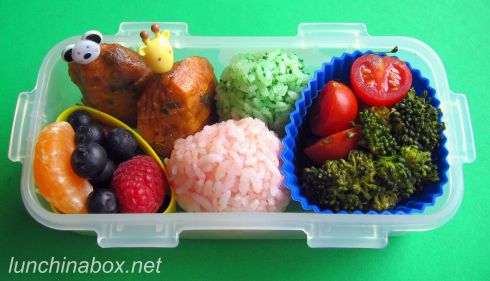 Contents of preschooler lunch: Sliced fish cake ("minch ball") on skewers, fruit cup with tangerine, blueberries and raspberries, onigiri rice balls mixed with pink sakura denbu
and green hana-ebi, cherry tomatoes and steamed broccoli. Sakura denbu is a sweet powder of ground codfish that's often used in chirashizushi and children's bento lunches, and hana ebi is a savory shrimp powder from Hawaii that comes in either red or green. You can see the results of all three types here in an early snack bento for my son.
Morning prep time: 10 minutes, using frozen rice. In the morning I made the rice balls with the plastic wrap method, quickly cooked the broccoli in my microwave mini steamer, and sliced the tomatoes and fish cakes. The tangerine segment was leftover from the previous day.
Packing: This was a finger-friendly meal, so no separate utensils were necessary. The sliced fish cake went on animal skewers (bought at Daiso dollar store with branches internationally, US$1.50 for an assorted set of 10 or 12), the vegetables went in reusable silicone baking cup to keep them from the dry rice balls, and the delicate fruits went into a hard plastic food cup to prevent bruising. Lunch packed in one undivided 350ml tier of a Lock & Lock lunch set.
Verdict: I was overly confident about this lunch; I thought that Bug would eat it all up at preschool because it was cute and finger-friendly. Think again! He ate the onigiri, fruit and tomatoes, leaving the broccoli and most of the fish cake. At the playground after school, he ate the broccoli but gave the fish cake a thumbs down (sometimes he likes it, but not that day). I had thought that he'd reject the tomatoes if anything, but kids are full of surprises once you think you have them figured out! (Click for full details of the second lunch with mini bagel sandwich…)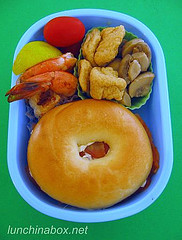 * * * * *
Contents of preschooler lunch: Mini bagel sandwich with cream cheese and smoked wild salmon, grilled shrimp with lime wedge, sponge-fried tofu, mushrooms, and plum tomato.
Morning prep time: 8 minutes, using leftover grilled shrimp, and leftover tofu/mushrooms salvaged from a spicy Thai curry. The curry we had was way too spicy for Bug, so I plucked the tofu and mushrooms out of it and rinsed them well in a miniature sieve.
Packing: I thoroughly dried the rinsed tofu and mushrooms with paper towels, then packed them in a reusable mini silicone baking cup to keep them away from the dry bagel sandwich. Lunch is packed in a 350ml Power Rangers bento box.
Verdict: Pretty good. Bug ate the bagel sandwich, mushrooms, one tomato, and one of the shrimp at preschool. After school he ate the shrimp, but left the tofu and tomato.
FURTHER READING: