Carnitas lunch in Disney Cars gear
Okay, so I gave in to my son's fixation with the Disney Cars movie and got him some Cars-themed bento gear for his third birthday. Listen to me preach that you don't need cute, expensive gear to pack lunch, and then watch me do exactly the opposite. D'oh! Seriously, I have a problem: "My name is Biggie and I'm a bento-holic." In any event, the box is well designed for little hands and the lunch bag is now Bug's favorite, so expect to see more lunches in Cars gear.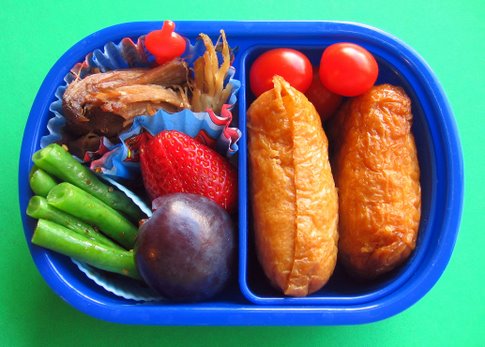 Contents of preschooler lunch: Inarizushi (seasoned sushi rice in abura-age tofu skins, recipe here), prune half, strawberry, steamed green beans with bottled Korean barbecue sauce, and shredded pork carnitas. The carnitas is Del Real brand from Costco (raved about here on Kalyn's Kitchen) — tasty and convenient, but not low-fat by any stretch of the imagination. I'm thinking about different leftover remakes for the remaining carnitas… Verdict: Good, over time. Bug ate the inarizushi, tomatoes and strawberry at preschool, then the rest in the car when I picked him up.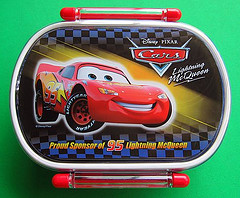 Morning prep time: 7 minutes, using frozen inarizushi and leftover carnitas. The microwave was busy for this lunch. In the morning I microwaved the frozen wrapped sushi to restore texture, quickly cooked three green beans in my microwave mini steamer, and briefly nuked the carnitas to take the chill off.
Packing: The 360ml box comes with two removable inner containers, and I removed one to fit more food in one half. The beans went into a reusable silicone baking cup (mini), and the carnitas went into a Cars-themed paper cupcake liner that a preschool friend gave Bug for his birthday. All of Bug's lunch gear (the lunch, a wet oshibori hand towel and case, and a little lunch cloth) went inside of a Cars "kinchaku" lunch bag with drawstring and cloth handles. It's Bug's responsibility to carry his lunch into preschool and put it into his cubby by himself, and this bag/box combo is his easy-carry favorite at the moment. Lightning McQueen bento box and bag are from Moritaya in San Francisco's Japantown.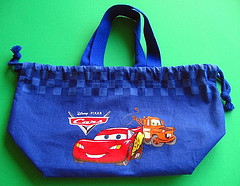 Gear note: The wings (or flaps) on this box are particularly deep, giving little children extra leverage to make the box easier to open. This is a common issue that parents of preschoolers should be familiar with: is your child able to open and close all of their lunch gear on their own? When in doubt, practice with them beforehand. You may be able to save them some frustration and embarrassment.
READ MORE: