Multi-tasking bento lunch
Faced with no leftovers to throw into my son's packed lunch, I took two different approaches. With one lunch I drew from my freezer stash, and with the other I used multi-sauteeing, a speed cooking technique described here where you cook multiple foods at once in the same frying pan. This is a commonly featured technique in Japanese speed bento cookbooks as a way to cut morning prep time when you're cooking from scratch. Similarly, you can also boil, grill, broil or microwave different foods together to save time, just be sure to check everything separately for doneness and don't assume all foods will be done at the same time.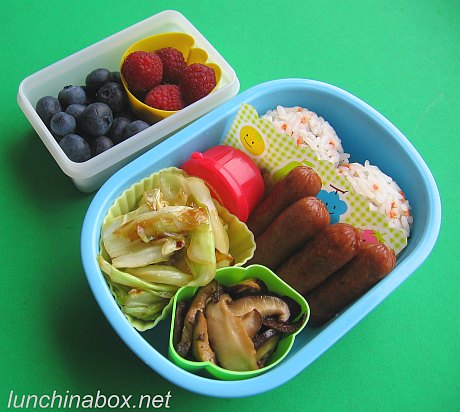 Contents of preschooler lunch: Cocktail sausages and ketchup for dipping, sauteed mushrooms, sauteed cabbage with Korean barbecue sauce, rice balls mixed with salmon-flavored furikake rice seasoning, blueberries and raspberries.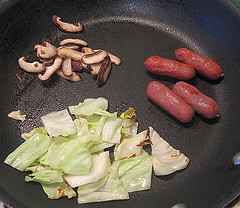 Morning prep time: 15 minutes, using frozen rice and the multi-sauteeing technique for the cabbage, mushrooms and sausages. In the morning I microwaved the frozen rice, mixed in the furikake, and shaped them into balls using plastic wrap (similar to making scrambled egg purses). I cut the mushrooms with a knife, but could have sped up the process by using an egg slicer to cut them instead. After sauteeing the sausages and vegetables, I sauced the cabbage with bottled Korean barbecue sauce and let everything cool on a mini cooling rack. This minimized condensation inside the box for optimum bento food safety and ease of opening the box itself. If I'd been feeling more ambitious I could have cut the little sausages into animal shapes like an octopus, crab or rabbit.

Packing: The delicate raspberries went into a hard plastic food cup in the side dish container to protect them from bruising in transit. The lunch is packed in a 350ml Power Rangers ("Geki Rangers") box with both sub-containers removed, and a 100ml side dish container from Daiso (Japanese dollar store with branches internationally). Ketchup went into a small condiment cup for easy dipping. A silicone baking cup holds the cabbage, and a reusable plastic food cup shaped like a dog's head holds the mushroom.
Verdict: Pretty good. Bug ate everything at preschool except the cabbage and raspberries, telling me he doesn't like cabbage. That said, I know he wolfs down okonomiyaki (recipe here), so it's just a presentation issue. Bug's been eating more than usual lately, so I packed extra, but in retrospect he ate just about what the bento box size guidelines set out for a three-year-old. (Click here for the full post with an additional lunch…)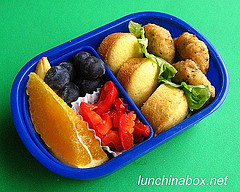 * * * * *
Contents of preschooler lunch: Mini crab cakes (Handy brand from Costco, initial review here), mini cornbread muffins (made from a cornbread mix, info here), steamed bell pepper, blueberries and an orange wedge.
Morning prep time: 7 minutes, using crab cakes and mini muffins from my freezer stash. In the morning I just microwaved these, sliced and microwaved the bell pepper, and sliced the orange.
Packing: I used lettuce as an edible food divider between the mini muffins and the crab cakes. After microwaving, I blotted the bell pepper dry with a paper towel, and let it cool briefly before packing in a coated paper baking cup. I sliced most of the orange away from the peel to make it easy for little hands to eat. Packed in a 360ml Disney Cars bento box with one sub-container removed to fit the muffins.
Verdict: Thumbs up over time. But left two muffins and the orange, but ate those as a snack at gym class after preschool. He didn't eat the lettuce divider, but I didn't really expect him to. I must confess I got a kick out of his choosing to eat his vegetables over the muffins and orange!
FURTHER READING: