Ma po tofu and Sloppy Joe lunches
Not all dishes fare well cool or at room temperature. Just imagine Sloppy Joe filling eaten cold — congealed and nasty. Because there are no microwave ovens at my son's preschool or at the park, I like to have a thermal food jar or thermal lunch jar
on hand to expand lunch options to include warm food.
Amazon carries thermal bento sets with a thermal food jar and an insulated carrying case for packing cool side dishes. You can achieve the same the effect on the cheap by using a regular thermal food jar that you can find at stores like Target or Walmart, plus a small side dish container for the room temperature or cool foods. (Read more about hot vs. cold lunch packing considerations.) When I use this set for my own lunches, I also like to pack fresh rice in the thermal lunch jar, keeping it warm and soft until I'm ready to eat. (Note to San Francisco locals: Kamei has the two Zojirushi-brand sets behind the counter for $33. Store info at the SF local shopping guide.)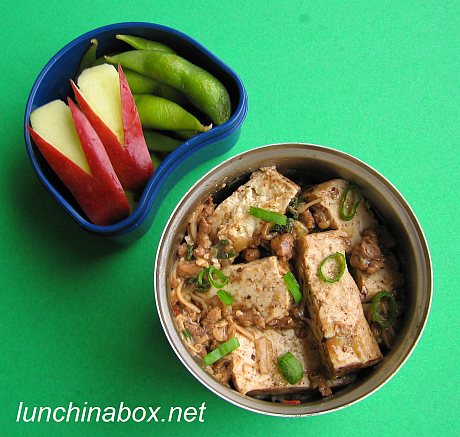 Later this week I'll be traveling out to Philadelphia to visit my ailing grandmother, so I won't be as responsive as usual on the comment front. I'll still be updating the blog from the road, but just a quick heads up. It'll be interesting to see how my husband fares packing our three-year-old's lunches on his own for two days; I promised to help by planning out simple menus that require only quick assembly. Maybe he should read my Mommy's Lunch Manifesto — Need for Speed… I hear that works for dads too.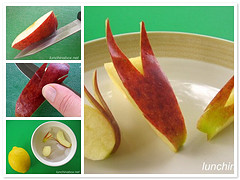 Contents of preschooler bento lunch: Homemade ma po tofu (with tofu, ground pork, enoki mushrooms and salted black beans), rice, edamame and apple bunnies made with miniature Red Delicious apples that Bug and I found at Safeway (see the apple rabbit tutorial). I thought apple bunnies were out of the picture because Bug doesn't like apple skin anymore, but something about these tiny apples made him ask for apple bunnies.
Morning prep time: 10 minutes, using leftover mapo tofu. In the morning I made the apple rabbits first and got them soaking in acidulated ice water to curl the ears and prevent the fruit from browning, then moved on to warming the frozen rice and ma po tofu in the microwave and pre-warming the thermal food jar with hot tap water while the apples soaked. (Read on for packing details, Sloppy Joe lunch and recipe, and review of Bush's Grillin' Beans.)

Packing: Because the mapo tofu wasn't very liquidy at all, I went ahead and packed it on top of warm rice in the inverse of the "rice lid" technique. The rice lid method puts a layer of rice on top of a liquidy stew or curry to keep the rice warm but non-soggy. My son complains about it, though, as he doesn't like to stir everything up and prefers to see the savory food on top so he can pick things out. Ma po tofu was a good candidate as I make it quite thick (based on a recipe in New Chinese Cooking School
, one of the food books in my kitchen). I packed the lunch in a 560ml thermal bento set with one side dish container removed, for a 400ml lunch, more in line with the bento box size guidelines for a thre-year-old. I threw in a Thomas the Tank Engine oshibori damp hand towel in the empty space in the bag so Bug could clean up after eating the apples and edamame.

Verdict: Thumbs up except for the apple skin itself, which he left behind despite having specifically requested apple bunnies. (Whatever floats your boat, kid!)
* * * * *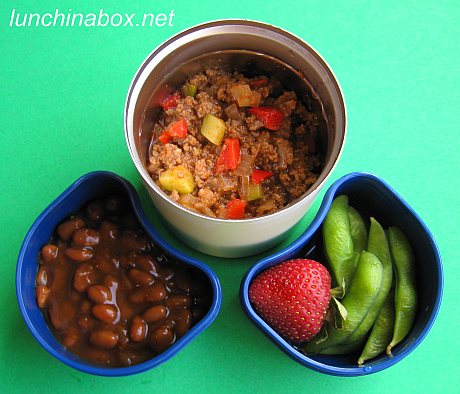 Contents of preschooler bento lunch: Homemade Sloppy Joe filling with onion, zucchini and red bell peppers (based on a simple recipe in Better Homes and Gardens New Cookbook
, new edition here
— my adapted recipe follows). On the side are Bush's bourbon and brown sugar-flavored baked beans (product review follows), a strawberry and edamame.
Morning prep time: 6 minutes, using all leftovers. In the morning I microwaved the Sloppy Joe filling until hot while I pre-warmed the thermal food jar with hot tap water.
Product review: The people at Bush's recently sent me their new line of Grillin' Beans to try out. They come in four flavors: Bourbon and Brown Sugar, Steakhouse Recipe (beans and brown sugar in a steak sauce), Smokehouse Tradition (beans in a sweet and smoky sauce), and Southern Pit Barbecue (beans in a rich barbecue sauce). I've made my own baked beans before on the stove top, in the oven, and on the smoker, so I had high hopes for these beans with a grill theme. After trying the Bourbon & Brown Sugar beans at dinner, we opened up the remaining three cans and did a side-by-side taste test. The adults found the Steakhouse Recipe and Bourbon & Brown Sugar versions to be too sweet, but they were Bug's favorites for that very reason. We liked the Southern Pit Barbecue version, but found the Smokehouse Tradition to have an odd flavor that wasn't to our liking. All in all, I might seek out the Southern Pit Barbecue beans in the future if I'm looking for a quick canned bean, but if I were serving beans at a barbecue I'd want to take the time to make my own or doctor the canned versions with freshly sauteed vegetables, crispy fried bacon and hot sauce. The company is currently running a Perfect Pair Contest where readers pair Grillin' Beans with their favorite chicken, steak or chop recipe to win a US$5,000 prize; check it out if you're so inclined.
Verdict: Still a little too much food for Bug. He ate all of the beans and half of the Sloppy Joe filling, the whole strawberry and most of the edamame. He finished the rest at the playground after school.
Sloppy Joes
(Adapted from a recipe in Betty Crocker's Cookbook, makes 6 sandwiches)
1 pound ground beef (if you have excess ground meat, freeze it in small portions using this trick)
1/2 medium onion, chopped (about 1/3 cup)
1/2 cup chopped zucchini (courgette)
1/2 cup chopped red bell pepper (or any other color bell pepper)
1/3 cup ketchup, or more to taste
1/4 cup water
1.5 Tb Worcestershire sauce
1/2 tsp salt
6 hamburger buns
Heat a 10-inch skillet over medium-high heat and brown the ground beef and onion until browned, then drain off excess liquid and fat.
Stir in the other ingredients except the buns, cover and reduce heat to low.
Cook for 10 to 15 minutes until the vegetables are tender, and fill buns with the beef mixture. For packed lunches, pack the hot filling in a thermal food jar to keep warm, and assemble the sandwich just prior to eating.
FURTHER READING ON LUNCH IN A BOX: