Weekday Indian box lunches
I normally associate making Indian food with spending hours in the kitchen on a weekend. I recently picked up a copy of Julie Sahni's cookbook Moghul Microwave , though, that's been teaching me how to prepare authentic-tasting Indian dishes quickly using the microwave. Today's lunch is my shortcut to homemade Indian food on a weekday — it felt quite decadent! In other news, my in-laws, brother-in-law and his wife have come to visit us for the next week and a half, so I anticipate being more sporadic on the lunch blogging front over the next week as we host a houseful. The house certainly is clean now, though! I no longer feel like such a Filth Wizard.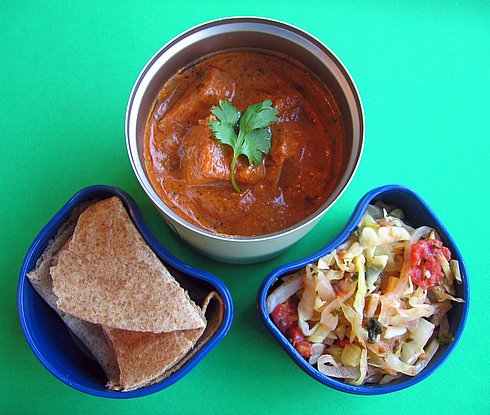 Contents of my lunch: Fish cake tikka masala, smothered cabbage with mustard oil (bandhgobhi sabzi), and whole wheat tortillas in place of Indian flatbreads (it's what I had on hand). The smothered cabbage with mustard oil was a simple Bengali dish from Moghul Microwave, cooking shredded cabbage, onions, tomatoes and (frozen) julienned ginger in the microwave before dressing it with mustard oil with cumin, mustard seeds and cilantro. The tikka masala was a quick throw-together with a pre-made Patak-brand simmer sauce from Costco that was quite tasty (Bug ate it up at dinner). There's a thread about the best food finds at Costco here on Chowhound.com, where I used to be a moderator way back when.
Morning prep time: 5 minutes, using dinner leftovers. In the morning I just heated the curry, and packed.
Packing: To keep the curry warm, I pre-heated the thermal food jar with hot tap water while I microwaved the curry in a microwave-safe dish. All packed in an insulated bento set from Ichiban Kan that lets me pack hot food and cold food at the same time. I found similar Zojirushi sets on Amazon (albeit pricey!): Metallic Stainless Vacuum Lunch Jar (Lavender) and Metallic Stainless Vacuum Lunch Jar (Green) .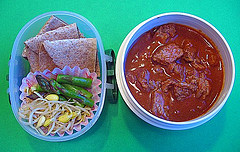 Contents of preschooler's lunch: Chili Colorado, whole wheat tortillas, and steamed asparagus and bean sprouts with Korean barbecue sauce (yakiniku sauce). We ran short of tikka masala (which Bug loved), so we shared both the chili and curry. Bug didn't like the smothered cabbage at dinner, so I threw together a quick side of veggies for him. Bug ate up the asparagus, but spit out the bean sprouts. Oh well, at least he ate something green!
Morning prep time: 8 minutes, using leftover chili Colorado. In the morning, I cut up the beef into bite-size pieces for a preschooler, and quickly cooked the bean sprouts and asparagus in a microwave mini steamer followed by a toss with bottled Korean barbecue sauce.
Packing: The unique thing about Bug's lunch is that I liberated the soup bowl from my Nissan Stainless thermal lunch tote to use without the thermal jar itself, similar to this lunch. It half fills the soup bowl, and the side dishes are packed in a 260ml "Comment vas-tu?" side dish container.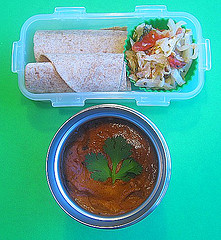 Contents of my husband's lunch: The same as mine.
Packing: The curry is packed in a 300ml Thermos Nissan food jar, preheated with hot tap water. The tortillas and cabbage are packed in one 350ml tier of a Lock & Lock lunch set.
(Disclaimers: I have no commercial affiliations with Ichiban Kan, Costco or Patak's. Amazon links are affiliate links; using the links to buy anything from Amazon supports Lunch in a Box.)
READ MORE: