Oden & soup bento lunches
It was rainy and cool last week in San Francisco, so I put warm soups in my son's packed lunches to ward off the chill. I used a 560ml thermal bento set (similar sets sold here)
that's too big for a three-year-old according to the bento box size guidelines, so I left out one of the set's two 160ml side dish containers and used the remaining space to pack a damp oshibori hand towel. When I use this set for my own lunches, I also like to pack fresh rice in the thermal lunch jar, keeping it warm and soft until I'm ready to eat. You can achieve the same effect by using a small side container and a thermal food jar , commonly available from stores like Target or Walmart without the shipping. The humbling part about these lunches is that Bug ate only about half of each at preschool, though. They're not all home runs, folks!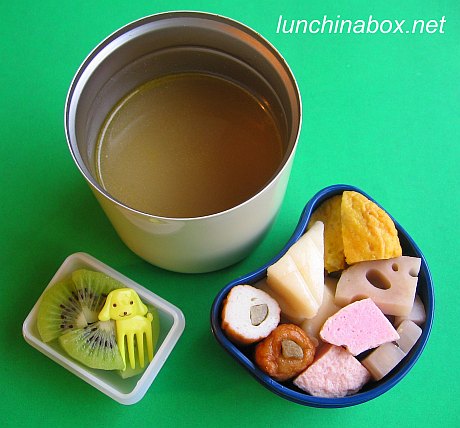 Contents of preschooler lunch: Kiwi fruit and oden with its broth. Oden is a Japanese simmered dish popular in the winter, with different kinds of fish cakes and vegetables. Here I've included fish cake stuffed with gobo (burdock root), hanpen, pink and orange-colored fish cake, and renkon lotus root. At dinner our oden also had hard-boiled eggs, potatoes, daikon radish, different kinds of fish cakes, tofu skins stuffed with mochi, and konbu seaweed tied in little knots.
Morning prep time: 5 minutes, using leftover oden. I packed the side dish container with oden when cleaning up from dinner the night before, so in the morning all I had to do was slice the kiwi and heat the oden broth in the microwave. While I did that I preheated the thermal food jar with hot tap water.
Cooking: Oden is a really easy dish to make — basically just make the broth, throw in the fish cakes and whatever vegetables you have on hand, and simmer. Voila! When I lived in Japan, I remember going into convenience stores in the winter and hand-picking out oden from a big simmering pot at the front of the store. Very much comfort food, and delicious with a small squeeze of karashi hot mustard on the side to flavor the fish cakes. Just Hungry has a nice recipe and blog post about oden here.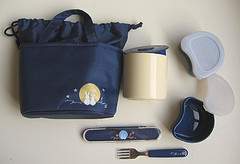 Packing: I used a 560ml thermal bento set that I picked up at Ichiban Kan a while back. (Note to San Francisco locals: The Ichiban Kan stores sometimes stock these thermal bento sets for $20 - $25, and Kamei has two Zojirushi-brand sets behind the counter for $33. Store info at the SF local shopping guide.) I left one side dish container out, and instead packed the small container of kiwi and a spoon/fork utensil side inside of the bag. I got a set of three small side containers that nest inside each other and a package of 12 animal picks at Daiso dollar store in Daly City for US$1.50 each. Daiso has branches internationally, although evidently some of the Japanese moms at my son's preschool are boycotting Daiso, saying it's run by Soka Gakkai. Hmm.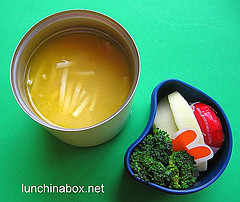 * * * * *
Contents of preschooler lunch: Chicken noodle soup, steamed broccoli, apple slices, and a wrapped Babybel cheese.
Morning prep time: 6 minutes, using canned soup that Bug requested. In the morning I preheated the thermal food jar with hot tap water while I microwaved the soup, steamed the broccoli in my microwave mini steamer, and and cut the apple.
Packing: To prevent the fruit from browning, I dipped the apple slices in water with some lemon juice and Splenda to cut the sourness. A little rabbit-shaped plastic food divider keeps the steamed and cooled broccoli from rubbing up against the apple.
Verdict: Argh. Three-year-old Bug ate pretty much none of the soup, but all of the side dishes at preschool. When I asked him why, he said the soup was too hot and tasted funny. This is what happens when I take too much of a shortcut and use canned soup my son hasn't had before… I guess when you raise children with good food, they don't take kindly to the bad stuff!
FURTHER READING: