Enchilada and Sloppy Joe bento lunches
I'm not one to spend a lot of time making decorative food art, but I'm not totally averse to giving my four-year-old son fun lunches. My speedy versions use playful accessories and visually interesting food instead of ornate food sculpture. The first lunch below is more of an exercise in accessories and shortcut cooking for dinner, while the second lunch is more interesting-looking food with a review of frozen potato Smiles.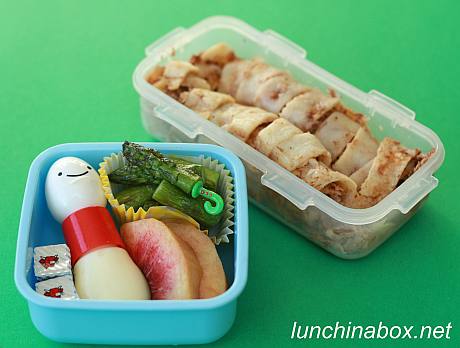 Contents of preschooler bento lunch: Fast chicken mole enchiladas (loose recipe below) with a squeeze bottle of crema (sour cream), sauteed asparagus, nectarine slices, and cheese cubes.
Morning prep time: 10 minutes, using leftover enchiladas that I'd packed up the night before after dinner. In the morning I filled the condiment bottle with crema, sliced the nectarine and sauteed two stalks of asparagus. (Read on for the enchilada recipe, a review of shaped potato Smiles, lunch details, and an additional Sloppy Joe lunch.)
Packing: I used a flip-top squeeze bottle with an egg head to hold the crema; the whole white plastic top unscrews off to allow for easier filling. I used a small tasting spoon to spoon in the crema, but you could also squirt in ketchup from a squeeze bottle, or use the suction method to fill it (squeeze the little bottle, upend it and put the opening down into the condiment, and release pressure on the bottle, sucking the condiment in). This bottle came in a set of two; the other one is shaped like a tomato, and is shown in the lunch below.
Because it's difficult to cut food once it's packed inside of a box, I went ahead and sliced up the enchilada before packing it up. The slices are quite small to make for easier eating for little hands. I made an asparagus tip into a fake umbrella with the little picks below (from Ichiban Kan in San Francisco's Japantown, also available from their online store). I've used picks from this set before to turn cherry tomatoes into little balloons — fast and easy food fun!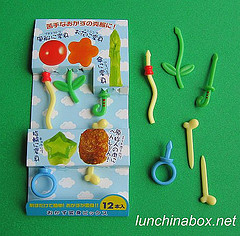 Verdict: Bug ate all of this lunch at preschool, no leftovers. I was actually amazed at this, as I knowingly packed the asparagus tips, which he doesn't like. When I asked him about it, he said he still doesn't like the texture of the tips, but he ate them anyway. Woo hoo!
Cooking: I used a number of shortcuts in making these dinner enchiladas, turning leftover roast chicken into a Leftover Remake. I've made homemade mole sauce before, but oh man, it took me hours and hours! The jarred mole paste (just add stock) is a speedy alternative that makes mole a weekday option. My husband and son both raved about the mole enchiladas and strongly requested them for dinner again sometime.
I shredded two thirds of a sizable roast chicken from the deli (everything except the legs & thighs, which I saved for bento lunches), simmered some store-bought mole sauce concentrate
with chicken stock to make 2.5 cups of mole sauce, and combined about half of it with the shredded chicken. I dipped small corn tortillas in the reserved mole sauce to soften and flavor them, rolled the chicken filling inside the tortillas, and placed them into a baking dish seam side down. The remaining mole sauce goes over the top, followed by about a cup of shredded cheese (mozzarella in this case, but you can use another melting cheese, or bake them plain and sprinkle cilantro and Parmesan or queso anejo on top afterwards). Bake in a 375° F oven until warmed through and the cheese is melted.
I was initially unsure if Bug would be able to handle the mild spiciness of the mole sauce, so I had him taste the sauce before I combined it with the chicken. Got the thumbs up from him on the spiciness, so I went ahead and sauced all of the shredded chicken. It made enough for dinner for the three of us, and the leftovers yielded lunch for Bug and myself.
* * * * *
Bug is a bit of a neatnik, and eating Sloppy Joes on a bun frustrates him. When he's eating with us at home, I talk him through it and tell him, "Hey, Sloppy Joes are sloppy! Don't worry about it!" But I don't see any point in setting him up for frustration when he's eating on his own at school. Bug initially protested when he saw me heating up leftover Sloppy Joe filling for his bento, but I explained that I'd figured out an easy way for him to eat it on his own…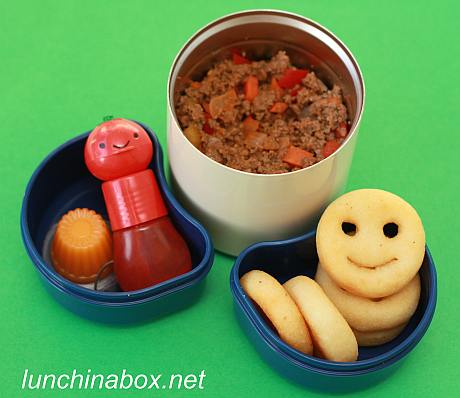 Contents of preschooler bento lunch: Homemade Sloppy Joe filling with carrots, red bell peppers, celery and onions. Potato Smiles (reviewed below) with ketchup, and a mango pudding cup.
Morning prep time: 20 minutes, mostly inactive prep time waiting for the potato Smiles to cook in my convection toaster oven.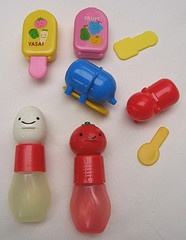 Packing: Cold, congealed Sloppy Joe filling is pretty gross, so I wanted to keep it warm without using a microwave (none at my son's school). The little thermal jar kept things warm with the help of a hot tap water preheat when I microwaved the Sloppy Joe filling in a microwave-safe bowl. I packed a regular-sized spoon so that Bug could either spoon up the Sloppy Joe filling and eat it that way, or dunk the potato Smiles in the filling. The ketchup went into a flip-top squeeze bottle like the egg-shaped one above, and I tucked in a little tasting spoon for the pudding. I packed the meal in a little thermal bento set (similar collapsible ones sold here in green and blue metallic
). At 540ml, it's bit too large for a four-year-old according to the bento box size guidelines, so the second side dish container is packed mostly with the ketchup.
Verdict: Surprisingly, Bug ate everything at preschool except the pudding cup. When I asked him how he ate the Sloppy Joe filling, he said he ate it with the spoon, and ate the potatoes separately with ketchup with his fingers.
To an adult palate they're fine, not phenomenal, as it's just shaped processed potato. But to a four-year-old, they're fun and fantastic! Evidently Bug made a point of showing them to his friends at lunch time, and he said that most got excited about them too. Granted, he's a bit of an unreliable witness, but he's enthusiastic about them and requested them for future lunches.
The potato Smiles come frozen loose in a bag, so you fish out as many as you want, plop them on a baking sheet, and put them in a 425° F oven for 6-8 minutes per side until they're golden brown and crispy. Let them cool on a rack before packing them up in a bento box so that they retain their crispiness; shutting them in a box when they're still hot will just trap condensation and lead to soggy potatoes. The potato Smiles don't have trans fats, but remember that it's still processed food. The playful aspect is the real draw here.
FURTHER READING: