Children's Day bento lunch
Don't be alarmed! I'm not changing the focus of this site to time-consuming food art! But May 5 was Cinco de Mayo as well as Children's Day (Kodomo no Hi, historically a boy's day holiday celebrated in Japan), one of the few occasions I'll actually go all out to make a themed lunch for my three-year-old son. Do you get the theme? The sandwich is decorated to look like a carp streamer, which is traditionally flown on Children's Day. A big fish streamer on top represents the father, and smaller ones underneath stand for the mother and either the boys or all children in the household, depending on who you talk to. I've translated the classic Japanese Children's Day song at the end of the post and linked to a song video if you're interested in learning more.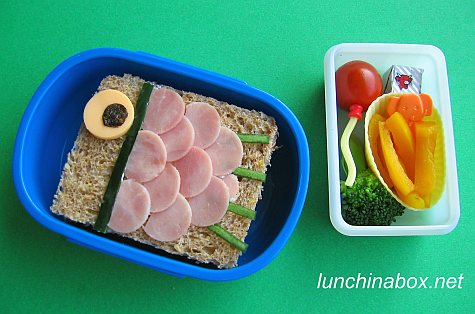 Contents of preschooler bento lunch: Ham and cheese sandwich on whole wheat bread (scales: sliced ham, eye: sliced cheese and nori seaweed, fins: cucumber peel, all affixed to the bread with cream cheese to keep the design intact in transit). The side dish container holds a cherry tomato, steamed broccoli and yellow bell pepper strips flavored with Korean barbecue sauce, and a cheese cube.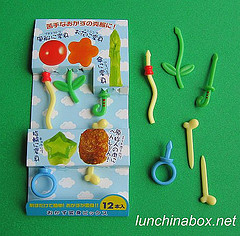 Morning prep time: 30+ minutes, WAY too long for a speed bento, but fine for the occasional decorative lunch (see my page on Decorative Food). Food art lunches benefit from advanced planning, so I looked through some of my Japanese children's bento cookbooks to find ideas the day before. I settled on a simple sandwich (instead of an elaborate fish-shaped sushi roll), and went to the store to pick up what I was missing (ham and cucumber). (Read on for equipment notes, decoration technique, and the Koinobori Song…)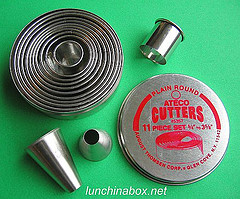 Technique:
I used two kinds of round cutters to make the sandwich "fish." Bakers may recognize the cone-shaped pastry bag tips, which come in all sizes and are great for cutting out small circles (the inner circle of the eye, in this case — I didn't have a regular hole punch on hand). Pastry tips aren't just for cake decorating anymore — hooray for multi-taskers!
To make the ham "scales" and the cheese "eye", I used a small round Ateco cutter from an 11-piece graduated set I had on hand from an earlier foray into pastry making. (Ateco puts out a lot of high quality cutters, including tiny aspic cutters and these graduated sets in different shapes — I'm a fan.) I put the ham circles in stacks and used a sharp knife to cut off one end of the circle, producing little "scales" that could be layered on the bread with a schmear of cream cheese to help them stick. I could have used thin egg sheets from the microwave for the eye instead of cheese, but it was easier to just grab some cheese from the fridge.
To create little green "fins", I used a regular vegetable peeler to first cut off a long strip of cucumber peel. A chef's knife came in handy for shaping the cucumber peel into narrow, even strips that I affixed to the bread with cream cheese. (I use an OXO swivel peeler and a Wusthof chef's knife that I really like, but anything will do, really.) You can use any number of other sticky substances to affix edible decorations to food: think honey, Nutella, peanut butter, Marmite or Vegemite, etc. Think about the texture, flavor and color of the foods you're working with to make sure your creations both look and taste good.

Packing: I pulled out an old 270ml Thomas the Tank Engine bento box that I used a lot when Bug was two, removed both subcontainers, and packed just the sandwich in that for better visual impact. Side dishes went into a tiny 100ml side dish container from Daiso that came in a nesting set of three with blue lids that match this three-tier box.
Verdict: Huge success. Bug polished off everything in preschool, and told me he really liked the fish sandwich. Evidently he first picked off all of the individual decorations, ate those, then ate the naked sandwich.
* * * * *
KOINOBORI SONG
I found a YouTube clip of a little kid singing this — very cute. Bug and his preschool class didn't wind up singing this particular song when they performed at the Children's Day Festival in Japantown over the weekend, but other children did as it's a must-have for the holiday.
Yane yori takai koinobori
Ookii magoi wa otousan
Chiisai higoi wa kodomotachi
Omoshirosou ni oyoideru
Carp streamers higher than the roof
The big one is the father
The small ones are the children
Having fun swimming
FURTHER READING ON LUNCH IN A BOX: