Tamalon and chili lunches
Welcome to new readers finding their way here from recent Boing Boing and Neatorama writeups of Lunch in a Box! Feel free to comment with any questions you may have — I do my best to reply to everyone.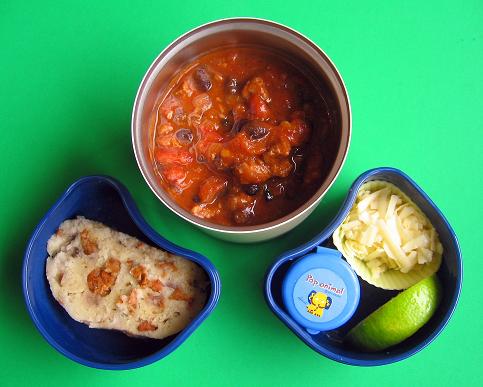 Contents of preschooler lunch: Homemade chili with black beans, a slice of homemade tamalon (big tamal roll, details below) with Salvadorean chorizo and leftover purple kale, chipotle lime cream (recipe here) for the tamalon, plus cheese and a lime wedge for the chili.
Morning prep time: 5 minutes, using dinner leftovers. Morning prep was limited to microwaving the leftover chili and tamalon, and packing the leftover condiments.
Packing: I pre-warmed the thermal food jar with hot tap water while I prepped the lunch. Not pictured is the surprise animal cap that I used to cover and contain the little silicone cup full of grated cheese. In the past I've used these little animal caps (equipment photo here) to add a little fun or cover up something visually uninteresting, but today I found that they can be utilitarian as well — to keep loose food items from rolling around within the container without using plastic wrap. (OT, hooray for a waste-free lunch! It's not something I always achieve, but it's a good goal to aim for.) The lunch is loosely packed in a 560ml insulated bento set that kept the chili warm and the chipotle cream cool, thanks to a tiny ice pack cut from a flexible ice blanket (US$2.50 at Target). You can achieve the same effect with a commonly available food jar (think Thermos Funtainers in the kids' lunch section) and a small regular container in an insulated lunch bag.

Contents of my lunch: Same as Bug's lunch, but with the addition of a frozen mini pudding cup (Kiku brand) next to the chipotle cream and cheese to keep them cool and safe. This was actually yesterday's test lunch for my post on edible ice packs, to see if the pudding texture suffered with the freezing. (It didn't, by the way.)
Packing: Packed in a 300ml thermal food jar and 350ml Asvel box with one sub-container removed.

Cooking: The most interesting dish is the sliced tamalon, or big tamal roll, that I made for company over the weekend (a recipe is here). A tamalon is essentially a huge multi-person tamale with the 'filling' mixed throughout, wrapped in a damp kitchen towel and steamed in a huge tamale steamer (or Thai steamer) for over an hour. Unwrap it and eat with salsa or a juicy main dish. I first saw this on Rick Bayless' Mexican cooking show, and then made a few from his informative Mexican Kitchen cookbook last year when I catered a party for 30 people. Much easier than filling and wrapping individual tamales for 30!!! I got my 14-inch stacked aluminum steamer very cheaply at a local Asian market a few years back, but I think the store must have marked the price wrong because they now sell the same one at about the same price as Amazon. The chili with black beans was an adaptation of a recipe in The New Best Recipe from Cook's Illustrated (recipe here for people with paid online subscriptions to Cook's).