Curry and lamb stew lunches
This was the first time I sent Bug to preschool with the insulated bento set on his own, which is able to keep hot curry hot and cold veggies cold in the same lunch. The full set has a 240ml thermal food jar and two 160ml side dishes that fit into a larger insulated bag, but that's just too much food for a three-year-old (see bento box size guidelines). Instead, I left out one of the side dish containers and used the extra space to pack a deep spoon in a plastic baggie and a cute oshibori (wet hand towel) in its case. The thermal bento set is handy in that the lid of the thermos lifts off instead of unscrewing, so it's easy for little hands to open (i.e. Bug can't open the food jar that I used for my lunch below). Although similar sets sell here and here for about US$43 (ouch), you can duplicate this setup on the cheap by using a thermal food jar and separate bento box packed in an insulated lunch bag to take both hot and cold foods at the same time.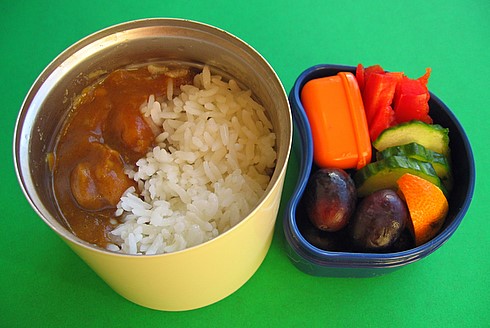 Contents of preschooler lunch: Japanese curry (Vermont brand) with chicken, potatoes, carrots, onions and mushrooms. Rice, grapes, tangerine, cucumber, and red bell pepper with ranch dressing for dipping.
Morning prep time: 6 minutes, using leftover curry and rice from dinner. In the morning I preheated the thermal food jar with hot tap water while I microwaved the curry and rice, and sliced the vegetables.

Packing: I used the "rice lid" technique described in this post to pack both hot curry and rice together in the same thermal container — after taking the photo I covered the rest of the curry with a layer of rice. This kept both warm without getting the rice all soggy, as it would be if it were packed underneath the curry. Packed in the insulated bento set described above.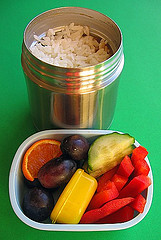 Verdict: Thumbs up. Bug ate all of the curry, cucumber and tangerine. After I picked him up he ate the grapes but passed on the bell pepper. I probably could have packed twice as much curry rice and he would have inhaled it — he's got a bottomless pit for this kind of dish (hot curry or stew with rice).
My lunch: The contents are the same as Bug's lunch, but the curry is packed under a layer of rice in a larger 300ml food jar by Nissan Stainless. The fruits and vegetables are packed in a 240ml bento box by Asvel, and the ranch dressing is in a little Clickety Clack mayonnaise cup from Ichiban Kan.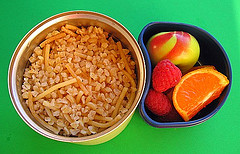 Contents of preschooler lunch: Bulgur pilaf with toasted noodles, packed in a layer over autumn lamb stew with squash, lemon, and mint (bulgur pilaf and Turkish Gaziantep stew recipes from Paula Wolfert's award-winning cookbook The Cooking of the Eastern Mediterranean, click for my lamb stew recipe adaptation). Side dish holds a tiny Lady apple, tangerine slice and raspberries. (Click on any photo for a larger view.)
Morning prep time: 5 minutes, using leftover stew and pilaf. In the morning I just preheated the thermal food jar with hot tap water while I microwaved the stew and pilaf.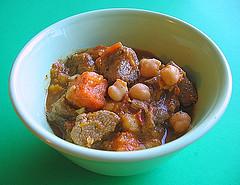 Packing: Packed in two containers of the insulated bento set described above, with the lamb stew packed underneath a layer of bulgur pilaf with vermicelli. Continue reading for the lamb stew recipe…
READ MORE:
Autumn Lamb Stew with Squash, Lemon and Mint
Adapted from Paula Wolfert's The Cooking of the Eastern Mediterranean, this is a slow but simple weekend dish that I've made many times for large crowds. Serve with a bulgur pilaf and some garlicky yogurt for a show-stopping entree on a cold day. The final act of sizzling dried mint and black pepper in olive oil and stirring it into the stew is key; it totally changes the flavor profile in a striking way. You can scale this up cheaply for large crowds simply by increasing the proportion of vegetables to lamb, and serve it with rice if that's what you have on hand.
1.5 pounds lamb (I use leg of lamb, but shoulder is also good)
1.25 tsp ground black pepper
3 Tb olive oil
1 cup chopped onion
4 tsp tomato paste
2 tsp harissa (often available jarred, canned or in tubes), other chili sauce or pepper paste
1.5 cups water
1.5 tsp garlic, minced or put through a garlic press
1.5 cups cooked chickpeas (I use canned chickpeas, drained and rinsed — a.k.a. garbanzo beans)
1 large tomato, peeled, seeded and chopped
2 cups winter squash, peeled and cubed (squashes such as hubbard, banana, butternut or even sweet potatoes)
0.5 tsp salt
4 Tb lemon juice (fresh or bottled)
2 tsp dried mint (if unavailable, you can dry your own in a very low oven on a cooling rack set over a baking pan)
pinch of Aleppo pepper or other mild red pepper (optional)
Trim excess fat from the lamb, and sprinkle with half of the black pepper. Heat 2Tb of the olive oil in a heavy 4-quart pan over medium heat, and cook the lamb. Stir until excess moisture evaporates, about 7 minutes (don't worry if all of the moisture doesn't evaporate). Add the onion and cook, stirring, for 10 minutes.
Add the tomato and pepper pastes and cook for 5 minutes, stirring. Add 1.5 cups water and bring to a boil. Cover and cook over medium-low heat until the meat is tender, about 45 minutes.
Add garlic, chickpeas, tomatoes, squash and salt. Add water to just cover contents, cover, and cook for 25 minutes or until the squash is tender.
Stir in lemon juice and remove from heat.
Put the dried mint, the remaining black pepper (a little over 0.5 tsp) and the pinch of optional red pepper into a coffee grinder, spice grinder, or mortar and pestle. Grind until fine. Heat the last 1 Tb of olive oil in a little saucepan until sizzling hot, add the powdered mint/peppers, and quickly stir. Remove from heat and pour over the stew. Stir and serve. If it's too spicy for any children, just stir in some yogurt to tame.