Simple broiled fish bento lunch
Instead of packing a lunch bento and a separate snack bento for my three-year-old, lately I've been packing larger lunches that do double duty. This works for us as I'm around after preschool to prompt him to finish up his leftovers, but if he were eating his afternoon snack on his own I'd want to pack a separate side dish container with a snack to make it a little more neat and special.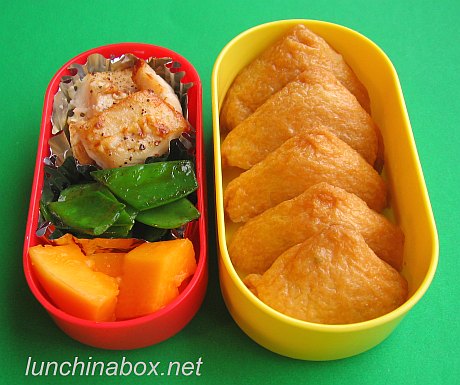 Contents of preschooler lunch: Papaya chunks, sauteed snow peas with garlic and Mae Krua Thai oyster sauce (my favorite, product spotlight here), broiled tilapia with Kewpie mayonnaise
, and Korean-style inarizushi triangles.
Morning prep time: 15 minutes, including cooling time for the fish and inarizushi. In the morning I popped the fish into the toaster oven while I made the inarizushi with leftover refrigerated rice (warming the rice first in the microwave to restore the texture). The snow peas were leftover from dinner, and I'd peeled and cut the papaya the day before as a snack.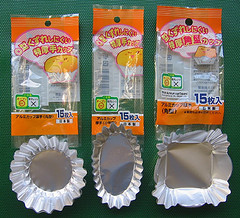 Packing: I had initially broiled the fish in a low, extra-thick aluminum baking cup (shown at left) in my convection toaster oven, thinking I'd pack it in the same cup. But I found the extra-thick cup to be too large and low for this bento box, so I wound up using very plain aluminum food cups to pack both the drained/cooled fish and the drained/cooled snow peas. I packed the lunch in two tiers (280ml & 180ml) of a four-tier stacking and nesting Thomas the Tank Engine bento box set, and bound the two tiers together with a decorative elastic bento band. This is large for a three-year-old according to the bento box size guidelines, but there's a lot of empty space in the larger container because of the shape of the inarizushi.

Verdict: Mixed. Bug ate all of the inarizushi at preschool, and that was it. After school he ate the papaya and snow peas as a snack in the car, but announced that he didn't like the fish after trying one piece of it. I asked him if he'd eat the fish if it had pesto sauce on it (magic sauce for Bug, which I can't send to preschool because of their food allergy policy) and he said yes, but a night later I tried making that for dinner and he rejected it. Oh well. It just reinforces my feeling that introducing a totally new food item through Bug's bento isn't optimal — he's much more open to new foods when I'm there eating it with him. (Click to read the full post with additional lunch…)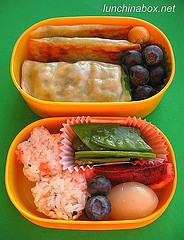 * * * * *
Contents of preschooler lunch: Pan-fried rectangular vegetable Korean mandu dumplings with dipping sauce, blueberries, onigiri rice balls shaped like a flower and a heart, snow peas in Thai oyster sauce, a slice of Moro blood orange, and a rambutan. I read a blog that said that gyoza dumplings had 100 calories each, so I was curious about the calorie count of these. Evidently there are 200 calories in a 7-piece serving of the Assi brand "Cooked Vegetable Dumplings", so 143 calories for the five dumplings. Don't worry, everyone, I'm not putting my super-active 3-year-old on a diet! I was just curious.
Morning prep time: 15 minutes, using frozen Korean dumplings and leftover refrigerated rice. In the morning I microwaved the rice until warm to restore its original texture, mixed in jarred furikake rice seasoning, and used rice molds to shape them into a flower and heart onigiri.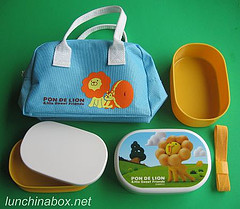 Packing: I removed the rambutan fruit from its funky skin; Bug had eaten them before so knew to eat around the seed inside. The drained/cooled snow peas went into a coated paper baking cup to keep their sauce away from the orange and rice balls, and blueberries acted as gap fillers to stabilize the lunch in transit. The length of the rectangular mandu narrowed down my choice of bento boxes. They fit nicely in the bottom layer of a two-tier 465ml Pon de Lion bento box from Mister Donut chain in Japan. I grabbed a pre-filled sauce container in the shape of Anpanman, speeding up prep time.
Verdict: Good over time. Bug ate the dumplings, onigiri and some blueberries and preschool, and the orange and rambutan afterwards as a snack. I think he burned out on the reappearing snow peas and blueberries, but those are gone now so he's safe.

FURTHER READING: