Fried rice & penne bentos
The beauty of having been behind on writing up our lunches before I went on vacation is that now I have a few extra to post while Bug is out of preschool for the holidays! These are a couple of quickies from before we left, using dinner leftovers and minimal morning prep. If I didn't have leftover fried rice from dinner, I could have made a quick low-fat mixed rice using frozen rice and two or three add-ins (master recipe for microwave mixed rice here, fake "fried" rice tutorial here).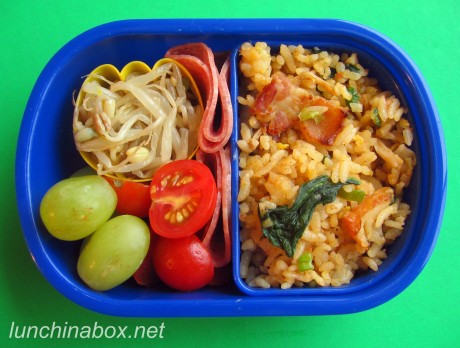 Contents of preschooler lunch: Fried rice with bacon, spinach, onion and mushrooms. The left hand side holds Korean bean sprout namul (Korean seasoned vegetables served as a side dish at a meal), salami curls, cherry tomatoes and grapes. The fried rice incorporates leftover seasoned spinach and grilled bell peppers from an earlier Korean dinner (bento version here).
Morning prep time: 4 minutes, using leftover fried rice and prepared bean sprouts. In the morning I briefly nuked the fried rice to restore texture, and quickly packed the rest.
Packing: I had a brain fart and packed a fork with this lunch instead of a spoon. D'oh! When packing loose rice for preschoolers who aren't yet expert with utensils, it's better to send along a spoon for easy eating. I blotted the bean sprouts dry on paper towels before packing them in the reusable plastic food cup to remove excess moisture, and packed the lunch in a 360ml Disney Cars bento box with one sub-divider removed to make room for the little food cup. The salami curls filled the gaps to stabilize the lunch for transport.
Verdict: Thumbs up over time. At preschool Bug ate most of the fried rice and all of the salami, but ran out of time for the rest as going was slow with a fork instead of a spoon. He finished the remainder after school, although I pinched one of the tomatoes. Yum!
* * * * *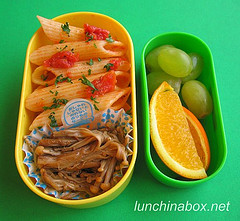 Contents of preschooler lunch: Penne all'arrabiatta, sauteed enoki mushrooms with butter and soy sauce (loose recipe here), orange wedges and grapes. This turned into a vegetarian lunch somehow, which is nice for a change.
Morning prep time: 8 minutes, using leftover penne. In the morning I microwaved the pasta to restore texture, quickly sauteed the enoki mushrooms in a mini frying pan, cooled them in a little bowl and strainer for best packed lunch food safety, and cut the orange.

Packing: I used an optional paper food cup to keep the enoki away from the pasta; the enoki were well drained, so it was more of an aesthetic (and picky child) issue than a taste thing. There's a punny joke in Japanese on the joke paper cup — eat everything in the cup and you see the answer printed on the bottom. I cut most of the orange fruit away from the peel to make eating easier for little hands. Lunch packed in two tiers (280ml and 100ml) of a 4-tier Thomas the Tank Engine nesting and stacking bento box set. (Click on any photo for a larger view.)

Verdict: Big thumbs up. Bug ate everything at preschool except a few of the grapes — success!
FURTHER READING: