Speed tip: Freeze chopped green onions in plastic drink bottles
I've written previously about freezing chopped green onions or fresh herbs to speed up prep time and reduce spoilage, but a twist is using plastic drink bottles as handy dispensers. When freezing chopped green onions, put them into an old water bottle that you've washed, and use a permanent marker to label the bottle cap with the contents. Freeze. To use, simply remove the cap, shake out just as much as you need, replace the cap and return to the freezer. The clear bottle allows you to quickly see what's inside, and shaking things out of a bottle is faster than spooning them out of a freezer container. I use them in cooked dishes like fried rice, microwave mixed rice, soups, curries or scrambled egg purses — you name it.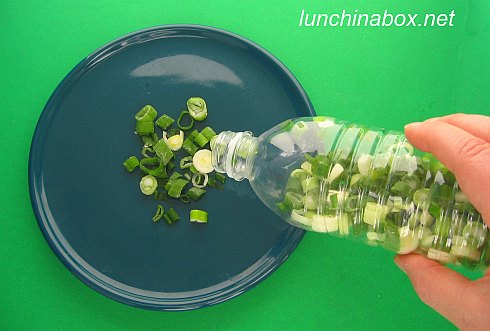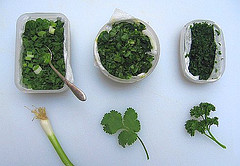 Remember that moisture is your enemy in freezing, so be sure to dry the green onions thoroughly before chopping to prevent freezer burn. I used a large funnel to get the chopped scallions into the bottle, but you could also cut another plastic bottle in half around the middle and turn it over on top of the larger bottle, creating a do-it-yourself funnel. Green onions do become a bit soft in freezing, so they're best used in cooked dishes as opposed to salads. Use within three weeks of freezing for best quality.
BTW, today (Sunday, Feb. 3, 2008) is the last day to use the 20% off coupon code a15447 at Reusable Bags (after the 3rd, coupon code FREEACME should still be valid to for a free ACME Reusable Shopping Bag on orders over US$50). In addition to reusable bags, they also sell lead-free lunch gear, lunch kits, lunchboxes, reusable bottles and the lead-free Laptop Lunchbox (they ship internationally). Their FAQ on health and safety issues is helpful in learning the latest about lead and plastic concerns. (Disclosure: affiliate links)
FURTHER READING:
Subscribe to Lunch in a Box by e-mail updates or via RSS feed