Bento lunch with ma po tofu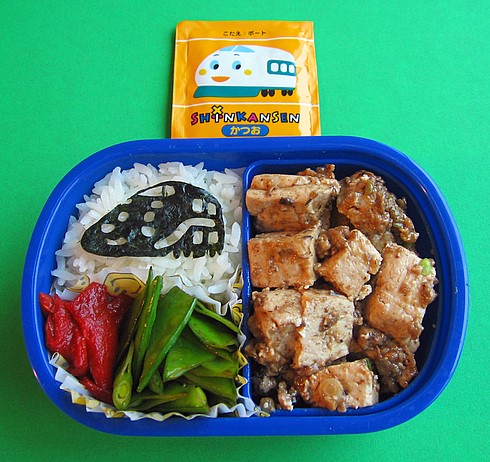 Contents of preschooler bento lunch: Ma po tofu, stir-fried snow peas and roasted bell pepper with Thai oyster sauce, white rice with Shinkansen pre-cut nori (full nori details here) and a side packet of individually wrapped Shinkansen furikake rice seasoning (bonito flavor). Asian markets often sell assortments of furikake packets in a variety of flavors, in either adult designs or cartoon character like Hello Kitty, Shinkansen, Anpanman, etc. (click on the photo below for flavor translations). A greener alternative would be to pack extra furikake in a little shaker, and refill it from a larger container of furikake (Amazon sources) when empty. In any case, adding furikake to rice at the last minute adds a little fun to a lunch (and some prefer the texture of fresh furikake).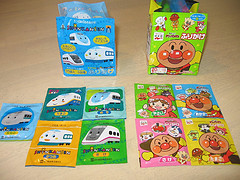 Morning prep time: 10 minutes, using leftover ma po tofu and rice leftover from dinner. In the morning I quickly made the vegetables, and packed the lunch.
Cooking: To make the vegetables with oyster sauce, remove the strings from about 10 snow peas, cut them diagonally in half, and chopped a rinsed, roasted bell pepper (ready-made, from a jar). Heat a mini fry pan , spray with vegetable oil, and fry the snow peas until slightly softened (about 2 minutes). Add the bell pepper, 1 tsp oyster sauce and 1 Tb water, saute for an additional 30 seconds (or until the sauce has thickened). Let cool before packing in a bento lunch. I used Mae Krua brand oyster sauce, which I adore over Chinese or Japanese oyster sauces (my earlier rant on Thai oyster sauce is here).
Packing: I actually got five natural food colors into today's lunch, so I was happy about the color/nutrition balance. My first step was to pack the warm rice in the bento box so that it could cool while I worked on the rest of the lunch (letting the lunch cool before putting the lid on reduces condensation inside the box, helps avoid food spoilage, and avoids creating a vacuum inside the box that makes it hard for a child to open). Tofu spoils easily because of its high water content, so I didn't want to warm it before packing, and I tucked in frozen ice packs (cut from a flexible ice blanket) next to the bento box in Bug's insulated lunch bag . Lunch packed in a 360ml Disney Cars bento box with one sub-container removed; veggies packed in a regular cupcake liner (Wilton brand) to keep the oyster sauce away from the rice and mapo tofu.
Verdict: Bug ate all of the ma po tofu and half of the rice at preschool, finishing the snow peas and rice in the car afterwards. For some reason the bell peppers didn't go over well with my three-year-old. Oh well, at least he ate the other veggie, gleefully squeezing the snow peas until they surrendered their inner peas to his little teeth.
RELATED POSTS: