Mini shepherd's pie & skewered tomato/cheese "sandwiches"
Speed Tip: When you're making dinner, make a little extra that can be eaten for lunch (either as is or as a Leftover Remake). Sometimes you can make miniature versions of the dish (like the mini Shepherd's pie below), other times you can just separate the excess into individual portions and store those in the refrigerator or freezer to speed morning packing. Don't be ashamed of your leftovers!!! They are your arsenal against boring lunches or spending an hour in the kitchen in the morning when you could be sleeping.
Bug's lunch today took about 5 minutes to throw together. There are leftover green beans with pecans, mini skewered tomato/cheese "sandwiches" and a mini shepherd's pie (which Bug devoured). A couple of nights ago I made a big shepherd's pie (mashed potatoes and cheese on top of a layer of ground or chopped meat and vegetables that have been simmered in flavored broth: simple web recipe here). At the same time, I took two thick aluminum cups (see equipment note below) and made miniature versions that could hang out in the fridge or freezer until I wanted them for lunch. This didn't take me any extra time when making dinner — just separated out a little into lunch-friendly containers.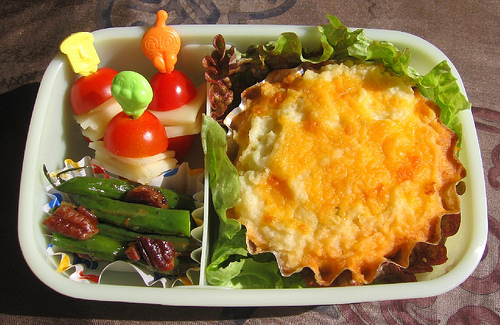 The little tomato/cheese skewers are very fast and simple, but add a splash of color and fun to a lunch (I got this idea from Japanese bento cookbook おいしいお弁当 "Oishii Obento".). Cut a slice of cheese (here I'm using Jarlsberg) into four strips, then fold one strip into quarters. Sandwich the cheese between two cherry tomato halves, and skewer the whole thing with a toothpick or long plastic pick (here I've used long Anpanman picks). Hollowing out the bottom half of one of the tomatoes and filling it with a dab of pesto sauce would be a good variation — like a mini caprese salad.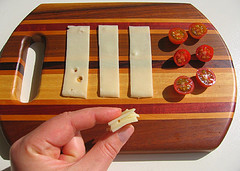 My latest trip to Daiso (Japanese dollar store with branches internationally) yielded extra-thick aluminum cups for cooking in (US$1.50 per package, see my SF Bay Area shopping guide to bento gear). Whereas previously I've used two regular foil cups together for strength when cooking (see the stovetop mini frittata), these thick cups are touted as being strong enough to cook in on their own (only needing one cup). My experience bore this out, as I was able to fill one with all the shepherd's pie makings, then easily place it on a baking sheet with my hands). That said, doubling up on foil cups or just using a cupcake liner in a muffin tin would yield the same result, so if I can't get any more I won't sweat it. They're safe for the oven and toaster oven, but not the microwave. Interesting.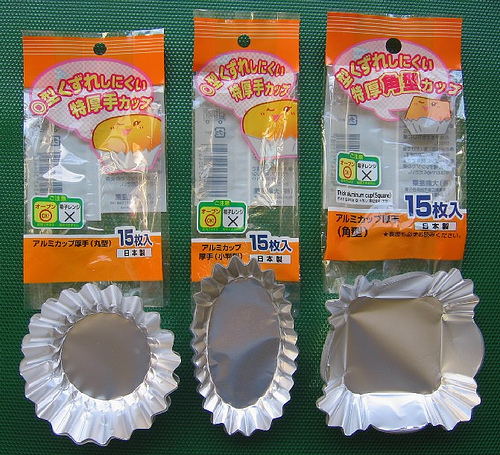 READ MORE: