Orange and green lunch
Without thinking about it, I managed to pack a lunch almost entirely with two colors: orange and green.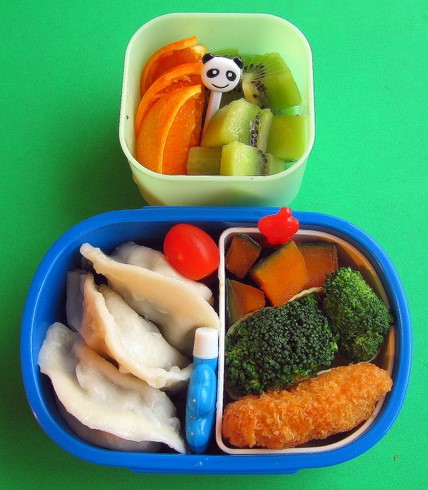 Contents of preschooler lunch: Pork and leek Shandong dumplings (full review here) and dipping sauce, grape tomatoes, kabocha squash simmered in mirin and soy sauce, steamed broccoli, and an odd fish fillet with built-in tartar sauce under the breading. The side dish container holds tangerine slices and kiwi.
Morning prep time: 10 minutes, mostly boiling the dumplings in a tiny pot to speed things up. The kabocha was leftover from the night before, and I used the simmering liquid from the kabocha to flavor the microwave-steamed broccoli. In the morning I briefly microwaved the frozen fish fillet and broccoli (in a microwave mini steamer), and sliced the fruit.
Packing: I fully drained the kabocha and broccoli before packing to keep stray juices away from the fish, and stood the broccoli florets upright in a mini silicone baking cup. Grape tomatoes acted as gap fillers to stabilize the lunch in transit. Packed in a Packed in a 270ml one-tier Thomas the Tank Engine box with one hard plastic sub-container removed to fit more dumplings, and a 150ml side dish container. The panda pick was part of a larger set for US$1.50 at Daiso, and I also used a little pronged Anpanman pick for the kabocha.
Verdict: Mixed. Bug ate most of this at preschool, leaving two pieces of kabocha, a bit of broccoli and the kiwi. Afterwards in the car, though, he ate the broccoli and the kiwi but passed on the kabocha. He said he really liked the dumplings and the fish. I'm starting to think he's finding it difficult to eat kiwifruit pieces on his own — that's coming back regularly until I help him with the pick. Something to keep in mind as I pack foods that are easy for him to eat on his own…
READ MORE: