Nesting boxes, chili con carne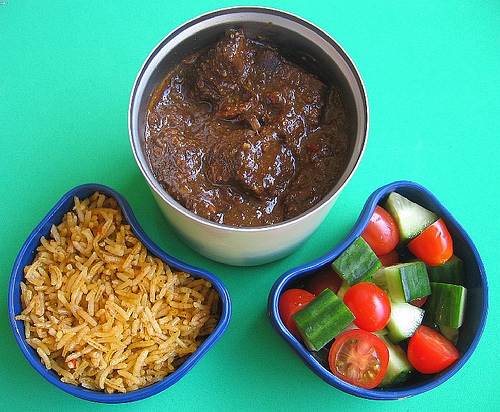 Contents: Homemade chili con carne, yellow rice with sofrito and alcaparrado, and cucumbers and tomatoes marinated in sanbaizu sweet vinegar sauce. The chili recipe is from Cook's Illustrated's The New Best Recipe , and the yellow rice is from Daisy Cooks! The chili was definitely not fast to prepare (almost three hours on Sunday, toasting/grinding my own chiles), but it was definitely worth it — I also doctored it with a little Mexican chocolate and peanut butter (think mole sauce).
Morning prep time: 6 minutes, using leftovers (chili and yellow rice). The only thing I made this morning was the quick cucumber/tomato "salad" — quickly cut the veggies and tossed with a little pre-made sanbaizu from the refrigerator (this would also be nice with any vinaigrette dressing). I find it fast to work with cherry tomatoes or small tomatoes for small amounts as I can just grab a few and halve them, as opposed to cutting a whole tomato and then needing to wrap up the excess (we're only talking seconds here, mind you). I pre-warmed the thermal food jar with hot water from the tap, microwaved the leftover chili and rice, and packed.
Packing: Because the insulated bento set only really keeps the food in the thermal food jar hot, I just warmed the rice a bit to take the chill off (and restore the texture), but heated the chili until hot. Heat rises, so I packed the vegetable container underneath the rice container (not that it makes much difference, but still).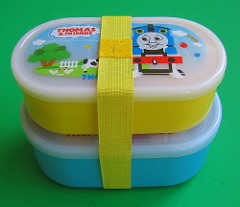 The bento boxes shown here are a new Thomas the Tank Engine set of nesting boxes I picked up from Moritaya in San Francisco's Japantown. Bug outgrew his other 280ml Thomas box, so I figured this would work well with his growing appetite (and love of Thomas) over the next few years.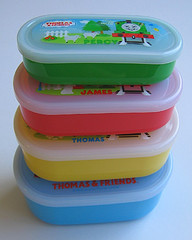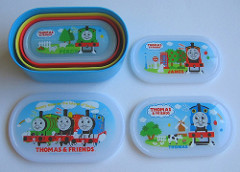 There are four lidded containers (450ml, 280ml, 180ml and 100ml) that fit inside each other when empty, and can be used in any combination to pack a lunch. I'm liking these a lot as they give me a lot of flexibility with food portions and food shapes (i.e. Bug's long tamale fit nicely inside the 450ml container and I could then choose from three remaining containers according to how much food I still had left to pack). When full, I used a cheap US$1 bento band from Ichiban Kan in San Francisco to hold them together, and after lunch I put the empty containers inside each other to save space. The boxes are labeled as being microwave-safe, but not the lids. I found a similar set with the Rilakkuma character here on Amazon, but I'm sure there are similar ones on eBay.
Note that these are not all that different from nesting Tupperware! If you don't want to shell out the money for character-themed bento boxes, just use regular food containers! Check out this Japanese Flickr user's photos of beautiful bento lunches packed in normal Tupperware. It's a valid way to pack a bento lunch — I'm looking at a Japanese-language bento book right now with gorgeous photos of bentos packed in Gladware and freezer containers… (Don't believe the hype!)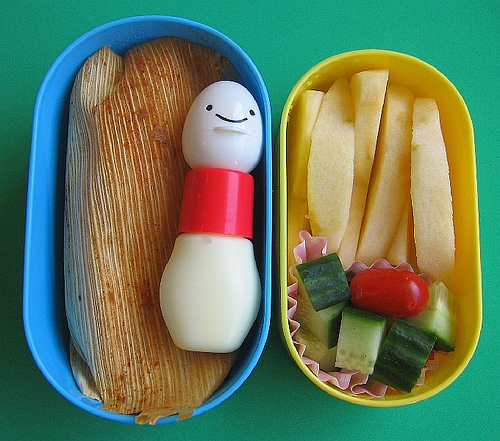 Contents of Bug's lunch: Pork tamale with crema (Hispanic sour cream), apple slices dipped in lemonade to prevent browning, cut cucumbers and a cherry tomato.
Morning prep time: 10 minutes, using frozen tamales from Costco. Steaming these the traditional way takes too much time in the morning, and just throwing them into the microwave plain gives them an unpleasant texture, so I cooked it in a large microwave steamer for 3 minutes (1100W) for the best of both worlds.
Packing: I used a little flip-top squeeze bottle shaped like an egg to hold the crema — this allowed Bug to neatly sauce either individual bites of tamale or make designs on the whole tamale in the box (he did both). This worked better for Bug than normal lidded sauce containers as he gets frustrated dipping crumbly tamales into a little container of sauce. There was enough crema that I was able to put some in my chili con carne. The top part (egg and red part) unscrew to reveal a wide-mouth opening; to fill with viscous sauce, I used the "squeeze and release" method after dipping the top of the container into the little tub of crema.
Lunch in a Box is nominated for Best Food Blog in the Blogger's Choice Awards. If you'd like to cast your vote for speedy lunch packing, click here (you can vote for multiple blogs in the same category).
READ MORE: