Back-to-school lunchroom restrictions
Tuesday was our son's first day of preschool, although it wound up being more of a sneak preview of the school as students are required to actually be three years old before they can attend on a regular basis. Bug will turn three in October, so although we were able to attend the first-day orientation and help him settle in today, it'll be another month until he'll go regularly. Like many schools now, his preschool has an allergy policy that restricts what foods parents can send along. As I understand it, we're not to send along nuts, nut products, milk or yogurt.
This reminded me of why I got into making bentos in the first place. A few years back, my husband was misdiagnosed with celiac disease, and we ate gluten-free for nine months before he was given the all-clear. At the time, cross contamination via dropped crumbs, hands, utensils, etc. was a major concern, and I could only begin to imagine how hard it would be to keep a child with celiac disease away from traces of gluten in school.
So I'm motivated to make sure our lunches won't pose a significant danger to the children with allergies in Bug's class. I started looking at food policies at other schools, and thinking about how this will change how I pack Bug's lunches. It appears that nut and milk bans are fairly common nowadays, but our varied diet is going to require some scrutiny. How will this affect Bug's bentos? Mine and my husband's can remain unchanged (click photo for details of the allergen-laden lunch packed in a Laptop Lunchbox).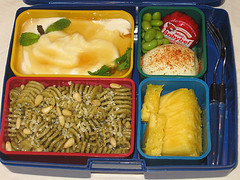 1) No Peanuts or Nut Products
This is probably the most common lunchroom restriction, serious because exposure is hard to avoid and symptoms can be severe. In addition to peanuts, other nuts include almonds, beechnuts, brazil nuts, cashews, chestnuts, hazel nuts, hickory nuts, pecans, pistachios, and walnuts. Nut products can hide in a number of places, including baked goods, crackers, health bars, hydrolyzed vegetable protein, etc. — there's a more complete list of products that can contain peanuts here.
Impact: For us, this will mean Bug will do without the following at school: peanut butter sandwiches, nut-crusted fish, peanut-based curries, nut garnishes in salads and sauteed vegetables, "sesame" noodles using peanut butter, Nutella, bourek fillings that include nuts, salad dressings using peanut butter as an emulsifier, etc. This is livable, but I'll try to keep it top of mind to minimize the chance of hidden nuts products. Possible substitutes include soy nuts or crunchy snack peas for texture in salads, mustard or tahini as a salad dressing emulsifier, etc. (sesame products are allowed).
2) No Milk or Yogurt
Less severe than a full-on lactose ban, we're to avoid packing liquid milk or yogurt. For example, baked goods that include milk as an ingredient are okay. Cheese is also fine, so the little cheese triangles and Babybel cheeses will continue to make an appearance.
Impact: This rules out cereal with milk, Greek yogurt with fruit, yogurt sauces, spicy curries that I tame by adding yogurt, etc. Soy milk would be a possible substitute for regular milk, but as Bug will be eating breakfast before school I don't think it'll have much impact on us other than yogurt sauces for things like tamales. I wonder if sour cream and crema are also out of the question for Bug…
How have you adjusted to lunchroom food restrictions, and was there anything surprising to you? Let us know in comments if you've got any helpful advice!
READ MORE: