Freezer stash bento lunches
I'm really pleased with how everyone has been adding local stores to the new worldwide Bento Store Locator (BSL) with Google Maps — thank you! The database has almost doubled in size since its launch on Monday. It's turning into a helpful tool, but it's only as good as the information that we all put into it. So please check it out and leave your feedback by adding new stores, commenting on existing stores about what sort of bento gear they stock, places that might have closed down or no longer carry bento boxes and accessories, etc.
Please use the search box to check your area, not just the map's zoom function (the BSL only displays the stores nearest to the location in the search box). See the posting guidelines and a detailed Locator description; check to see if your favorite store is already there before adding as we're starting to get duplicates (that I delete). Next week I'm expecting an influx of visitors to the site who are new to bento lunches, and am hoping the Bento Store Locator will be complete enough to help them find local sources for bento gear quickly and easily. More news on Monday, stay tuned!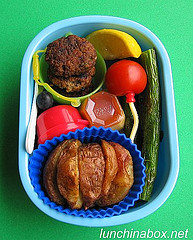 Contents of preschooler lunch: Mini burger patties made from meatloaf mix, roasted asparagus and a lemon wedge, cherry tomato, mini pudding cup (shelf-stable Kiku Petit Pudding, found here online and at Cost Plus World Market's retail stores in the U.S.), home fries with garlic and rosemary, ketchup for dipping, and blueberries. (Click any photo for a larger view.)
Morning prep time: 7 minutes, using leftovers and little burger patties I'd previously made, fried up and frozen (then stored in my freezer basket of bento food for easy access). In the morning I filled a lidded sauce cup with ketchup for the burgers and fries, cut the tips off of the asparagus (my preschooler's not a fan), and arranged the rest.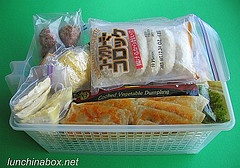 Speed tip: Building up a freezer stash with individual portions of different foods can save you on busy mornings. Make a little extra when you're cooking dinner, portion it out in baking cups or freezer bags, and pop it into the freezer. Think of it as a pain-free time investment for fast lunches. My freezer basket for packed lunches currently holds rice & onigiri rice balls, waffles, edible ice packs, unsauced pasta, ground pork subdivided into usable portions, inarizushi stuffed sushi, ginger, green onions in plastic drink bottles, and chopped herbs. Remember to cycle through freezer items quickly to avoid freezer burn, and figure out a way to keep track of what you've got in your freezer (such as homemade magnets, a whiteboard, paper lists, etc.). See the Top Speed Tips page for more ideas.
(Read on for packing details, my son's verdict, and a prettier lunch with spanakopita.)

Packing: I used new food picks from Ichiban Kan to turn the cherry tomato into a balloon, tucked a little plastic ice cream tasting spoon into the side for the mini pudding cup, and put the little burgers into a little plastic bucket for fun. There really was no reason for the plastic bucket from a flavor mingling standpoint, though; I could have packed the burger patties right into the box as is. The home fries went into a reusable silicone baking cup (a great way to contain small amounts of messy food without resorting to disposable containers), and ketchup went into a lidded sauce container for easy dipping (available at Daiso or Ichiban Kan discount stores). The lemon slice and blueberries act as gap fillers to stabilize the lunch for transport. The lunch is packed in a 350ml Power Rangers bento box with subcontainers removed to fit the long asparagus. A 350ml box is just about the right size for my three-and-a-half year old, according to the bento box size guidelines.
Verdict: So-so. Bug gave the little hamburger patties a thumbs down, which was not that surprising as I wound up overcooking them. Surprisingly, he left the pudding cup until after school, eating it as a snack at the park.
* * * * *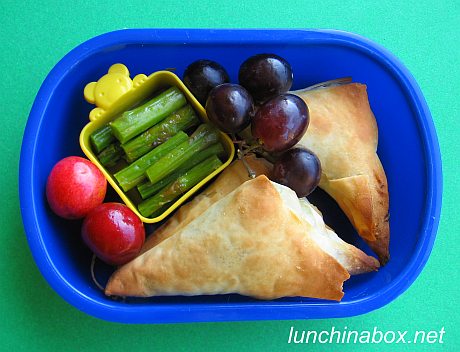 Contents of preschooler lunch: Spinach and cheese spanakopita, cherries, broiled asparagus with lemon, and grapes. It's very simple lunch using frozen phyllo spinach pies (Costco's spanakopita, reviewed here), an easy way to add variety to a meal. (See also my earlier post on using world appetizers in bento lunches, and a full list of products I've reviewed)
Morning prep time: 16 minutes, mostly inactive prep time waiting for the frozen spanakopita to cook in my convection toaster oven and cool. The asparagus was leftover from dinner, so in the morning I just toasted the spanakopita and cut up the asparagus. I cooled the spanakopita on my mini cooling rack from Daiso, but I realized that toaster oven baking pans
(found at stores like Amazon, Target or Bed Bath & Beyond) are only slightly larger and can be used for the same thing. Win-win!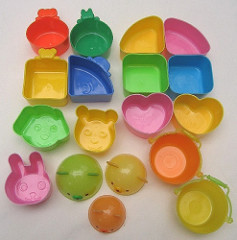 Packing: Letting the phyllo pies cool before packing them was important to keep them from going soggy once I closed up the box. I used a reusable hard plastic food cup from Daiso to keep the moist asparagus away from the crispy spanakopita (Daiso is a Japanese discount store with branches internationally; see the San Francisco Bay Area shopping guide for bento gear or the Bento Store Locator for sources near you). The lunch was packed in my three-year-old's favorite 360ml Disney Cars bento box with both subcontainers removed to accommodate the long spanakopita.
Verdict: Big thumbs up. Bug ate everything at preschool, no leftovers.
FURTHER READING: