Speed Bento Tip: cycle through freezer items quickly
Today's 5-minute speed lunches used up the last of the older frozen bento stash: spaghetti cups, onigiri rice balls, and mini hamburgers made from meatloaf mix. It's important to cycle through your frozen items on a regular basis, using things up before they lose flavor and vitamins or, God forbid, develop freezer burn, which renders them worthy only of the garbage can. My general rule of thumb is to use up frozen bento items in 3 weeks if possible, 4 weeks at max.
BTW, I've decided to call my two-year-old son "Bug" online, so Bug's lunch below also added:
leftover green beans and pecans with orange essence and maple syrup (recipe from Cook's Illustrated)
cherry tomatoes (to fill the gaps in the box and stabilize the meal for transport)
ketchup in a tiny paper cup with film cover I'm trying out. As long as the sauce is viscous (mayo, ketchup, tartar sauce) and you don't treat the bento roughly in transit, it stays put. Interesting.
the bear food divider is just for fun as it's not actually dividing up any food — just peeking out from behind the rice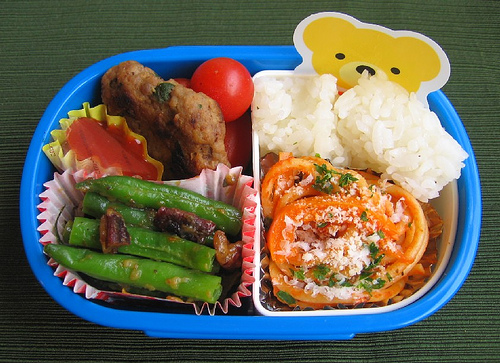 My lunch adds a tiny apple, cheese cubes and the last of the blueberries. This also took 5 minutes to pack, so 10 minutes total for the two lunches.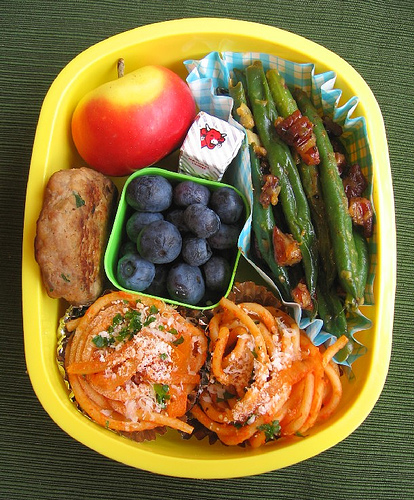 READ MORE: