Brazilian salgadinhos bento lunch
I went to a Japanese-Brazilian friend's party this weekend where there was a gorgeous array of Brazilian savory appetizers called salgadinhos. Salgadinhos encompass a variety of different savory bites, including inverted cone-shaped stuffed "coxinhas" whose dough is made with yucca and chicken broth, "bolinhos de peixe" fish balls, "risole" thick fried half-moons stuffed with fillings, "empada" pies baked in mini muffin tins, and Middle Eastern stuffed meat kibbeh (ground meat & bulgur wheat) that reflects the immigrant influence in Brazil.
Often eaten with hot sauce, evidently salgadinhos are popular snacks at bars and parties in Brazil. They were definitely a hit with the three-year-old birthday party crowd, who staged repeated strikes on the finger food table. Also popular were brigadeiro chocolate fudge candy and beijinho de coco coconut kisses, little Portuguese-influenced sweets made from condensed milk and rolled in either chocolate jimmies or shredded coconut. We finally had to move the plate out of reach of the children, who took up positions nearby to snatch up the chocolate balls.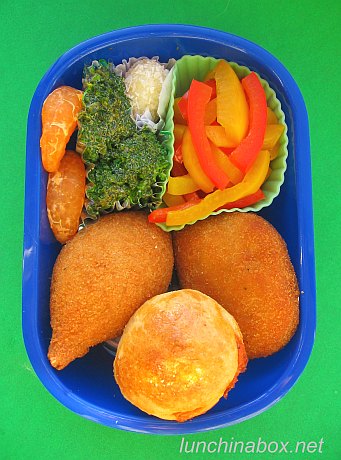 I was so taken with the salgadinhos that I asked the hostess if I could take a few home to feature in a bento lunch, and she was gracious enough to give the green light and fill me in on the details. They may seem unusual for a packed lunch, but they're in keeping with other ready-made appetizers that lend themselves nicely to the small scale of bentos, such as puff pastry appetizers, spanakopita, mini crab cakes, meatballs, etc. (Click to read the full post with lunch details…)
Contents of preschooler's bento lunch: Brazilian salgadinhos appetizers (ham rizoli, chicken coxinha de frango, chicken-thigh empada with olives), mandarin orange segments, steamed broccoli with mayonnaise and aonori seaweed
(recipe below), steamed red and yellow bell pepper with soy sauce and dashi, and beijinho de coco coconut kisses. The salgadinhos were hand-made by a private caterer in Daly City, CA; let me know if you'd like her info and I'll send it to you.
Morning prep time: 10 minutes, using leftover salgadinhos. In the morning I popped the appetizers into my convection toaster oven for 5 minutes to re-crisp the exterior. While those were warming, I cooked both the broccoli and bell peppers in my microwave mini steamer and sauced them.
Cooking: I was looking for a different way to flavor steamed broccoli, and found a quick sauce in Papatto 15-fun! Oishii Obentou, one of my Japanese-language speed bento cookbooks. I put some trimmed broccoli florets in my microwave mini steamer with a tablespoon of water and heated them on high heat (1200W) for 50 seconds (you could also heat the broccoli in a covered microwave-safe bowl with a splash of water). Remove the broccoli from the steamer and pat with a paper towel to remove excess moisture. Let cool while you stir together a quick sauce of 2 tsp mayonnaise, 1/2 tsp soy sauce and 1 tsp aonori seaweed
flakes. Either dip the cooled broccoli florets into the sauce or smear a little of the sauce into each floret with a spoon. This added a surprising amount of flavor to the broccoli, and Bug gave it a big thumbs up.

Packing: To make sure the appetizers stayed crisp, I let them cool after coming out of the toaster oven before packing them in the box. This kept condensation from forming in the box that would have made it more difficult to open the box and increased the odds of the food going bad before lunchtime. The peppers went into a reusable silicone baking cup, and the broccoli went into a disposable plastic baking cup from Daiso that was easier to compact into a small space than a silicone cup. The lunch is packed in a 360ml Disney Cars bento box with both subdividers removed to fit the larger salgadinhos, and the box went into an insulated Shinkansen lunch bag with a wide base designed to carry bento boxes flat, not tipped over on their side. Little ice packs cut from a larger flexible ice blanket went inside the lunch bag to keep things cool. If Bug were hungrier, I could have frozen a little treat in a separate container and thrown that in his bag as an edible ice pack. (Click on any photo for more info.)
Verdict: Not great. Bug downed the two fried salgadinhos, the broccoli and the orange segments at preschool, but left the rest. After school he ate a little of the bell peppers and the brigadeiro, but totally rejected the baked chicken empada even though its filling was similar to the coxinha that he downed. Oh well, at least he ate the broccoli!
* * * * *
The Feisty Bento blog is running a bento contest, "Does This Make My Lunch Look Phat?" with an extended deadline of February 29, 2008. Selected winners will receive one of the cute bento boxes shown in her original post. A regular reader and commenter on Lunch in a Box, Yvo runs both Feisty Foodie and All My Bento Are Belong to Me (Feisty Bento) blogs.
On a self-interested note, I switched advertising networks last month and joined Foodbuzz, a new online food community. If you have a food blog and are looking to run ads, you might want to contact Foodbuzz and hear what they have to say (they'll ask for a non-disclosure agreement). (Disclosure: The tracked contact link supports Lunch in a Box.)