Save time & energy with bento baskets for the freezer
Because I don't sit down and plan the week's bento lunches in advance, every morning involves some poking around inside of the refrigerator and freezer to see what looks good to pack for lunch that day. I realize that my life would be easier if I kept a written inventory other than just my freezer magnets, but it's just not going to happen as I don't have the staying power to keep things updated.
One thing that Japanese bento cookbooks recommend if you pack lunch in the morning is to think of one dish the night before that you'd like to pack the next day, and just start visualizing the lunch. This takes some of the pressure off when you step into the kitchen as you've already got a starting point.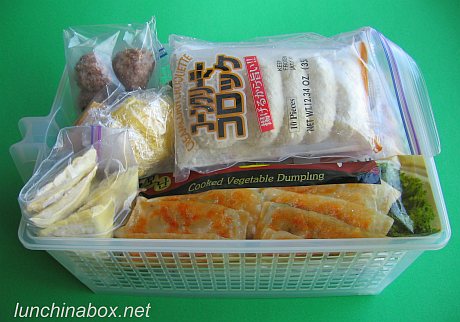 One problem with my approach is that I tend to stand in front of the refrigerator or freezer with the door wide open while I look around for something that inspires me. Unlike looking in the pantry, though, this actually wastes energy and I often overlook buried food that would be perfect for bento lunches. Enter plastic organizer baskets and trays. (Read on for details and variations.)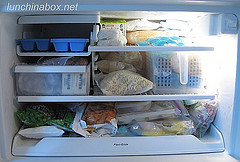 A tip that I've read in my Japanese speed bento and freezing books is to gather foods that you often use in packed lunches, and put them together in an organizer basket or tray in the refrigerator. Then when you're ready to pack lunch, just pull the entire basket or tray out of the refrigerator or freezer, close the refrigerator door, and browse through your entire bento stash on the kitchen counter. The benefits are energy saving, time saving (less digging around), and reduced food waste as everything is together in one place (so you're less likely to overlook food that might spoil or develop freezer burn).
In my freezer bento basket I have meatballs, ravioli, microwaved thin egg sheets (whole and julienned), shumai, rectangular Korean dumplings, waffles, mini pancakes, frozen appetizers like spanakopita, mini quiches, mini crab cakes, mini scallop & shrimp cakes, etc. In the pull-out bin on the left I have all kinds of sausages (mini, regular, etc.). I need to get some additional baskets to hold my frozen rice and frozen pasta — it's a work in progress (try not to look too hard at the messy bottom section!). A bento basket or tray in the refrigerator could hold any number of staples, including tiny containers with small amounts of leftovers.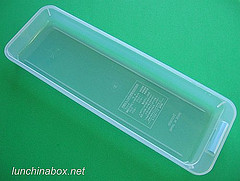 A variation on this would be to fill a refrigerator tray with everything you commonly use for breakfast, with your jams, spreads, and butter. Then in the morning you can quickly grab the basket or tray and put it on the table or counter, instead of poking around in the fridge for buried food treasure.
Equipment: For the freezer, I like to use deeper baskets with holes in the sides to allow free circulation of the cold air. In the refrigerator I have a variety of shallow plastic trays that reach all the way into the back, giving better access to food in the back recesses of the refrigerator. I got these for less than US$1.50 each at Daiso and Ichiban Kan discount stores (retail store details at my San Francisco Bay Area shopping guide for bento gear, and online store details for Ichiban Kan at my review), but you can find similar baskets at stores like WalMart or Target. Check out Ichiban Kan online's selection of kitchen organizers. (Disclaimer: I have no commercial affiliation with any of these stores.)
What's your favorite freezer or refrigerator organizing trick? Where do you get your organizing baskets and trays? Let us know in comments!
RELATED READING ON LUNCH IN A BOX: