Japanese fried chicken bento lunch
Karaage is the addictive Japanese version of fried chicken that's marinated in garlic, ginger and soy sauce — very light and crispy. Because it's well spiced, it's a bento classic that holds up well even when eaten at room temperature.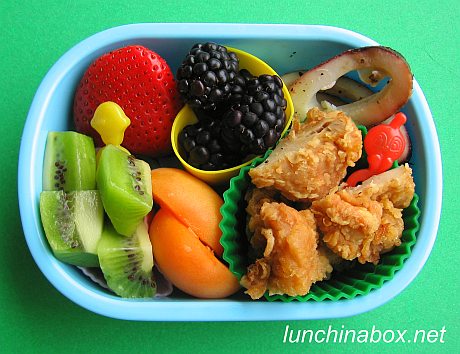 Contents of preschooler bento lunch: Strawberry, blackberries, kiwifruit, apricot, grilled squid, and Japanese ginger fried chicken (karaage). Can you tell that I'd just gone to the produce market?

Morning prep time: 7 minutes, using leftover squid and chicken from a restaurant meal (Sapoten in San Francisco, a nice little izakaya-style restaurant with a yakitori menu). In the morning I popped the chicken into my convection toaster oven to quickly crisp up the outside a bit, and cut the fruit. (Read on for packing details and an additional preschooler lunch.)



Packing: I put the chicken in a reusable silicone baking cup to keep it away from the squid, and the delicate blackberries went into a hard plastic reusable food cup from Daiso discount store (branches worldwide) to keep them from getting bruised and smushed in transit. I threw in a couple of little Anpanman food picks as fork substitutes for little hands. To keep the fruit cool and fresh until lunch, I included little ice packs cut from a flexible ice blanket in Bug's insulated Shinkansen lunch bag.
Verdict: Pretty good. Despite having specifically asked for the squid when I was packing his lunch in the morning, Bug only ate a little of it at preschool. He also left the blackberries, having decided he doesn't like them after all. He did eat the rest of the squid after school as a snack, but had zero interest in the berries.
* * * * *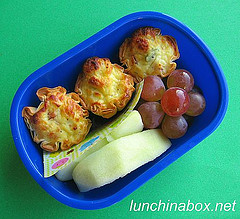 Contents of preschooler bento lunch: Mini quiches from Costco (Lorraine: swiss cheese and bacon, and Florentine: swiss cheese and spinach), peeled apple slices, and red seedless grapes.
Morning prep time: 18 minutes, mostly inactive prep time waiting for the frozen mini quiches to cook in my convection toaster oven. In the morning I popped the quiches in the toaster oven, sliced the apple, and used kitchen scissors to cut of a little cluster of grapes.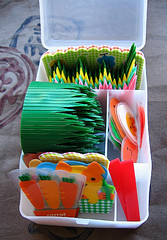 Packing: To avoid having the phyllo crusts on the mini quiches go soggy on me, I let them cool on a mini cooling rack for a few minutes before packing them in the bento box. To prevent the apple slices from browning, I dipped them in a combination of lemon juice and apple-peach juice (minimizing the tang from the lemon), then patted off the excess moisture with a paper towel. I used a plastic food divider (baran) to keep the moist apples away from the crispy quiches. The food dividers are meant to be disposable, but I wash and reuse them, and store them in a little plastic organizer box I picked up at Ichiban Kan. The lunch is packed in a 360ml Disney Cars bento box with both subcontainers removed to accommodate the line of mini quiches.
Verdict: Sometimes simple is best. Bug ate everything at preschool, and happily told me that he liked being able to finish his whole bento.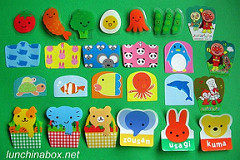 FURTHER READING: