I like to change up lunch every now and then by packing breakfast foods, like I did with this frozen mini pancake lunch the other week. Over the Thanksgiving holidays I had some extra time, so I made a big batch of homemade buttermilk waffles for brunch and froze the excess for future breakfasts and bento lunches. Everyone who grew up watching those "leggo my Eggo" commercials knows that you can freeze waffles, but when packing the toasted waffles be sure to let them cool thoroughly before packing them away in the bento box. If you put them in the box warm and close it up, the waffles will get soggy with condensation and compromise your packed lunch's food safety.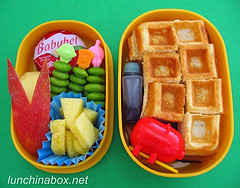 Morning prep time: 10 minutes, using frozen waffles and leftover cut pineapple. In the morning I popped a frozen waffle in the toaster, microwaved some frozen edamame and put them on skewers, and made the little apple rabbit (the key to making these is giving it a short soak in acidulated ice water after cutting the peel to prevent browning and make the ears stand up). I added lemon juice and a little Splenda to the ice water for this effect without a sour taste.

Packing: I put the edamame on little Anpanman skewers so that my three-year-old could easily get a whole mouthful. (He eats them up when they're on skewers, whereas he just picks at them if they're loose.) The waffle got cut into individual squares to make eating easier for little hands. I used a pre-filled sauce container with maple syrup to save time, and filled a little red pig container with thick kaya — the pig's "feet" hold a yellow paddle for spreading. The pineapple went into a little coated paper baking cup with Japanese and English animal names on it (from Daiso Japanese dollar store with branches internationally). The lunch is packed in a two-tier 465ml "Pon de Lion" bento box from Mister Donut. (Click any photo for a larger view.)

Verdict: Oh, so too big for one meal, but just fine for a meal and an afterschool snack. Three-year-old Bug ate half of the waffle, apple and edamame, leaving the pineapple and cheese until later. I should really stop making any effort on decorative apples that leave the skin on, as Bug just eats the part of the apple that I've peeled, and leaves the rest. Goodbye rabbit apples!

Freezing: The key to freezing homemade waffles is to first take them out of the waffle maker while they're a bit underdone, so they can finish browning in the toaster. Cool them thoroughly on a cooling rack, then wrap each individually in plastic wrap to reduce the chance of freezer burn. Pop the little waffle packages into a freezer bag or plastic freezer container, and freeze. Use within a month for best quality, although theoretically these will keep indefinitely if stored below 0 degrees C (not F). To eat, unwrap and heat in a toaster or toaster oven.
* * * * *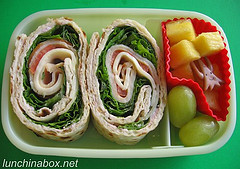 Contents of preschooler lunch: Turkey roll-up sandwich, fresh pineapple and grapes. I find the turkey roll-ups from Costco a bit tasteless and in need of mustard, but Bug inhales them.
Morning prep time: 3 minutes, using roll-ups from Costco and pre-cut fresh pineapple. Lightning speed!
Packing: I used the removable divider to help stabilize the cup of pineapple even after Bug started eating the rolls (helpful as then the pineapple was still in place after school — he left it for later). The pineapple went into a reusable silicone baking cup to keep the juices away from the dry roll-up, and a little tree-shaped pick (US$1.50 at Daiso for a set of 12 funky animal picks, also available at JList) helped little hands manage the fruit. The lunch is packed in a 470ml Afternoon Tea bento box.
Verdict: Super thumbs up. Bug loves these darn roll-ups, begging for them every time I take him along with me on a Costco shopping trip. He ate both of them and the grapes during preschool, then finished up the pineapple at home as a snack.
Have you voted in the prestigious 2007 Food Blog Awards yet? Lunch in a Box is up for "Best Food Blog—Theme" and "Best Food Blog—Family/Kids" categories, and voting closes 11:59 pm EST on Friday, December 14th (in a couple of days). If you enjoy this blog I'd appreciate your vote (click to vote for "Best Theme" and "Best Family/Kids" blog, no registration required). Thank you for your support!
FURTHER READING: