Rice cube & mushroom bento lunch
One of our two cats has started scratching under our bed and on our door when we shut her out, so I wake up early some mornings when Squirrel decides it's time for us to get up (grrr). I'd rather be sleeping, but figure as long as I'm awake I may as well do something a little more ambitious for Bug's bentos than throwing something into the microwave and reheating leftovers. (On the cat front, please feel free to give me advice on how to change our cat's behavior! I've tried squirting her with water and putting contact paper under the bed, so now she jumps at our hair through the headboard slats.

I'd love to get that extra hour of sleep in the morning again, but short of putting her in a cage I'm not sure what to do…)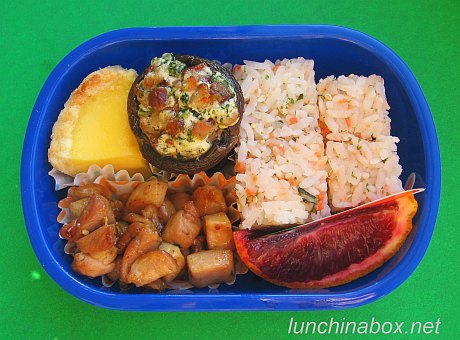 Contents of preschooler lunch: "Rice cubes" with salmon-flavored furikake rice sprinkles, Moro blood orange, teriyaki chicken cubes (recipe below), Chinese egg custard tart, and roasted mushroom cap stuffed with chevre, pancetta, sauteed broccoli rabe, garlic and butter (recipe below). This is the lunch I referenced last week in the recipe for roasted mushroom caps.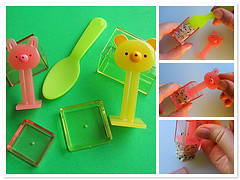 Morning prep time: 20 minutes, using frozen rice and a quarter of a leftover egg custard from a cheap takeout dim sum meal (from Good Luck Dim Sum in San Francisco). In the morning I popped the mushrooms in my convection toaster oven to roast while I microwaved the rice and made the onigiri rice cubes with a little rice cuber (details and how-to here; you can also use a shaped silicone ice cube tray
for similar results). The chicken and mushroom filling took the remaining time — I was ambitious for this lunch as I was awake anyway. (Darn Squirrel! At least her brother Moose is chill.) (Click for cooking and packing details, plus an additional preschooler lunch.)
Cooking: Teriyaki chicken: I cut half of a chicken thigh into small cubes so that it would saute quickly in a mini frying pan with cooking spray. (Mini speed tip: Slow-cooking foods can be cut small and thin to speed cooking, which works for raw meat/fish, hard vegetables like squash, carrots, etc.) Once the chicken cubes were browned over high heat and cooked through, I added a mixture of about two teaspoons each of soy sauce and mirin and 1 teaspoon of sugar (a very basic teriyaki sauce), then let it briefly reduce to coat the chicken. I drained and cooled the chicken in a mini strainer and bowl while I worked on the mushroom filling.
Chevre mushroom caps: To fill three roasted mushroom caps, I sauteed 4 tsp cubed pancetta, 3 Tb chopped broccoli rabe leaves, and 1/2 clove minced garlic with a bit of butter in a mini frying pan, then mixed that together with about 2 Tb soft goat cheese in a small bowl with a fork. (For speed, I used pre-cubed pancetta that I picked up at Costco.) The filling went back into the mushroom caps, and I ran everything under the toaster oven broiler to brown. Cool before packing in a lunch for best food safety.

Packing: I packed the chicken and custard in disposable paper cups to keep the flavors from mingling, and used a disposable plastic food divider between the orange and the rice. (I do tend to wash and reuse the dividers, though — they hold up if you treat them gently.) The lunch is packed in a 360ml Disney Cars bento box with both subcontainers removed to make room for the food arrangement.
Verdict: So-so. Bug ate the onigiri, half of the chicken, the egg custard and a nibble of the orange during preschool. After school he finished everything else except the mushroom filling, which he rejected. He was happy with the mushroom itself, though.
* * * * *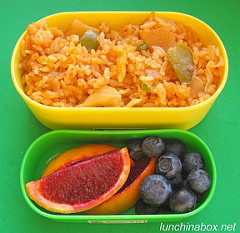 Contents of preschooler lunch: Moro blood orange, blueberries, and kimchi fried rice with green bell peppers, cabbage, onions, green onions and egg.
Morning prep time: 4 minutes, using leftover fried rice that I packed the night before when cleaning up from dinner. In the morning I briefly microwaved the fried rice to restore the texture and take the chill off.
Packing: Nothing special this day. If they microwaved the children's lunches at Bug's preschool this would have been a good way to pack as the cool fruits are in a separate container from the rice. Lunch is packed in two tiers (280ml & 100ml) of a four-tier Thomas the Tank Engine nesting and stacking bento box. You can find similar compact bento box sets with all sorts of character themes, including Snoopy
, Hello Kitty
, Monokuro Boo (square
and rectangular
), and Lilo & Stitch. (affiliate links)
Verdict: Thumbs up. Bug ate all of the rice and some of the fruit. It was a little big for him according to the bento box size guidelines, though, so he ate the rest of the fruit after school as a snack.
FURTHER READING: