Glass bento boxes & microwaving
A common concern with microwaving (or even packing) lunches in plastic containers is the potential of carcinogens or hormones from the plastic to leach into the food. I'm not here to lecture anyone on the relative danger or safety of plastics and the microwave, but I did come across some interesting material when reading up on the subject.
Some say not to worry: the FDA says microwaving in plastic is fine, Snopes says a viral e-mail about the dangers of microwaving or freezing in plastic is an urban legend, and the FSDA has info on cooking safely in the microwave. The Natural Scientist blog has a couple of interesting science-oriented entries on the safety of microwaving plastic wrap with respect to dioxins and phthalates. On the more conservative side, Green Living at Care2 has a clear list of good and bad plastics here; combine that with the chart of plastics symbols on Reusable Bags' FAQ on lunch gear health and safety issues and you've got a way to identify what kinds of plastics you have in your home and act on your own conclusions. I'm coming up short on authoritative material about the dangers; if you know a reputable article or source please post the URL in comments. For lunch packers, I've written previously about metal bento boxes, but their downside is that they can't go into the microwave. (Click to read the full post with a sample preschooler lunch…)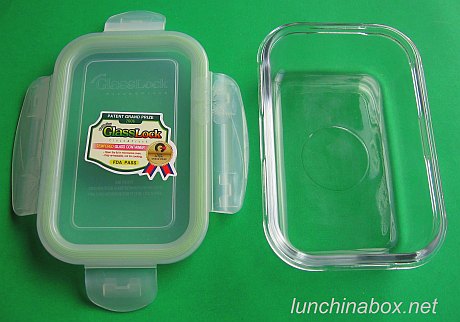 No matter what your take-away on the plastics issue is, you may occasionally want to microwave your bento lunches, and one look at my nasty old Tupperware tells me that you can stain or damage plastic containers by microwaving foods high in fat, sugar or staining ingredients such as tomato or turmeric (stain-removing ideas here). Some plastic bento boxes are made of special stain-resistant materials, which helps with staining but not with other concerns.
Another solution is to use shallow tempered glass boxes, which are heavy but will not leach chemicals into the food inside or absorb food odors. They're not ideal everyday containers for young children as they're heavy and can break if dropped. They may be worth it, however, if you're really concerned about the plastic issue or plan to do a lot of microwaving.
PACKING TIPS:
If you plan to microwave your lunch, pack only food to be warmed in the tempered glass container, and bring a separate side dish container with fresh fruits, cheeses, or anything else you want cold. That, or put cold food in a removable subcontainer that can be easily taken out before warming.
To avoid breakage, pack tempered glass boxes in insulated lunch bags with a bit of padding to cushion any unintentional falls. You may want to pull out your cloth napkin and practice those furoshiki ties to protect them further if you're packing multiple glass containers in the same lunch bag.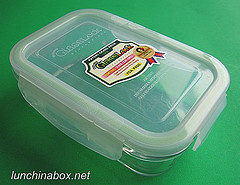 There are a number of companies out there that sell tempered glass containers with secure, watertight lids similar to Lock & Lock's, one of my favorite brands in food storage (U.S. online store here). These locking-type lids provide more security against spills than standard push-on lids (think Tupperware), which might come open if handled roughly in transit. Evidently a number of companies have been selling these kinds of containers under the "GlassLock" name (SnapWare, Sam Kwang, Lock & Lock, Wellbeing, etc.) and have been fighting it out in court, but they're all similar in function.
REVIEW: I bought a 400ml (14oz.) Wellbeing GlassLock tempered glass box for US$4.50 from Kamei in San Francisco to test for Bug's lunches (product #GL-03, see the SF Bay Area bento gear shopping guide for store details — Kukje also stocks these). Wellbeing has a line of tempered glass containers that come in sizes that can be used as bento boxes or side dish containers. I was pleased with the watertight lids, which are easy to open and close, and are better than the SnapWare lids I've tested out. Safe for the dishwasher and microwave, they're pretty indestructible — just be sure to open the lid to vent when microwaving, and don't put them in the oven. I'm tempted to get another size to store small amounts of leftover kimchi in the fridge without staining or smelling up my plastic containers. Their 710ml version (product #G-17) looks like the right size for an adult bento, and they have a number of approx. 150ml versions that would work fine as a side dish containers.
* * * * *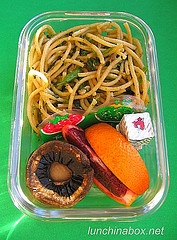 Contents of preschooler bento lunch: Italian sausage and broccoli rabe with whole wheat pasta, roasted mushroom caps (recipe below), Moro blood orange slices, and cheese cubes. In a fit of healthiness, I picked up a huge package of whole wheat pasta from Costco, only to discover that I'm not a big fan of the texture…
Morning prep time: 12 minutes, using leftover pasta. In the morning I popped the mushroom caps in the convection toaster oven to roast while I microwaved the pasta to restore texture, and sliced the orange.
Cooking: To roast the mushroom caps, I lightly brushed the surface of the clean mushrooms with olive oil, and seasoned with salt and pepper. They cooked for 6-7 minutes in the toaster oven at 400 degrees F (375 deg. F in the convection toaster oven), then turned it upside down on a cooling rack to cool and drain the juices that accumulated during roasting. These are then ready for any number of fillings. In another lunch I filled them with a mixture of chevre, sauteed broccoli rabe and pancetta, garlic and a little butter, and ran them under the broiler in the toaster oven to brown. That filling got a thumbs down from three-year-old Bug, though, who likes his mushrooms plain.
Packing: I cut a longer plastic disposable food divider by a third to make it fit across the box. I stacked two roasted mushrooms on top of each other, and plugged the gap with cheese cubes to stabilize the lunch for transit. Bug's preschool doesn't warm the children's bentos; if I were packing a lunch for the microwave I would want to either pack the oranges and cheese in a side dish container or put them in a removable subcontainer for easy removal before heating.
Verdict: Bug ate the cheese cubes and most of the pasta at preschool, but left the oranges and mushrooms until after school. He was enthusiastic about eating those in the car, though, and thanked me for not putting any filling in his mushrooms. I guess an old dog can learn new tricks!

FURTHER READING: