Speed Bento: microwave mixed rice
Today both my son and I have bentos that took about 10 minutes to make. I used a shortcut to make cheater's 5-minute "fried rice" in the microwave that I adapted from Japanese bento cookbook 園児のおべんとう ("Kindergartner Bentos" published by Kodansha). I've also got tangerine, grape tomatoes and a mini pudding; my son has tangerine wedges that have been almost fully peeled to make it easier for him to eat by himself.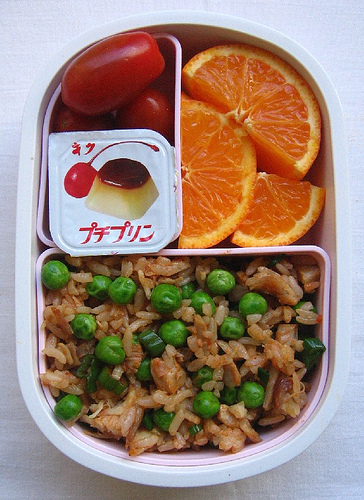 I've had a stack of Japanese bento cookbooks for a while, but had been resisting their speed recipes as I thought they looked too simple to be good. When I serve fried rice for a family dinner, for example, I definitely take the time to do it right with more ingredients in a pan. But I've got to say that this speed recipe worked well and tasted fine — this way I can serve "fried" rice for lunch even if I don't have any already made up.
I took some leftover white rice, roast pork and a green onion from the refrigerator, and frozen green peas from the freezer. First I chopped up a handful each of pork and green onion. (This is all the chopping I did for the whole dish!)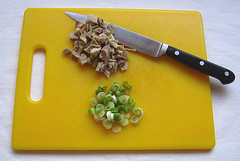 Then I put the leftover cold white rice in a microwave-safe bowl, and topped it with the pork, green onions, and frozen peas right out of the bag. Covered it with plastic wrap and put it in my 1100W microwave for one minute (times will vary depending upon how much food you're nuking and the power of your microwave). If you have fresh rice made up, just nuke the meat and veggies on their own, and mix them together with the hot rice afterwards.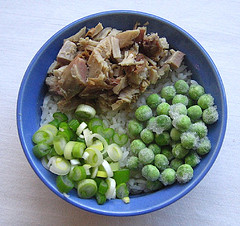 When it was hot, I added a teaspoon or so of soy sauce, a dash of salt and a splash of sesame oil, and mixed it all up. Done! Speed "fried rice". I wound up mixing in a tablespoon of chogojujang (Korean spicy sauce) to mine to give it some spice. Next time I may add some kimchi, maybe substitute some leftover roast chicken or beef for the pork, try different veggies, etc. — there's no reason it needs to be exactly this combo (but I do like using the green onion, one protein and one fast veggie option to reduce prep time). Whatever's on hand.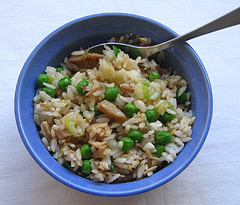 And here's my son's little meal: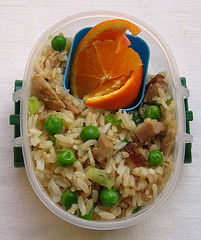 READ MORE: