Toned-down spicy bento lunches for kids
We often eat food that's too spicy for our three-year-old, but find ways to salvage it for his developing palate that don't require me to be a short-order cook, making a whole separate meal for him (see my mommy's lunch manifesto). Some things are more easily tamed with a quick rinse, like mild kimchi. I used to think that dishes like Thai curry just needed the addition of yogurt to tame them, but even this usually doesn't do the trick fully. So instead I started plucking the meat, seafood and veggies out of the curry, rinsing them off in a little sieve under water, and re-saucing them in milder sauces like vinaigrette, sanbaizu sweet vinegar sauce (see my sanbaizu recipe), barbecue sauce (Western or Korean), teriyaki sauce, or even just salad dressing. Use your creativity with whatever you have on hand! How do you make spicy leftovers palatable for sensitive mouths? Let us know in comments!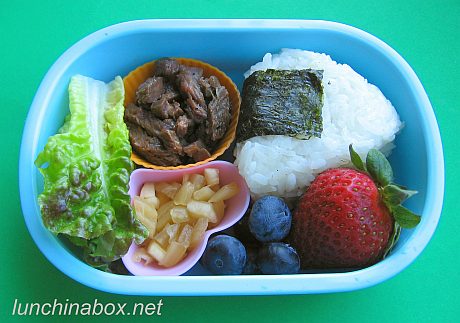 Contents of preschooler bento lunch: Homemade kalbi (or galbi, Korean grilled marinated beef short ribs), an onigiri rice ball filled with chopped kalbi, chopped kimchi, red lettuce, blueberries and a strawberry.

Morning prep time: 12 minutes, using leftover kalbi from dinner, rinsed kimchi and frozen rice. In the morning I microwaved the frozen rice, chopped the kalbi and kimchi, and quickly made the onigiri rice ball with my wet, salted hands.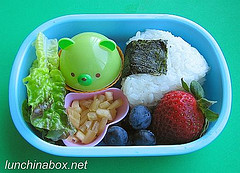 Packing: Regular kimchi is too spicy for my preschooler as is, so I generally rinse it off before giving it to Bug (his favorite is the sour ggakdugi daikon kimchi cubes). I chopped up the kimchi because I had originally intended to stuff the onigiri with it, but Bug saw what I was doing and said he didn't want the kimchi inside of the rice. So I made a mid-course correction and substituted chopped kalbi beef for the onigiri filling. (Read on for full details and an additional spicy-turned-mild bento lunch.)
The drained kimchi and kalbi went into reusable silicone baking cups — I got the small heart-shaped cups from Ichiban Kan on the cheap. Putting the side dishes into baking cups kept any moisture from the kalbi and kimchi away from the onigiri — moisture is the enemy of rice balls as it degrades their structural integrity and leads to crumbling. The lunch is packed in a 350ml Geki Rangers bento box with both sub-containers removed to accommodate the larger onigiri. (Click on any photo for a larger view.)

The final packing touch was to add a fast and easy dash of cuteness to the lunch with a "surprise animal cap". I wrote about these previously with ravioli lunches and kimchi fried rice lunches : they're whimsical little caps that I got from eBay that are used to cover up a dish in a bento lunch — it creates a little surprise for your child when they lift up the cap to reveal the food underneath. You can also use them like a hat on a bad hair day to cover up boring-looking food — it's a fast way to add visual interest to a lunch without spending time creating edible food art. Have you created your own "surprise cap" out of food-safe materials? Tell us about it in comments.
Verdict: Not bad. Bug ate the fruit, the onigiri, the kalbi and some of the kimchi (he still said it was a little too spicy for him, though — cabbage kimchi retains more of the spiciness than the daikon kimchi). He left the lettuce uneaten, though — he's not big on lettuce. I figure I have a captive audience to expose him to some food he may not be crazy about; don't they say that kids need to be exposed to a new food 10-15 times before they might decide they like it? Hey, if he gets hungry enough he'll eat anything; it was a calculated risk.

* * * * *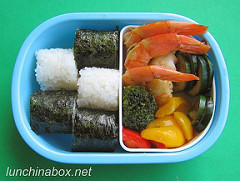 Contents of preschooler bento lunch:  Plain mini rice balls (some wrapped with packaged, pre-cut seasoned nori seaweed snack strips
), plus protein and seafood and veggies that I plucked from leftover Thai curry and rinsed off for Bug: shrimp, yellow and red bell peppers, broccoli and zucchini. I re-sauced them with a mild bottled Korean barbecue sauce that Bug likes.

Morning prep time: 10 minutes using leftover Thai curry (see my Thai curry master recipe) and frozen rice. In the morning I microwaved the frozen rice and quickly made the rice balls using a handy little onigiri mold and a snack packet of pre-cut seasoned nori strips.
Packing: After tossing the shrimp and vegetables with Korean barbecue sauce, I drained them of excess moisture in a little bowl and colander for packed lunch food safety and to keep the moisture away from the rice balls in transit. Because all of the non-rice foods were flavored with the same sauce, I didn't bother separating them from each other. I left the 350ml Geki Rangers bento box's sub-container in the box to keep moisture away from the onigiri.

Verdict: Thumbs up. Bug ate everything at preschool except for the broccoli, which retained too much of the spicy yellow Thai curry for his liking. If I were to repack this lunch I might try swishing the broccoli around in a bowl of water to rinse off more of the curry. If that failed I could omit the broccoli or microwave-steam some fresh in the morning.
FURTHER READING: