Speed Bento: stovetop mini frittata & multi-frying
Today I played around with the speed bento technique of cooking different dishes in a mini frying pan at the same time, and actually cooking in those little foil bento food cups. My son's bento today had ketchup yaki onigiri and a quick mini frittata with leftover ham and frozen vegetables (all packed in a 350ml Lock & Lock box from my lunch set).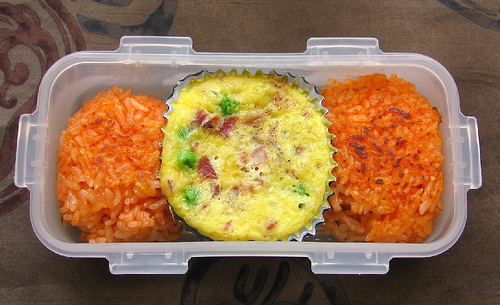 Here's everything cooking together in the frying pan. I've seen this technique in different Japanese bento cookbooks; the trick is to make sure you're cooking items that require the same level heat (and to test the different items for doneness throughout — don't assume they'll all be ready at the same time).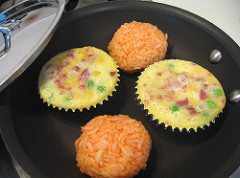 I got this particular combination of dishes from Enji no Obento (????????) by Kodansha. To prepare the ketchup yaki onigiri, I stirred together 3/4 cup fresh warm rice, 1 tsp butter, and just under 1 Tb ketchup and formed them into tiny, palm-sized round onigiri in my hands (make sure they're firmly shaped, not loose — otherwise they'll fall apart when cooking).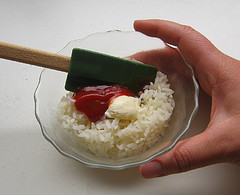 To make the mini frittata, I beat one egg and added a little chopped ham, a couple tablespoons of frozen vegetables (green peas and corn, in this case), 1 Tb Parmesan cheese, 1 Tb of milk or cream, and salt/pepper to taste. I then took two foil baking/cooking cups, put one inside the other for better support when cooking, and placed the empty cups in the nonstick mini frying pan (sprayed with vegetable oil) on medium-low heat. I spooned the egg mixture into the foil cups (making two little "frittatas"), added the ketchup onigiris, and covered the frying pan. The egg needs to cook for 4-5 minutes, and I flipped the ketchup onigiris once. (EDIT: You may want to run the frittatas in the frying pan under the broiler at the very end so that the top cooks but the bottom is not over-cooked.)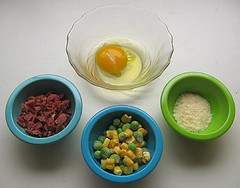 The ketchup onigiris were a little delicate, so I tried to avoid moving them around much (but they were a big hit with my son, who devoured them). He also liked the little frittata, although I wanted a little extra flavor with them, so I packed along a little Lizano sauce for mine. There's no reason you need to stick with these particular ingredients, though — next time I may substitute chicken for the ham, add some chopped herbs, and use whatever veggies (including cooked leftovers) I have on hand. This dish was interesting to me because it used refrigerator and freezer staples (frozen peas & corn), so even if I didn't have fresh veggies on hand I could throw together something nutritious and homemade in a hurry.
My husband often nukes himself a mixed egg in a greased ramekin for a quickie breakfast, so I was curious to see if I could make a version of the quick frittata in the microwave as well. The verdict is yes, but I think the stovetop version has a nicer texture and rise. I ladled the egg mixture into cupcake liners set inside ramekins (I greased one set of liners with vegetable oil spray, and didn't grease another). Then I heated the two ramekins (uncovered) in our 1100W microwave on 80% power for 1.5 minutes (your time will vary depending upon the power of your microwave and how many ramekins you're nuking). I think I prefer not greasing the cupcake liner as the frittata then sticks to the liner for easy packing, but if you don't want to include the liner in your bento you could cook it in the greased liner.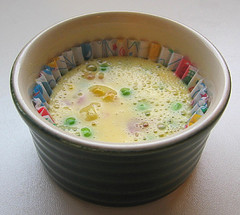 READ MORE: