Ravioli & spray pancake bento lunches
I'm definitely not above using convenience products for speedy lunches. Convenience foods come in many different forms: frozen foods (homemade or store-bought, like appetizers, potstickers, rice, rice balls, waffles), canned foods (baked beans, regular beans, dolmas), store-bought deli foods, etc. Today's lunches use different kinds of convenience food. First off is frozen ravioli, a fast-cooking pasta option. The second is pancakes made with terrifying but surprisingly acceptable batter from a spray can. Read on for a full product review of Batter Blaster spray pancake and waffle batter.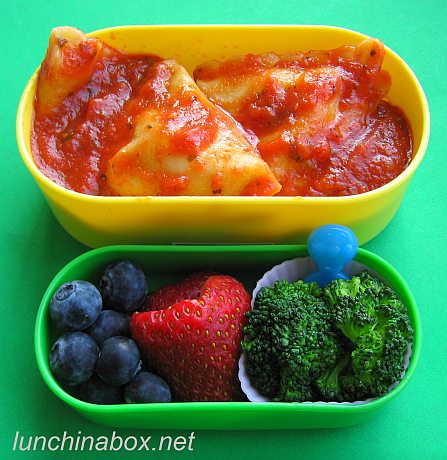 Today I used a different packing method to minimize texture damage: toss the cooked pasta with a little olive oil or butter to create a moisture barrier between the sauce and the pasta, lightly sauce the pasta and pack in the lunch container, and pack extra sauce (just spooned in gaps around the edges, but you can also pack it in lidded condiment cups).
Contents of preschooler bento lunch: Spinach and mozzarella raviolis with roasted garlic tomato sauce, blueberries, strawberry, and broccoli with Thai oyster sauce. (Read on for lunch packing details, and an additional preschooler lunch with review of Batter Blaster spray pancake batter.)

Morning prep time: 14 minutes, mostly spent boiling the frozen ravioli (it takes a certain amount of time to get a pot of water to a boil, which you can speed up by using a small pot or even a saute pan, which brings water to a boil faster because of the pan's increased surface area on the bottom). In the morning I steamed the broccoli in my microwave mini steamer while the ravioli boiled.
Verdict: A home run today. Bug ate everything at preschool, no leftovers.

* * * * *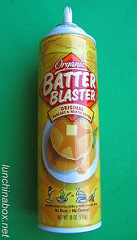 Product review: So I'd seen these trippy spray cans of Batter Blaster refrigerated pancake and waffle batter at Costco for a while now, but just couldn't bring myself to buy the three-pack in order to try it out. I was interested from a speedy food prep standpoint, but wondered if spray pancakes were simply going too far. I finally broke down and bought a single can at Safeway so that I could try it for the blog, in a state of disbelief that I was actually spending money on spray pancake batter.
Everything about this product feels wrong to me. The label touts the organic status of something that feels processed and unnatural. There are eggs in the batter, so the can needs to be refrigerated and used up by the expiration date printed on the bottom. I wonder about the environmental footprint of the packaging, although the can would make it handy to throw into an ice chest when going car camping.
But when I made pancakes with it for my family the other weekend, Bug happily scarfed them down and even my skeptical husband declared them quite good. They weren't on par with fabulous gourmet pancakes or anything, but I have to admit they they tasted just fine. (They probably would have been even better had I sprinkled some blueberries on them during the cooking.) The batter looked oddly light and airy coming out of the can, almost like whipped cream, but consequently cooked up fluffy, not dense.
This morning I decided to cook up the rest of the can for waffles, having read online that it really shines with those. This was a strange cooking experience, as the waffles didn't actually crisp up in the waffle maker like with regular waffle batter, but only after removing them. After I let them sit on the plates about 30-45 seconds, however, they crisped up and tasted good with butter and maple syrup (even plain).
All in all, I was pleasantly surprised by how good the pancakes and waffles turned out with this spray-can batter, and I could see why some people might want to have a can around for fast hot breakfasts. That said, I think I'll stick to making homemade pancakes and waffles in larger batches on the weekends, wrapping and freezing the excess for speedy breakfasts or lunches. No firmly logical reason why, it just doesn't feel like real food to me. (See my posts on how to properly freeze and defrost homemade pancakes and waffles, and a full list of products reviewed on Lunch in a Box.)
* * * * *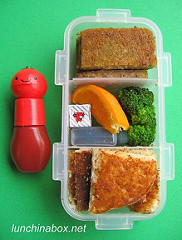 Contents of preschooler bento lunch: Crispy pan-fried Dietz & Watson scrapple that I brought back from a recent trip to Philadelphia, ketchup for the scrapple, broccoli with Korean barbecue sauce, orange slice, cheese cube, and pancakes with a little sauce container of maple syrup.
Morning prep time: 10 minutes, using leftover pancakes and scrapple that I pre-sliced when I opened the package. In the morning I fried up the scrapple, sliced the orange, and cooked the broccoli in my microwave mini steamer. I didn't have any pre-filled sauce containers with maple syrup to speed things up, so I quickly poured some maple syrup into a silicone pinch bowl, and filled the sauce container with the suction method (squeeze & release).

Verdict: So-so. Bug ate most of the scrapple, the cheese, orange and broccoli and preschool, but left most of the pancakes. When I brought back two packages of frozen scrapple in an insulated lunch bag on the plane from Philly, I was half hoping that my family wouldn't like it (more for me!). Unfortunately, it seems I've converted my husband to scrapple, so we went through my first package really quickly. Now I have to ration my last package out, or put my nose to the grindstone on finding a local scrapple source in the Bay Area. Any leads? (Oh, and be careful of how you pack those big bricks of frozen scrapple when going through airport security. The scrapple was right in front of my computer cord in my carry-on bag, and TSA thought it a bomb on the X-ray machine!)
FURTHER READING: