Curry gyoza bento lunches
Gyoza potstickers are a handy finger food for kids, delivering protein and veggies in a neat little package. I like to keep a bag on hand in the freezer for mornings when I don't have the time or imagination to make something more elaborate. Store-bought or homemade, these flavorful dumplings are a lunchtime favorite even at room temperature.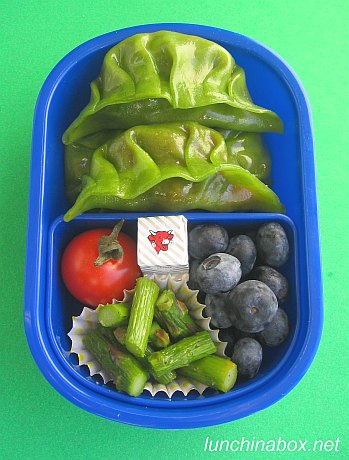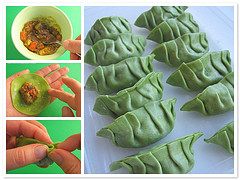 Contents of preschooler bento lunch: Pan-fried curry gyoza (details and tutorial here, spinach wrappers filled with leftover Japanese curry), roasted asparagus (recipe here), blueberries, cherry tomatoes and cheese cubes.
Morning prep time: 15 minutes, using leftover roasted asparagus from dinner. In the morning I actually made the three gyoza fresh using leftover curry, but you can freeze the assembled curry gyoza and have them ready to cook on time-pressed mornings. (Read on for lunch details and an additional preschooler lunch…)

Packing: After letting the gyoza cool off on a little cooling rack, I packed them in a 360ml Disney Cars bento box with one subcontainer removed for more space. I'd served whole spears of asparagus for dinner the night before, but cut them into smaller pieces to fit into the bento box and to make them easier for my three-year-old to manage. No dipping sauce was necessary for the curry gyoza as the filling was flavorful enough already.
Verdict: Relatively successful. Bug polished off the curry gyoza, the cheese and some of the asparagus and blueberries. After school he ate everything except the cherry tomatoes, which he tried but rejected. (Okay, okay, out-of-season tomatoes aren't that lovely. Bug demolishes local in-season tomatoes — guess he's got good taste!) He said he ran out of time to eat at preschool, but this doesn't make so much sense to me; he may have gotten distracted by his friends at lunchtime. 360ml is a manageable amount for a three-year-old according to the bento box size guidelines.
* * * * *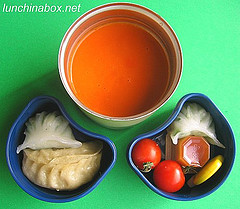 Contents of preschooler bento lunch: Roasted bell pepper and tomato soup, pork gyoza potsticker, shrimp and chive dumplings with dipping sauce, and mini pudding cup (shelf-stable Kiku Petit Pudding).
Morning prep time: 5 minutes, using ready-made soup from Costco, and leftover dim sum from a local take-out place (Good Luck Dim Sum on Clement St. in San Francisco). In the morning I preheated the thermal food jar with hot tap water while I microwaved the soup and packed the side dish containers. Very quick lunch as Bug specially requested the soup and dim sum.
Product: I tried out Roasted Red Pepper and Tomato Soup (Pacific Natural Foods Organic)
that I picked up in a six-pack carton from Costco, mostly to have on hand for when my husband gets a cold and wants tomato soup and grilled cheese sandwiches as comfort food. Oh man, was this ever good — I'm never looking at Campbell's again! The roasted bell pepper adds a nuanced flavor that appealed to the adults and my three-year-old. It wasn't overpowering at all, very balanced flavor and nice mouthfeel. I like that I can cap the opened carton and store it in the refrigerator if we don't go through an entire carton at once. Definitely a recommend.
Packing: Dipping sauce for the dumplings went into a small sauce container from Daiso (Japanese discount store); I filled some extras at the same time to have pre-filled sauce containers on hand for speed. I packed the warm soup in the thermal jar portion of Bug's 560ml insulated bento set, and threw a little ice pack cut from a flexible ice blanket into the insulated bag for maximum food safety. The thermal bento set is handy in that the lid of the thermos lifts off instead of unscrewing, so it's easy for little hands to open. Although similar sets sell here and here for about US$43 (ouch), you can duplicate this setup on the cheap by using a thermal food jar and separate bento box packed in an insulated lunch bag to take both hot and cold foods at the same time. I often leave out one of the 160ml side dish containers and pack an oshibori damp hand towel in that space instead.
Bay Area Shopping: I picked up the insulated bento set for $20 at Ichiban Kan in San Francisco's Japantown a while back, but the last time I checked they were out of stock — try behind the counter at Kamei instead for the nicer $33 Zojirushi models with nesting containers. For store details, see my San Francisco Bay Area shopping guide for bento gear (no commercial affiliations).
Verdict: A little big, but good. Bug ate half of the soup, the potsticker, and one of the chive dumplings at preschool. Thumbs down on the out-of-season tomatoes, which I had stubbornly packed as they were a handy gap filler to stabilize the lunch in transit. After school Bug ate the remaining soup and the body of the last dumpling, leaving the thicker dumpling seam (he's sensitive to food textures).

FURTHER READING: