Breakfast for lunch bento
Sometimes it's fun to pack breakfast food for lunch, as I've done before with French toast, pancakes, waffles, and my version of an Egg McMuffin. Kids especially like the do-it-yourself aspect to the toppings and spreads that come with breakfast foods, like maple syrup, Nutella, jam, etc. You don't have to be stuck making a fresh batch of pancakes or waffles on a weekday morning, though — make a little extra if you make them on the weekend when you have time, and then freeze them for a quick lunchtime option. Check out the full how-to posts on freezing pancakes or waffles for a refresher.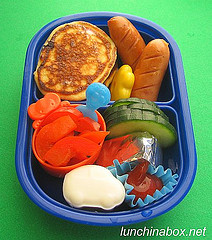 Contents of preschooler bento lunch: Blueberry mini pancakes, little pork sausages & ketchup, cucumber slices, cheese triangle, car-shaped molded quail egg, simmered red bell pepper with Korean barbecue sauce.


Morning prep time: 12 minutes, using frozen homemade mini pancakes and the multi-boiling speed cooking technique. In the morning, I microwaved the little frozen pancakes, sliced the cucumber, and briefly boiled the sausages, sliced bell pepper and washed quail egg together in the same tiny pot to save time. Because the quail eggs are tiny, they boil in just a few minutes. Once they were cooked, I peeled the two and molded them in a quail egg mold (the big yellow multi-egg mold in the photo below; see my earlier post on molding eggs). (Read on for full lunch packing info and an additional bento lunch.)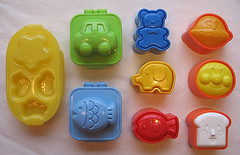 Packing: I put the sauced bell pepper in a reusable plastic food cup to keep it away from the cucumber, and filled a little yellow sauce container (from Daiso Japanese discount store) with a tiny bit of maple syrup for the pancakes. I don't use maple syrup often in bento lunches, so I hadn't pre-filled any sauce containers for speed. There was no room left in the bento box to pack a larger container of ketchup, so I fell back on the disposable "mini mini cups" with little film lids to keep condiments in place (also used here). As long as the sauce is viscous (mayo, ketchup, tartar sauce) and you don't treat the bento roughly in transit, it stays put. The little condiment cup also filled the remaining gap in the box, stabilizing the lunch for transport. I threw in a little blue Anpanman food pick for the bell pepper, to make it easy for little hands. The lunch is packed in a 350ml Disney Cars bento box with both subcontainers in place for stability. (Click on any photo for a larger view.)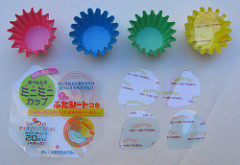 Verdict: Good over time. Three-year-old Bug at the pancakes, sausages, cheese and egg during preschool, and had the peppers at the playground after school. Thumbs down on the sliced cucumber, though, so I'll experiment with packing a dipping sauce for those to see if that'll get him to eat cucumbers.
* * * * *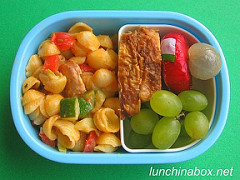 Contents of preschooler bento lunch: Organic shells & cheese pasta with sauteed zucchini, bell peppers, onions, and chicken & gouda sausage, plus a couple slices of roast chicken, cheese, grapes and a peeled longan.
Morning prep time: 5 minutes, using leftover mac & cheese, and roast chicken from Costco that I'd sliced up previously. In the morning I microwaved the mac & cheese with a few drops of water to restore texture and peeled the longan. Bug doesn't mind room temperature cheese, but if he did I'd stick with packing it in a thermal food jar as I did here.
Packing: No special tricks today, except to peel the longan to make it easier for little hands to eat. The lunch is packed in a 360ml Geki Rangers bento box with one subcontainer removed to make more room for pasta.
Verdict: Again, good over time. Bug ate all of the pasta, the cheese and a few of the grapes at preschool. After school he at the rest of the grapes and the longan (with my help — evidently he was wary of the longan pit on his own, and wanted me to help take it out). For some reason he didn't want the chicken that day, although I know he likes it. Maybe if I'd packed a little container of our beloved Lizano sauce (sources here ) it would have been more fun for him.
FURTHER READING: