Scrapple bento lunches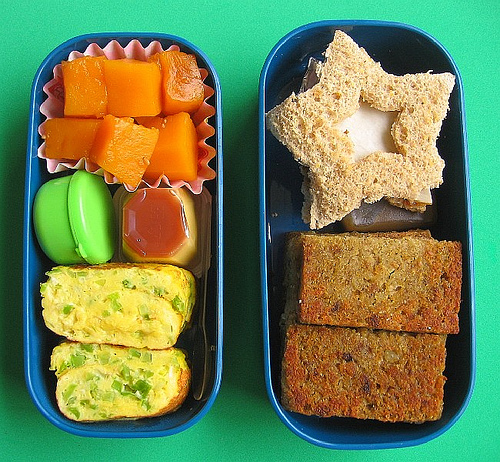 Contents: Butternut squash with Korean barbeque sauce (recipe below), mini pudding cup, rolled egg (tamagoyaki: full tutorial here) with sauteed leftover broccoli stems and green onions, star cut-out sandwich with cheese and sun-dried tomato pesto, crispy fried scrapple, and ketchup in the little container for the scrapple. Under the sandwich is a cheese triangle and a sauce container of Lizano sauce for the rolled egg (just my personal preference).

Morning prep time: 15 minutes, mostly frying the scrapple (10 minutes) and the rolled egg (5 minutes). I used a frozen sandwich that I'd made previously, and let it defrost naturally in the lunch.
Packing: There's a tiny reusable plastic spoon tucked alongside the egg for the pudding cup, and I put both dry dishes (sandwich and scrapple) in the same container away from the moist items.
Scrapple is a Pennsylvania Dutch specialty of pork, cornmeal and flour that elicits strong opinions — you either love it or you hate it. It elicits childhood breakfast memories for me (at grandma's house!), but my husband has no such fond memories and gives it a pass. You cut the loaf into 1/4″ slices and fry them in a pan until crispy, then serve with a condiment like ketchup, maple syrup, apple butter, etc. A while back I was surprised to find several loaves of frozen Dietz & Watson scrapple in a local Safeway, and I snatched it all up. I thought it was unusual to find scrapple as far away from the East Coast as San Francisco, but I'm definitely not complaining! Bug had it for the first time today, and it turns out that he loves it too (what a oddly omnivorous child). So it looks like I'm not the only scrapple-eater in the family after all.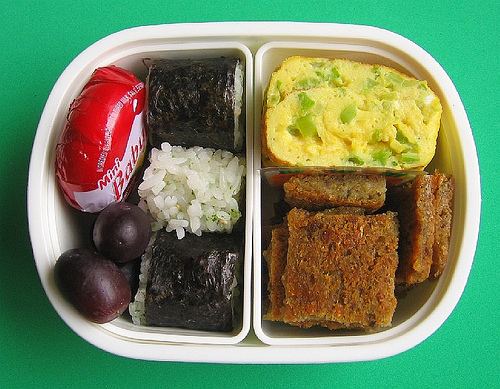 Contents of Bug's lunch: Mini rice balls (onigiri) mixed with furikake (flavored sprinkles for rice), cheese wheel, grapes, rolled egg with broccoli stems and green onions, and crispy fried scrapple.
Morning prep time: 15 minutes. I nuked a large frozen onigiri and reshaped it into mini rice balls with a mold. The nori for the rice balls was pre-cut and stored in a freezer bag with dessicant, which saved time this morning.
Packing: This wound up being all finger food, and Bug dipped the scrapple (cut into quarters for small hands) into my little container of ketchup. I used a little plastic divider between the rolled egg and the crispy scrapple. This is in a 350ml bento box, so just about right for a two-and-a-half-year-old, according to the bento box size guidelines.
Fast Butternut Squash Recipe
Cut a 1″ slice of butternut squash, peel and cut into cubes.
Place into a microwave steamer or a microwave-safe covered bowl with a couple tablespoons of water.
Microwave on high for 2.5 minutes (for a 1100W microwave, times may vary), then let it stand covered for another minute.
Drain the squash, toss with a premade sauce (such as Korean barbeque "yakiniku" sauce, teriyaki sauce, etc.), and serve. If packing in a lunch container, drain again after tossing with sauce and allow to cool before packing.
Lunch in a Box is nominated for Best Food Blog in the Blogger's Choice Awards. If you'd like to cast your vote for speedy lunch packing, click here (you can vote for multiple blogs in the same category).
RELATED POSTS: