Fried rice lunches, multi-broiling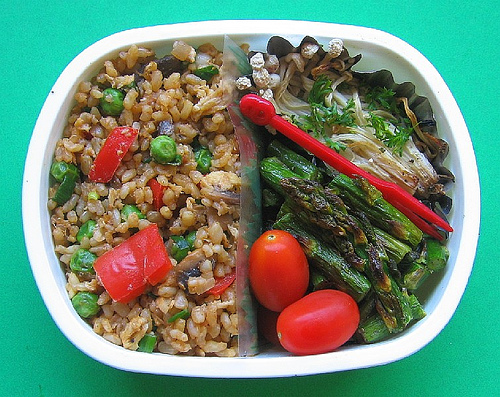 Contents of Bug's meal: Fried brown rice with red bell peppers, frozen peas, mushrooms (brown and enoki), eggs, shallots, green onions and Korean kochujang sauce. Roasted enoki mushrooms with butter and soy sauce, roasted asparagus and grape tomatoes.
Morning prep time: 15 minutes, using the multi-broiling technique (described below with recipes) and leftovers. I made a big batch of brown rice earlier this week for dinner, so the refrigerated leftovers went into today's fried rice. Frozen peas and frozen pre-chopped green onions sped up the prep for the fried rice.
Packing: To speed up cooling for the warm fried rice, I first spread it out over the entire bottom of the bento box to increase surface area. After a few minutes when it was cooler, I pushed it all to one side and packed the rest of the lunch. Cooling the food before packing it helps reduce condensation on the inside of the box (which would create a vacuum effect and make it more difficult for little hands to open).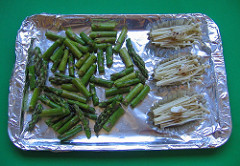 To speed up lunch prep, I used the multi-broiling technique shown above (introduced in this post). Aluminum foil on the baking sheet makes for fast clean-up. The enoki mushroom cups are a classic flavor combo in Japanese cooking, and a favorite among non-Japanese as well.
Broiled Mushroom Cup Recipe
enoki mushrooms, bottom cut off and mushrooms lightly separated into bunches (you can substitute other mushrooms, thinly sliced for fast cooking)
1/2 tsp butter per mushroom cup
1/2 tsp soy sauce per mushroom cup
salt and pepper to taste
parsley, chopped (or other herb for garnish)
1. Place two foil muffin liners inside each other for extra stability, then put on a baking sheet. You can also use shallow, extra-thick foil cups for baking.
2. Add a handful of mushrooms (mounded high, higher than in the photo), top with the butter, soy sauce, salt and pepper.
3. Put under broiler (or in a toaster oven) for 4-5 minutes or until lightly browned. Garnish with chopped parsley.
Roasted Asparagus Recipe
a few stalks of asparagus, cut into 2-inch lengths for easy packing (cutting optional, depending upon the shape of your lunch container)
1 tsp extra-virgin olive oil per serving
salt and pepper to taste
In a small bowl, toss the asparagus with the olive oil, salt and pepper. (If using aluminum foil to line the pan, feel free to toss the asparagus with oil directly on the baking sheet for speed.) Place on baking sheet.
Put under the broiler (or in a toaster oven) for 4-5 minutes or until lightly browned. Stir once halfway through cooking so that the asparagus brown evenly. Serve. If packing in a lunch, cool first to prevent condensation.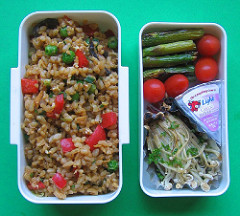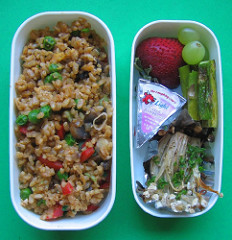 These meals were actually dinner for all of us last night when we were out, so my husband has one as well. Contents are the same, with the addition of cheese triangles, grapes and a half strawberry.
Lunch in a Box is nominated for Best Food Blog in the Blogger's Choice Awards. If you'd like to cast your vote for speedy lunch packing, click here (you can vote for multiple blogs in the same category).
READ MORE: