Ice blanket and inari sushi lunch
Morning prep time: 12 minutes. Everything was leftovers today except the fruit and inarizushi stuffed rice pockets. We had rice with dinner last night, so I let it sit in the rice cooker overnight and made the inarizushi pockets fresh this morning (using a refrigerated kit of triangular preseasoned wrappers and flavorings by the Korean Assi brand). It took a little longer than usual but was worth it to see Bug and his American friends tear into them at playgroup today (Bug's lunch and mine are identical, so no duplicate photo).
inarizushi: sushi rice stuffed into seasoned fried tofu (abura-age) — a popular kids' finger food bento item
sauteed onions and yellow/red bell peppers
Indian-spiced grilled chicken
watermelon and kiwi
white grape & cherry juice cut with 75% water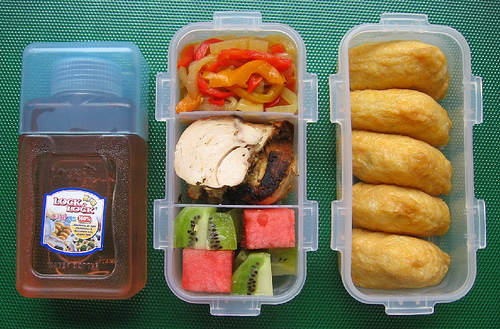 When I was in Target the other week I picked up a Rubbermaid flexible ice blanket for US$2.50. Essentially a quilt of tiny ice packs, it can be cut apart to produce tiny reusable ice packs for packed lunches, or kept whole to wrap food in a cooler or wrap your arm/leg when hurt. Especially convenient for throwing into tight insulated lunch bags or small spaces; a similar product sells here. I threw a few of the little packs into a new insulated lunch set that holds today's lunch.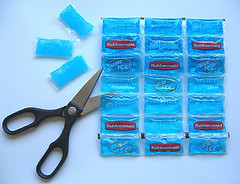 Inarizushi are ideal for freezing, according to Ohayo Okusan's book on freezing. Just tightly wrap one or two together in plastic wrap and freeze. When ready to eat, it instructs you to heat them in the microwave (still wrapped in plastic wrap) until warm. If you're concerned about heating food in plastic wrap, unwrap the frozen inarizushi, place in a small microwave-safe container with a cover, and then microwave. I didn't wind up freezing any because my family scarfs these down as quickly as I can make them!
Last week I picked up a new Lock & Lock insulated lunch set that's similar to a non-insulated one I already have. Excellent for packed lunch food safety, it held today's lunch (click photo for box details). Shout out to Beth for the heads up!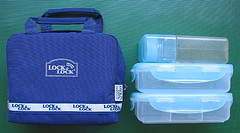 Lunch in a Box is nominated for Best Food Blog in the Blogger's Choice Awards. If you'd like to cast your vote for speedy lunch packing, click here (you can vote for multiple blogs in the same category).
READ MORE: