Tamagoyaki & mini muffin lunches
A big thanks to everyone who's voted for Lunch in a Box so far in the Food Blog Awards (Best Theme). We're making a good showing, but are currently in second place behind Karina's gluten-free blog. If you'd like to cast your vote for bentos and packed lunches, the poll is open until 8pm Eastern on Saturday, January 24, 2009.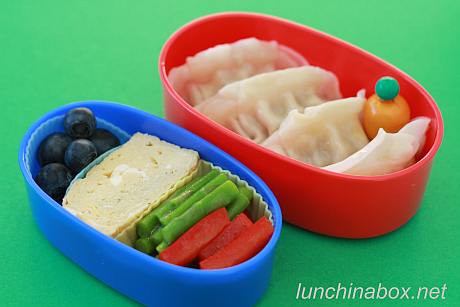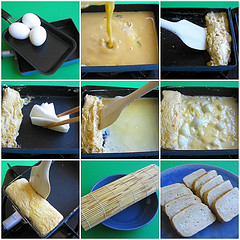 Contents of preschooler bento lunch: Vegetable gyoza with dipping sauce, blueberries, tamagoyaki (Japanese rolled egg, see my tutorial), and sauteed asparagus and red bell peppers with vinaigrette dressing.
Morning prep time: 13 minutes, using leftover tamagoyaki and frozen dumplings. In the morning I quickly boiled the dumplings with help from my electric kettle, and sauteed the vegetables while the dumplings were cooking. (Read on for full lunch details, information on the Lightning McQueen nesting/stacking bento boxes, and an additional preschooler bento.)
Packing: Dipping sauce for the dumplings went into a little carrot-shaped sauce container from Ichiban Kan (US$1 for an assortment). I used reusable silicone baking cups to keep the moist vegetables away from the sweet egg, but if you or your child don't mind foods touching you can dispense with this. The lunch is packed in two tiers (180ml & 280ml) of a new Disney Cars stacking/nesting bento box (detailed below), and Bug put the smaller box inside of the larger one when he was done eating. At 460ml total, this made the lunch a little large for a four-year-old according to the bento box size guidelines, so I wasn't surprised that there were some leftovers.
Verdict: Good over time. Bug at the dumplings, egg, and blueberries at preschool, and left the vegetables. He ate those at round two at the playground, which is our deal (try what's left of your lunch before moving on to other snacks).
* * * * *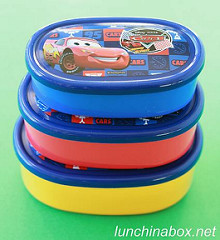 Gear: For Christmas I busted out a new set of nesting and stacking bento boxes with Lightning McQueen from Disney's Cars movie (my son's favorite). Similar to our Thomas the Tank Engine nesting/stacking set, it has three different sized tiers (180ml, 280ml and 400ml) that stack on top of each other when full (use an elastic bento band to keep them together), and nest inside of each other when empty. This gives great flexibility for packing different sized lunches, and saves space in our bags when we travel. I like to use these sorts of boxes when making lunches for the airplane; there's also a lively discussion about travel bentos going on over at the Lunch in a Box forum.
They're not technically dishwasher-safe, but I put the bottoms into the top rack without a heated dry cycle and handwash the lids to keep the decorations intact. I bought them directly from Skater, the manufacturer in Japan, which unfortunately does not yet have an online store in the U.S. I have seen these Disney Cars bentos on eBay, and you might also have luck with some of the stores in my list of online stores for bento gear.
* * * * *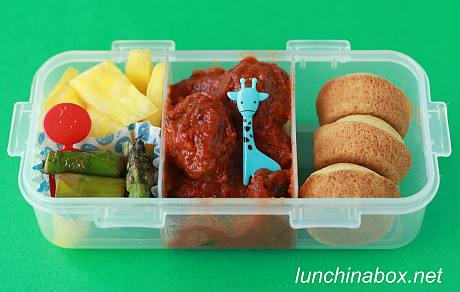 Contents of preschooler bento lunch: Fresh pineapple, sauteed asparagus in Korean barbecue sauce, meatballs (Costco Italian meatballs) in a tomato-based sauce, and cornbread mini muffins.
Morning prep time: 10 minutes, using frozen mini muffins and leftover meatballs in sauce. In the morning I put the frozen muffins directly into the box to defrost naturally, cut up some pineapple, and sauteed two stalks of asparagus. This is an example of how keeping a stash of lunch staples like mini muffins in the freezer can speed up morning prep.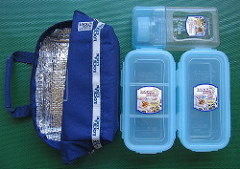 Packing: Little food picks from Daiso and Ichiban Kan made eating easy and fun for little hands. I usually don't spend a lot of time on decorative food art to make my son's lunches playful, instead turning to the speedy alternative: cute bento boxes and accessories. Reusable silicone baking cups were too large to fit into the smaller space for the asparagus, so I turned to a disposable paper baking cup to keep the savory asparagus from touching the sweet pineapple. The paper baking cups are from Daiso, but you can use regular cupcake liners if you like. The whole lunch is packed in a single 350ml box from a larger Lock & Lock insulated bento set; the built-in subdividers and watertight lid keep the lunch secure in transit.
Verdict: Big thumbs up. Bug ate everything at preschool except the tips of the asparagus, which he doesn't like due to texture issues. Hey, at least he's not a picky eater!
FURTHER READING: