Leftover dim sum bento lunches
My son recently turned four, and at his birthday I served dim sum from a local dim sum take-out place. This was the meal that kept on giving, as the leftovers gave us dinner and two speedy bento lunches, below. If your family overeats because they finish everything that's put out on the table, try holding a little bit back in the kitchen for lunch the next day instead of counting on them to leave leftovers on the table. This has been helping us with portion control lately, and consequently saves a little money.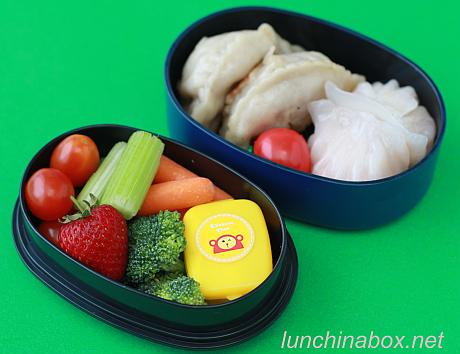 Contents of bento lunch for preschooler: Pork potsticker dumplings, shrimp har gow dumplings & dipping sauce, cherry tomatoes, celery sticks, little carrots & broccoli with ranch dipping sauce, and a strawberry. The dim sum is from Clement BBQ in San Francisco, a cheap take-out dim sum place with very nice baked goods. Try picking up a package of buns from the counter to steam at home; my favorite is their steamed pork buns. (Disclaimer: I have no affiliations with Clement BBQ.) If you have time, try your hand at making your own gyoza, using even leftover stew or curry as the filling.
Morning prep time: 6 minutes, using all leftovers from the birthday party (including a tray of assorted vegetables and dip). In the morning I quickly re-steamed the dumplings in the microwave to restore the texture of the wrappers, let them cool a little, and filled the dressing container. (Read on for details, an additional lunch, and cool Ultraman cupcakes.)

Packing: I put the dipping sauce for the dumplings into a small sauce bottle shaped like a tomato, and put the ranch into a little lidded container with wide opening for easy dipping. My four-year-old has complained before that the smaller containers make it hard for him to dip big vegetables like the broccoli, so this was good feedback. Bug doesn't like the strings on celery, so I tried stripping the strings off before packing to encourage him to give celery another shot. Because all of the dumplings were in a separate tier of the bento box, Bug was able to just squirt the dipping sauce all over the dumplings and not worry about it getting on any other food. The lunch is packed in a 415ml two-tier Hakoya-brand bento box that I picked up at Kamei in San Francisco.
Verdict: I thought this would be about the right size for a four-year-old according to the bento box size guidelines, but Bug wound up just eating the dim sum and leaving the entire top tier for an after-school snack. He wound up eating the celery!

* * * * *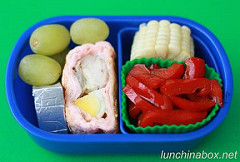 Contents of bento lunch for preschooler: Baked rolled filled with chicken, egg and onions. Corn on the cob segment, sauteed red bell peppers with soba broth flavoring, grapes, and a wrapped cheese triangle.
Morning prep time: 10 minutes, using leftover dim sum and corn. In the morning I sliced a bit of bell pepper, sauteed it briefly, and added a dash of bottled soba noodle soup base (tsuyu)
for flavor, letting it reduce down to coat the peppers. Very simple way to add vegetables and a hit of red color to the lunch (see my packing by color links for the 5-color guideline).
Packing: I had a full ear of corn leftover from dinner the night before, so I sliced off a small segment that would fit into the space remaining in the box once the peppers were packed. I briefly toasted the chicken roll in my convection toaster oven to crisp up the outside, and let it cool on a small rack while I worked on the peppers. The peppers went into a reusable silicone baking cup, and the grapes and cheese act as gap fillers to stabilize the lunch during transit. The whole lunch is packed in a 360ml Disney Cars bento box with one subcontainer removed to accommodate the chicken roll.
Verdict: Big thumbs up; Bug demolished the whole lunch at preschool without leftovers. He said that he was still hungry after eating this, so I'm going to start bumping up the size of his lunches slightly to 400ml or so. I can still use this bento box (his favorite), but will supplement it with a little side dish container of fruit or something. Growing boy!
* * * * *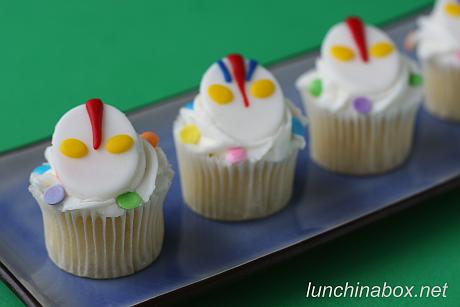 Okay, so it's not bento-related, but I couldn't resist these mini cupcakes that my friend Berni served at her daughter's Ultraman-themed fourth birthday party. A busy mom, Berni combined speed with a little attention to detail to create something special. She picked up some plain mini cupcakes that were already frosted from a supermarket (Andronico's), and topped them with simple Ultraman faces that she made out of fondant. Simple yet striking — way to go, Berni! They were too small to fit stably into my Cup-a-Cake single cupcake container, but they were the perfect size for giving the kids a little bite of something sweet.
FURTHER READING: