Speed Bento: scrambled egg purses
It took about 10 minutes to make this and my son's speed bento together as the only thing I actually cooked this morning was the scrambled egg purse (recipe and tutorial below). Packed in my 470ml Afternoon Tea box.
mini burgers that I previously made and froze when making meatloaf for dinner (microwaved before packing), plus ketchup for dipping
scrambled egg purse with green onions
blueberries (to plug the gaps in the bento — so there's no empty space)
leftover pasta from last night's dinner (tarako spaghetti with onions and orange bell peppers — all out of kaiware for garnish)
yaki onigiri (grilled rice ball) that I previously made and froze (microwaved before packing)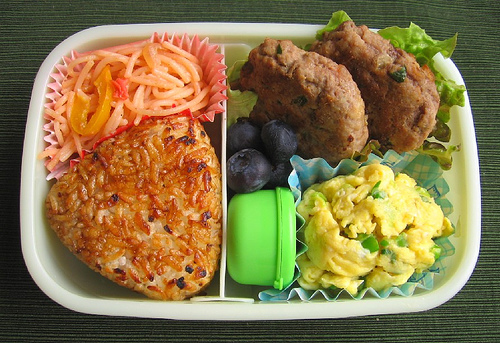 A lot of Japanese bento cookbooks show little "purses" made out of mashed kabocha, potatoes, rice, etc. The technique is extremely simple, and can add an interesting design to an otherwise unstructured dish. Here I've done a basic egg scramble, and used plastic wrap to give it shape before being packed in my lunch.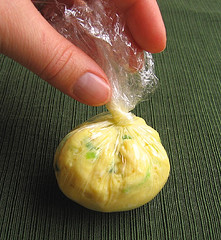 To make three scrambled egg purses, I chopped a green onion and added it to three eggs — scrambled as usual in a nonstick frying pan (without any additional liquids such as milk, cream, etc.). When the eggs were cooked and still warm, I put one third of them on a piece of plastic wrap, gathered up the ends, squeezed out the air and twisted up the plastic wrap as in the photo above.
I let it sit and cool for a few minutes while I prepared the rest of the bento, giving it a chance to firm up as a ball. The egg ball was still moist when I removed it from the plastic wrap, so I patted it dry with paper towels before putting it in my bento (this kept any egg condensation from getting on other items in the lunch). This worked a lot better than packing it still in the plastic wrap (like I did in my son's bento below) as it was too moist when unwrapped — it was easier to eat when dry and already unwrapped and ready to dig into.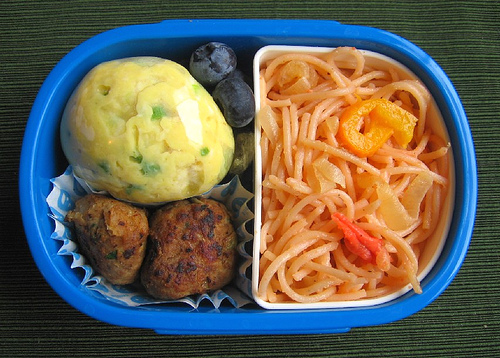 READ MORE: